Hellcat-Powered Ram Rebel TRX Finally Official?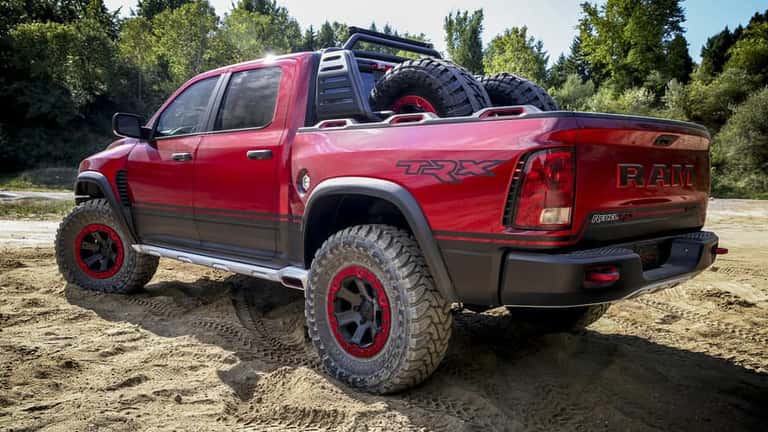 The "SRT" name is more than a name. It's an acronym, and it has a long line of history that belongs to the automaker known as home – Dodge. "SRT" stands for "Street and Racing Technology". Notice the "and", as in, technology made for regular driving on the street and technology made for the racetrack – not street racing. Regardless, Dodge is known for making high-performance cars drivers just can't help but want to race. Sure, if it's just to get it out of your system once in a while, someone can go to an SRT Driving School and test the limits of an SRT vehicle themselves. Otherwise, there are several choices available – the Jeep Grand Cherokee Trackhawk, the 2019 Dodge Challenger SRT Hellcat Redeye, 2020 Dodge Charger SRT Hellcat, or Dodge Durango SRT to get the most out of each lineup. The newest addition may be a Hellcat-powered Ram TRX.
Yes, we know, "It's official, a Hellcat-powered Ram truck" has been the headlines of internet articles for some time now. It's just the way news about the auto industry works. Look back at some of the earliest leaks of the Jeep Wrangler pickup truck back in 2017 – it was a whole year before the Jeep pickup truck was seen again. It wasn't until later that year that Jeep released the 2020 Jeep Gladiator midsize pickup truck. So we get it – we've heard a lot about a possible Hellcat Ram truck, but this time it seems to be the real deal.
The Hellcat-powered Ram TRX pickup has been approved for production. It's been several months since we saw anything about the mighty Ram Rebel TRX truck, spied back in March 2019. Just like the name says, it's the Ram Rebel Tyrannosaurus Rex, powered by a 6.4-liter Hemi V8 engine called the "Banshee", able to produce 520 horsepower and 525 lb-ft of torque. Coincidentally, there was once a time where the TRX was said to be powered by the legendary 6.2-liter supercharged V8 engine, able to produce 707 horsepower. Sounds familiar, doesn't it?
So why would they want to cap it and not go into the 700's? One would think a truck flying down the highway at 100 mph is a death wish. With Head of Jeep® Brand, FCA – North America Jim Morrison claiming the concept Ram 1500 Rebel TRX powered by a 575 horsepower, supercharged 6.2 liter HEMI could, handle the harshest terrains at speeds over 100 mph, that's all some people need to hear to test it for themselves.
Plus, remember the short-lived 2018 Dodge Challenger SRT Demon? Fiat Chrysler Automobiles (FCA) knew what they were getting into and required the buyer to sign a waiver for the Dodge SRT Demon. The SRT Demon quickly became a one-off limited series and we're not quite sure how much was invested into it, but we can be sure with all the other investments FCA is making at the moment, such as the new contract between FCA and Aurora Innovation or the partnership between FCA and ENGIE and Enel X, the large automobile group may wish to review the specs and demographics of a Hellcat-powered Ram truck before taking the chance.
Still, a green light is a green light, and as long as Ram continues to let information slip, we'll continue to write about it. Want to see what's all the fuss about FCA pickup trucks? Come to Aventura Chrysler Jeep Dodge Ram and check out the Ram 1500 or Jeep Gladiator pickup truck.
Photo Source/Copyright: Motor1