Jeep Wrangler Pickup Info Leaked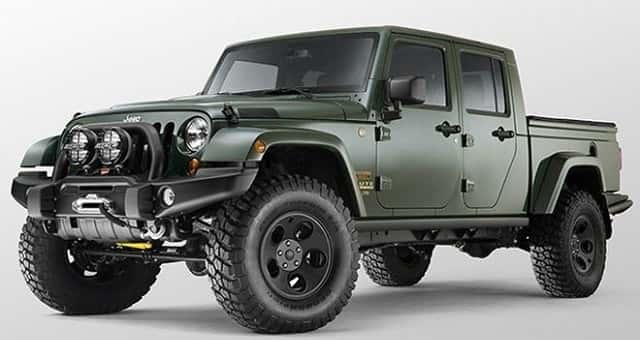 A few weeks back, we got a sneak peek at the new next-generation JeepⓇ Wrangler. Paparazzi and spy photographers must be thirsty for Jeep vehicles this year, because now spy shots of the upcoming Jeep Wrangler pickup have surfaced. It seems before either vehicle makes it to an auto show, many of us are going to know a couple details. Interestingly, the pickup variant is going to be a lot like the next-generation Wrangler, plus a truck bed.
The first tidbit that got some consumers excited was the fact that the details on the Wrangler pickup came from JeepScramblerForum.com. Many enthusiasts are hoping that means the new Jeep Wrangler pickup will also recover the name, "Jeep Scrambler", also used on the last Jeep pickup truck made in the '80s. Given the new platform, the Jeep Wrangler/Scrambler will have an elongated chassis, about three feet longer than the current four-door Jeep Wrangler Unlimited.
Like the next-generation Jeep Wrangler, the Jeep Wrangler pickup truck will also have three different types of removable tops – a black three-piece hardtop, a body-color three-piece hardtop, and a black, foldable Sunrider soft top. Hey, we saw something like that at the Jeep Safari Show by Mountain Off-Road Enterprises, the retractable roller shades. Neat.
For the powertrain, a turbodiesel 3.0-liter V6 engine with start/stop technology has been confirmed. No word on other engines yet, but turbodiesel is a pretty great choice. We'll know for sure if there will be any other engine options in a few months when the next-generation Jeep Wrangler and Jeep Wrangler pickup make their official debut. Whether they come to any upcoming auto shows is still in the air, but the more information we can learn about these new models, the better.
One tidbit of information that we cover a little more on a previous article this week, is the possible future of Jeep. Although we're all looking forward to the new Wrangler and Wrangler pickup, headlines have been talking about Jeep being sold or splitting off altogether. So be sure to read up on that, too.
Photo Source/Copyright: 2017NewTrucks.com