FCA Partners with ENGIE and Enel X for EV Charging Solutions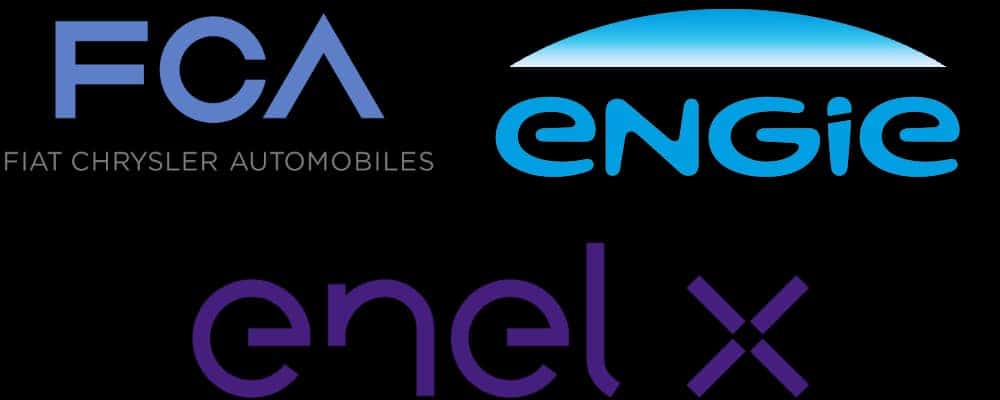 Full steam ahead! That's right, Fiat Chrysler Automobiles (FCA) is not backing down anytime soon. If ya'll thought the FCA proposal to merge with Renault was just a fluke, think again. FCA may have retracted their proposal because they weren't a fan of how much the French government wanted to get involved, but the automobile group clearly has its eyes on the prize. Around this time last year, 2018, FCA revealed their plans to go electric and increase the number of alternative fuel vehicles in their lineup. After needing to sign a partnership with Tesla to pool their fleets together to pass European CO2 Emission standards, it was a wake-up call for FCA to get serious. Last week they bought into funding self-driving tech company Aurora Innovation, now the automobile group is partnering with EV charging tech companies like Enel X and ENGIE.
Teaming up with startups and electric vehicle (EV) tech companies is the way to go for automakers these days. Before, every automaker was all about their own brand and what they can offer, but as technology evolved and its ability to be placed into vehicles became easier, partnerships are bound to form like Google Android Auto and Apple CarPlay. Those are just a small example, but the fact is, instead of spending resources on researching and developing their own EV technology, automakers have found the easier route is to partner up with companies that already have a working formula. The next step is making lithium-ion batteries that charge faster and safer while lowering the cost of EVs.
When it comes to the recent partnership, FCA signed contracts with Enel X and ENGIE to offer EV charging solutions in Europe, support the rollout of future all-electric and PHEV models, and develop both private and public charging solutions for the upcoming Fiat 500 BEV and Jeep Renegade PHEV. FCA will be working with Enel X in Italy, Spain, and Portugal whilst collaborating with ENGIE in 14 other European markets — Austria, Belgium, Czech Republic, Denmark, France, Germany, Greece, Hungary, the Netherlands, Poland, Slovakia, Sweden, Switzerland, and the UK. A mutually beneficial partnership, with the first step dealing with charging solutions in Europe, FCA has committed to install approximately 700 Enel X charging stations around Italy while working with them on EV tech. Primarily, these charging stations will be installed at FCA Italian plants, offices and R&D centers, as well as employee parking areas, enabling their employees to recharge their EVs while on site and during work hours.
"We are assembling an eco-system of partners, products and services across multiple markets to meet and exceed the rapidly evolving expectations of our customers for electrified vehicles," – FCA CEO Mike Manley
Along with all this, the deal also includes the development of services and apps that will allow clients to locate public charging points, like PlugShare. The ability to find an EV charging station is one of the most common reason consumers are wary of plug-in hybrid electric vehicles (PHEVs) and electric vehicles. If one were to have a smartphone app, or even an infotainment app, that they could use to find an available charge point, then consumers may be more inclined to go green and give a PHEV or EV a shot.
It's been a busy month for FCA and there's no sign of the automotive group stopping. Keep up with all the good news surrounding Fiat Chrysler Automobiles when you follow Aventura Chrysler Jeep Dodge Ram on social media.
Photo Source/Copyright: FCA Media, ENGIE, and Enel X