2019 Jeep Wrangler Pickup Truck Spied on Rubicon Trail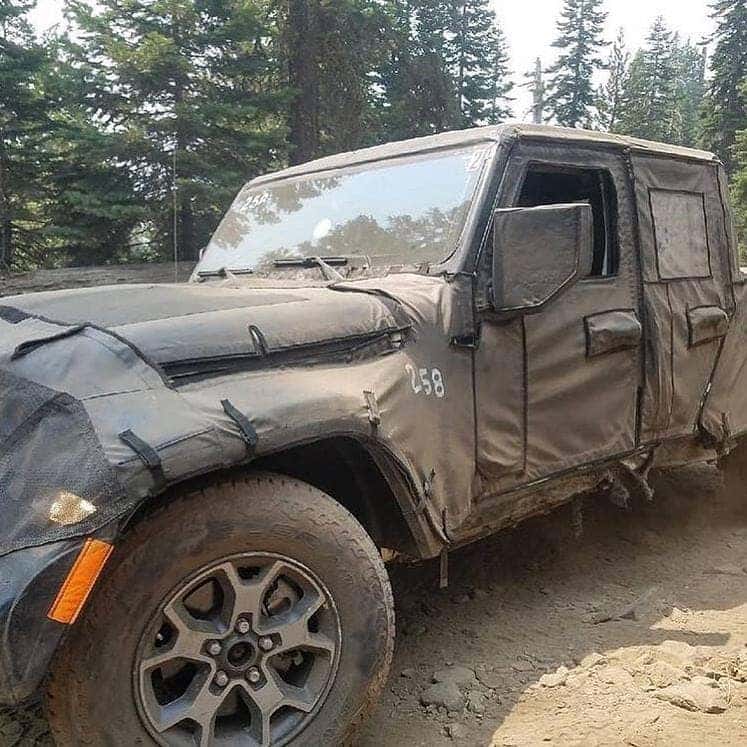 You know, it's been a bit of a long while since we got a sneak peek at the Jeep® Wrangler pickup truck. We were starting to wonder if it was still in the mix, what with the five-year roadmap by Jeep having been released, and surprisingly no mention of the Wrangler pickup. Kind of a bummer, really. Sure, we're going to see some of our favorites get a fresh new electric sibling, and the new Deserthawk is coming to town, for people who…like to…drive in the desert? We thought it was done for, but apparently, the test drivers at Jeep made a poor calculation when they decided to test the 2019 Jeep Wrangler pickup truck on the Rubicon Trail.
For those not in the know, the Rubicon Trail is a 22-mile long route in the Sierra Nevada of the United States. This route is part road, part 4×4 trail, with twelve miles dedicated to the trail portion of the route. We can imagine the Rubicon Trail is well known to Jeepers and is most likely frequented by those looking to take their shot at traversing the Soup Bowl, the Little Sluce, the Thousand Dollar Hill, or Silby Rock, all parts of the trail that have been named for their difficulty.
Well, if the Jeep brand is coming out with a pickup truck, what better way to test it than to take it to a trail known for difficult off-road trails? Besides, Jeep is known for off-road capability – what kind of truck can come with the Jeep badge if it can't even handle the adventure of going off road? So, when photos of the Jeep pickup surfaced on social media, we were all happy to see its return with sand-battered all-terrain tires on the wheels.
Keep in mind, the 2019 Jeep Wrangler pickup truck was always meant to be designed on the next-generation Wrangler JL platform, so things are going to be a bit different. Still in camouflage, we can't really see much of anything about the Wrangler Pickup. Word is, there will be some possible options and configurations, such as mud-terrain tires for those that like to go mudding in a Jeep. With only a few select photos to go by, it's hard to tell what we're looking at exactly aside from an off-road truck.
Take a look at the picture below for a better look at how this truck handles going off-road. The passenger-side rear wheel is going over a bump, and the truck bed slants due to the curb, but the truck bed actually looks deep enough that such a slant may not be much trouble in the production model. Personally, we think it would be a smart idea for Jeep to look into a swivel option. Being under the Fiat Chrysler Automobiles umbrella, perhaps they could look into the Willock Chassis Swivel that once allowed the Ram Power Wagon cabin and truck bed to rotate independently of one another when going off road. This would allow for the cabin to rotate and handle off-road terrain while keeping the truck bed leveled in tow.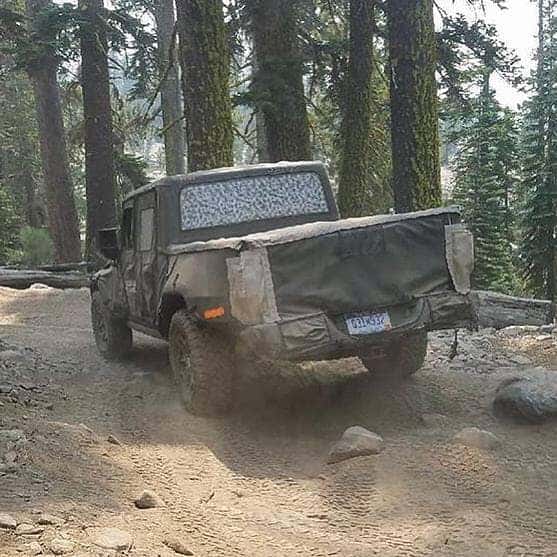 It's something to think about. Interested to know more about the differences the Wrangler JL can offer this pickup truck? Get a feel for the Jeep Wrangler JL or a pickup truck at Aventura CJDR.
Photo Source/Copyright: Facebook/Stellar Built