Dodge, Ram, and Jeep Showing Up at 2021 Twin Cities Auto Show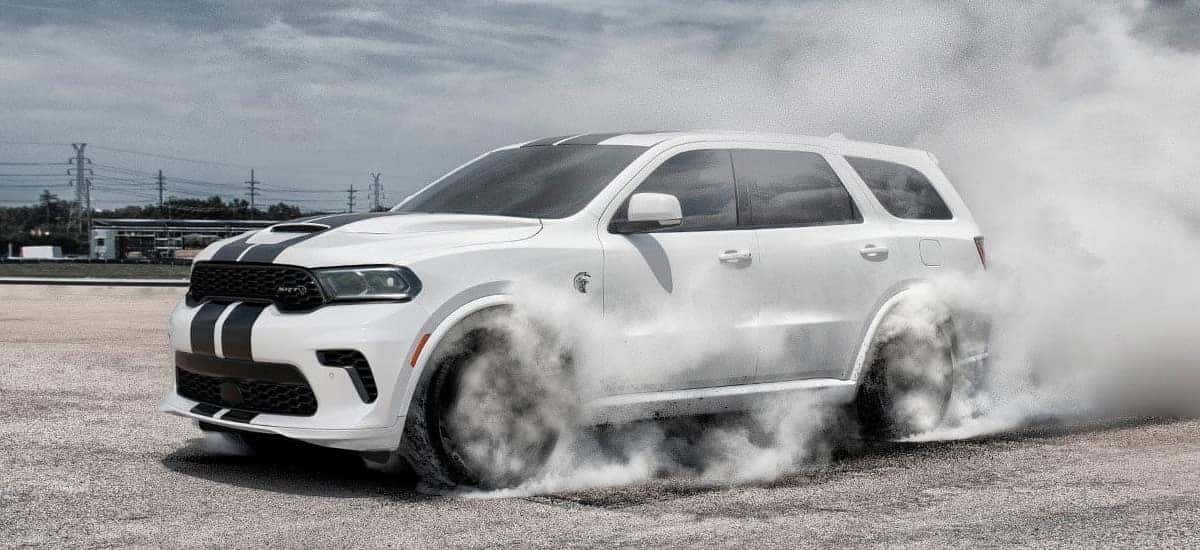 2020 ruined a lot of things, and we won't go through the list, but when it comes to the auto industry, a lot of the entertainment and auto shows we look forward to each year were cancelled. Although the virus is still alive and well, many industries and businesses have opened their doors. Many people just want to find that new normal. The auto industry is trying to do the same, with small auto shows here and there. Currently upcoming is the 2021 Twin Cities Auto Show, starting May 15, 2021, and Stellantis brands Dodge, Jeep, and Ram will be highlighting the best of their collective lineups at the show.
Dodge//SRT
Although Dodge released the Dodge Challenger SRT Super Stock, the automaker has been more or less quiet since releasing the Challenger SRT Hellcat Redeye and Charger SRT Hellcat Redeye. One interesting model finally saw the light of day, but the Dodge Durango SRT Hellcat will have a short run as the automaker finally starts to move onto alternative fuel and releases a Dodge Durango Hybrid. Thus, Dodge will be showing off the Challenger, Charger, and Durango SRT Hellcat, all powered by the proven supercharged 6.2-liter HEMI® Hellcat V8 engine able to generate 710 horsepower and 645 lb.-ft. of torque.
Jeep
The off-road automaker has a lot to celebrate this year. Along with the Jeep Wrangler 4xe, set for global release, this legendary off-road warrior has gone green with a 375-horsepower plug-in hybrid powertrain able to deliver 49 miles per gallon of gasoline-equivalent (MPGe) and 21 miles of all-electric range, we also just covered a little diddy on the Jeep Wrangler Rubicon 392 coming up this Spring, making its reveal at the auto show. Two more models will also show up at the auto show.
Finally, after so many years of teasing the idea, Jeep finally delivered on the Jeep Wagoneer and Grand Wagoneer for the 2022 model year. Part of the premium lineup, the Wagoneer series shows off American craftsmanship and a new level of comfort while still offering  legendary 4×4 capability. Both models come with the Jeep signature seven slot grille with slim headlights, LED lights that flash a welcome sequence at startup, and puddle lamps display "Wagoneer" on the ground. Yeah, it's definite;y high-class over here.
Then there is the Jeep Grand Cherokee L model. It's just as good as the regular Grand Cherokee, but a little longer, hence the "L", this Grand Cherokee is able to fit three rows to fit more passengers. The most awarded and celebrated SUV ever continues to surprise with improved on-road refinement, comfort, and of course, the technology. The Jeep Grand Cherokee L offers a 10-inch digital screen, Uconnect 5 with standard wireless Apple CarPlay and Android Auto, a windshield Head-Up Display, digital rearview mirror, rear-seat monitoring camera, and a premium 19-speaker McIntosh audio system.
Ram Truck
There shouldn't be any surprise what vehicle Ram Truck is bringing to the 2021 Twin Cities Auto Show. The one and only apex predator of pickup trucks, the 2021 Ram 1500 TRX will be showing up. This class-leading pickup truck, built off of the Ram 1500 Rebel, is powered by a 702-horsepower supercharged 6.2-liter HEMI V8 engine, can accelerate from 0-60 mph in just 4.5 seconds, run a quarter mile in 12.9 seconds at 108 mph, and has a top speed of 118 mph. Getting a look at this will be as rare a sight as the T-Rex itself, with all Launch Edition units currently spoken for.
Looking forward to some of the vehicles listed here? Let us know on Aventura Chrysler Jeep Dodge Ram social media.
Photo Source/Copyright: Dodge.com