Jeep Reveals the 2022 Jeep Wagoneer and Grand Wagoneer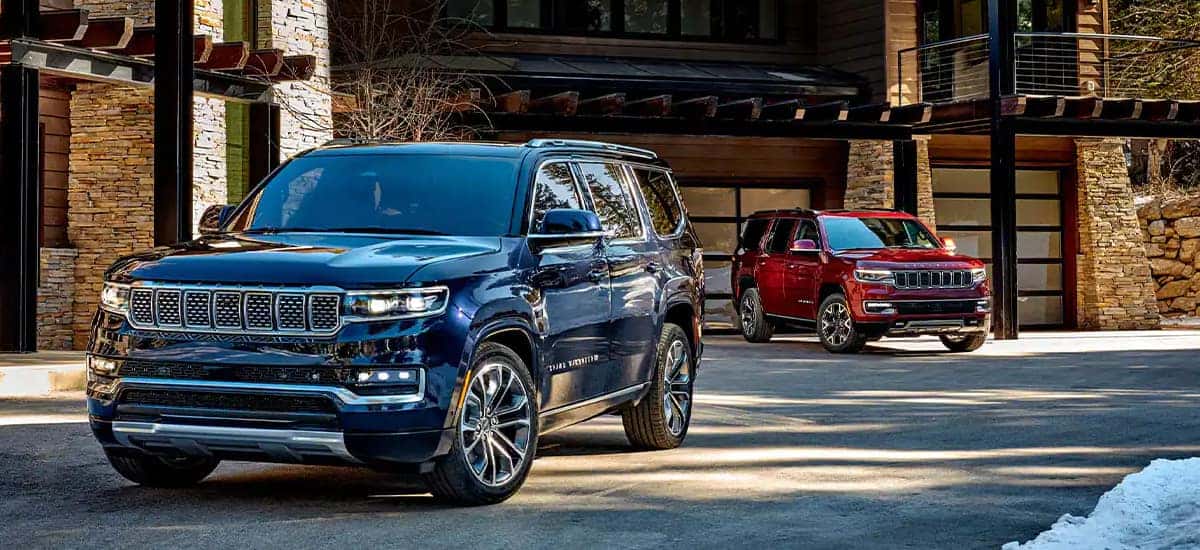 If there is one automaker you can bet money on, it's Jeep®. Take a step back to June 2018 – three years ago – when Jeep announced its "Five-Year Roadmap" for Jeep vehicles over the next five years. This was an illustration, or representation, of what the Jeep lineup would include in the long term (electrification of the entire lineup for plug-in hybrid and electric vehicle options) as well as what new trims we can expect. By 2022, there were a few mysteries under sheets, one of which turned out to be the 2020 Jeep Gladiator. Now in 2021, we're getting the Jeep we've been waiting for – the Jeep Wagoneer and Jeep Grand Wagoneer have been revealed.
This is not a drill – this is the real thing.
Launching straight into the luxury SUV segment, Jeep isn't messing around. Let us start off with the starting MSRPs – $59,995 (plus destination fee) for the 2022 Jeep Wagoneer, and $88,995 (plus destination fee) for the 2022 Grand Jeep Wagoneer. For those looking to get the best of the best with all the bells and whistles, the price is closer to $111k. Available this year (maybe next month, maybe in several weeks), the 2022 Jeep Wagoneer and Grand Wagoneer are possibly the largest vehicles in the lineup. Both vehicles are taller, wider, and longer than the Jeep Grand Cherokee L, a stretched out version of the Grand Cherokee for more room and adding a third row for seating up to seven passengers.
It's unclear why release two models at all, with both vehicles the same size, but options will always make a difference. The style is robust, and a little bulky depending on how you look at it. Both come with the Jeep signature seven slot grille with slim headlights on either side and a windshield that nearly reaches the roof of the front fascia. Sitting lower than usual, the front fascia acts like a pronounced lower jaw, with LED lights that flash a welcome sequence at startup, and for flair, puddle lamps display "Wagoneer" on the ground.
During the presentation on livestream, the Grand Wagoneer was highlighted for the detail taken to make it not only elegant but artistically sharp. Accented with more chrome and designed with a unique lower front fascia, the Grand Wagoneer comes with a black roof, and of course has "Grand" added to its badge, along with an American flag decal as a testament to the vehicle and its origins. It's all a little fancy, but that's nothing when it comes to the interior. Trims have yet to be announced. But wheel selections range from 18-22 inches with Wagoneer-scripted center caps. Available in a number of colors, consumers may have all of the following at their disposal for exterior personalization – Diamond Black, Bright White, Luxury White, Silver Zynith, Baltic Gray, Velvet Red, and River Rock Blue, and the Grand Wagoneer adds Midnight Sky Blue, Rocky Mountain Green, and Ember Red to its palette.
Before we dive into the luxurious cabin, let's take a moment to discuss what Jeep vehicles are known for. With the Wagoneer and Grand Wagoneer basically twins, both have V8 engines under the hood, but as we mentioned, options will separate the two apart. The "smaller" sibling, the Jeep Wagoneer, is powered by a 5.7-liter V8 engine capable of generating 392 horsepower and 404 lb-ft of torque, and guess what! eTorque makes its return in the Jeep Wagoneer. The Jeep Grand Wagoneer is powered by a 6.4-liter V8 able to generate 471 horsepower and 455 lb-ft of torque.
Known for going off-road, the Wagoneer comes with rear-wheel drive, but also offers Quadra-Trac I, Quadra-Trac II, and Quadra-Drive II, each with its respective single- or two-speed transfer case for keeping traction and control. Quadra-Drive II also comes with an electronically controlled limited-slip rear differential. For added clearance, air springs that can raise the Wagoneers 3.6 inches are available. Going premium in the Grand Wagoneer, this model comes standard with Quadra-Trac II and the air springs, as well as five terrain modes—auto, sport, rock, snow, and mud/sand. A four-wheel drive system, hill-descent control is also standard.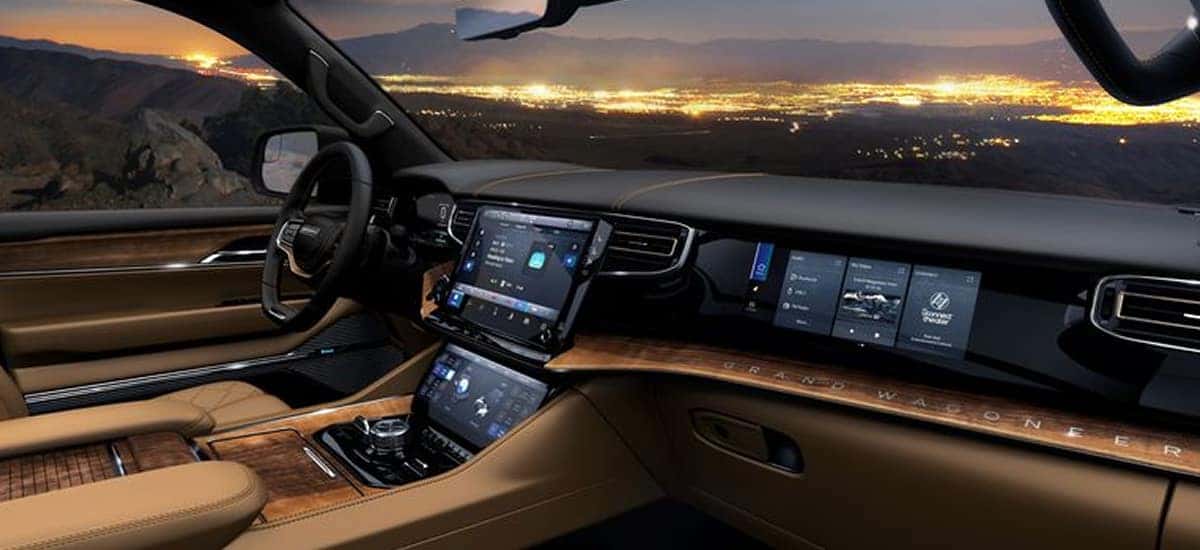 Ready to hear all about the interior cabin? Crafted for excellence, they really gushed over this one during the reveal. Nappa leather seats come standard on the Wagoneer, with options like Palermo quilted leather available on the Grand Wagoneer. Taking a poke at the original 1962 Wagoneer models, a two-spoke steering wheel is the standard, but don't let that fool you. The dashboard and center console are all modern, with a standard 10.3-inch digital gauge cluster on the Wagoneer, 12.3-inch screen on the Grand Wagoneer, and a backlit aluminum shift knob. It comes with switches for the available terrain modes and ride height settings. To complete the package, a power sunroof with multiple panels for optimum sunlight.
If looking for a high-tech interior, prepare to fall in love with the Jeep Wagoneer and Grand Wagoneer. A 10.1-inch infotainment screen with Stellantis's Uconnect 5 infotainment system is the standard, complete with wireless Apple CarPlay and Android Auto capability. The Grand Wagoneer doubles down on this with a 12.0-inch touchscreen for Uconnect 5, plus an additional 10.3-inch touchscreen below that for controlling the a/c and interior cabin temperature. Available tech offers a 10.3-inch passenger display integrated into the dashboard above the glovebox, 10.1-inch screens for the second-row seatbacks.
Does anyone remember the debut of Amazon Fire TV for new models during the 2020 Consumer Electronics Show? We know, it seems forever ago, but here it is in the Jeep Grand Wagoneer. Passengers can plug devices into the seatback screens via HDMI and stream Wi-Fi to watch Netflix, Hulu, or YouTube through Amazon Fire TV for Auto. With the Grand Wagoneer getting the best of the best, other options include a head-up display, digital rearview mirror, and a McIntosh 23 speaker sound system to complete the package. If that's not the height of luxury, then what is?
Able to seat seven or eight passengers with a second-row bench seat available, or just second-row captain's chairs. The second row also gets its share of touchscreens climate controls, and the interior space is much larger than that of other vehicles in the segment. Larger than the Grand Cherokee L, there is 6.3-inches of more legroom to enjoy in the Jeep Wagoneer and Grand Wagoneer. It all sounds amazing already, but there are some tidbits left, including those electrified powertrains mentioned in the intro.
A plug-in hybrid variation of the Jeep Wagoneer and Grand Wagoneer are already being mapped out to follow. In terms of high-tech, Jeep is bringing out the big guns this year. At launch, the Jeep Wagoneer and Grand Wagoneer will start out with Level 3 autonomy, but will become available with hands-free driving. To start, Jeep's lane-centering, adaptive cruise control, night vision for animal and pedestrian detection, and a 360-degree camera will be available, but within the coming year, we could possibly see Level 4 or higher in a Jeep.
Available for reservation now, the 2022 Jeep Wagoneer and Grand Wagoneer will go on sale this summer. At launch, a Grand Wagoneer Obsidian edition will also go on sale, a blacked-out version of the Grand Wagoneer with black 22-inch wheels, badging, and interior. Later, base models will arrive, but both models will offer three levels of varying equipment. 12 different available pre-configured models are available, and all you need to do is go to jeep.com/wagoneer.html and be ready with a $500 deposit.
Its all very exciting news, isn't it? Join us in the discussion on Aventura Chrysler Jeep Dodge Ram social media and contact us if you make a reservation.
Photo Source/Copyright: Jeep.com