Dodge Durango May Finally Get a Hybrid Option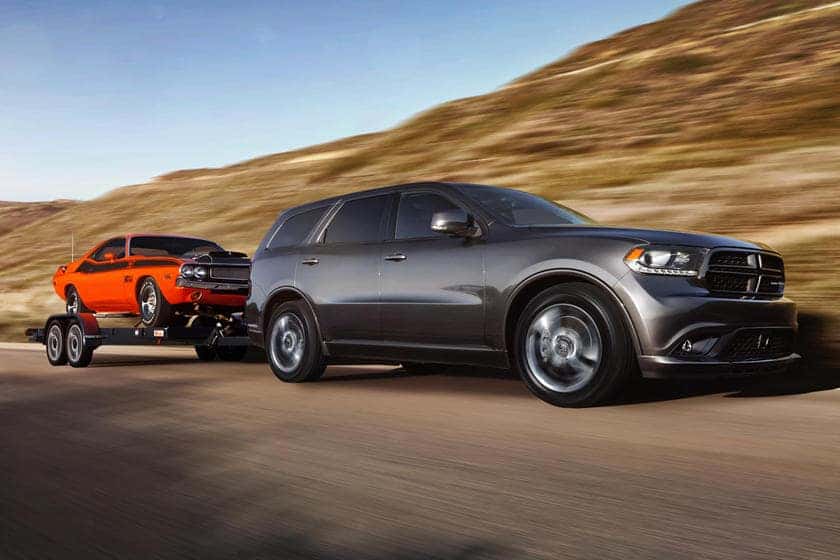 It's about time the Dodge Durango got an upgrade. Having been around since 1998, with the third-generating dating back to 2011, the Dodge SUV hasn't seen many changes over the years aside from a mild refresh in 2014. At the same time, the Durango does well for itself, still selling units in decent volumes in the United States – about 65,000 per year. With Fiat Chrysler Automobiles (FCA) making larger strides to work towards the design and development of plug-in hybrids and electric vehicles, it's time to branch out. According to MoparInsider, the next Dodge Durango may finally come equipped with its own hybrid technology.
Plans for electric and hybrid technology for FCA began with Jeep® and Ram, being two of the most successful brands in the group. The first two vehicles to receive hybrid technology were the next-generation 2018 Jeep Wrangler SUV and the next-generation 2019 Ram 1500 light duty pickup truck. We're referring to the mild-hybrid system eTorque, able to offer vehicles a variety of hybrid functions. These include auto stop/start, electric power assist, extended fuel shut-off, transmission shift management, intelligent battery charging, and regenerative braking.
Although nothing has been made official yet, the report from MoparInsider mentioned a mild hybrid Durango for 2020. Furthermore, although the SUV is starting to look a little old, FCA has recently invested about $3 billion into the Jefferson North Assembly Plant in Michigan where the Dodge Durango and the Jeep Grand Cherokee are built. The Durango actually shares a platform with the mid-size SUV Jeep Grand Cherokee, which could attest to some of its success. Then again, the Dodge Durango also offers three-rows and optional Hemi V8 power, and we all know those two factors are a recipe for success.
So how does an automaker make an already successful vehicle better? Offering a powertrain and options that are more modern and with the times. When the 2019 Ram 1500 was launched with eTorque, it was available on both powertrain options – a 3.6-liter V6 and 5.7-liter Hemi V8 – both of which are found on the latest 2019 Dodge Durango model. Whether or not both powertrains will come with eTorque is uncertain, but given that Dodge and Ram are under the same umbrella, surely FCA engineers could figure it out. Plus, with the 5.7-liter HEMI V8 powertrain able to tow up to 7400 pounds, consumers will get a boost of torque on top of the already 390 lb-ft of torque delivered by the HEMI V8. Then, the 6.4-liter HEMI V8 only available on the SRT may have some competition for its best-in-class towing capacity of 8700 pounds.
Either way, FCA will have another vehicle in the lineup with lower C02 emissions and improved EPA ratings. Over the summer of 2019, Fiat Chrysler Automobiles (FCA) began to take stronger strides into the progress of the five year plan to produce more hybrids and electric vehicles over a year ago. After FCA had a temporary partnership with Tesla to meet the strict emission regulations and European CO2 Emission standards, the automobile group needed to move. Soon after, FCA signed contracts with Enel X and ENGIE to offer EV charging solutions in Europe and support the development of both private and public charging solutions for upcoming plug-in hybrid and electric vehicles. Adding the Dodge Durango to the list is a smart move.
Come check out the Dodge Durango three-row SUV at Aventura Chrysler Jeep Dodge Ram and find out why it's so popular.
Photo Source/Copyright: FCA