Dodge to Discontinue Durango SRT Hellcat in June 2020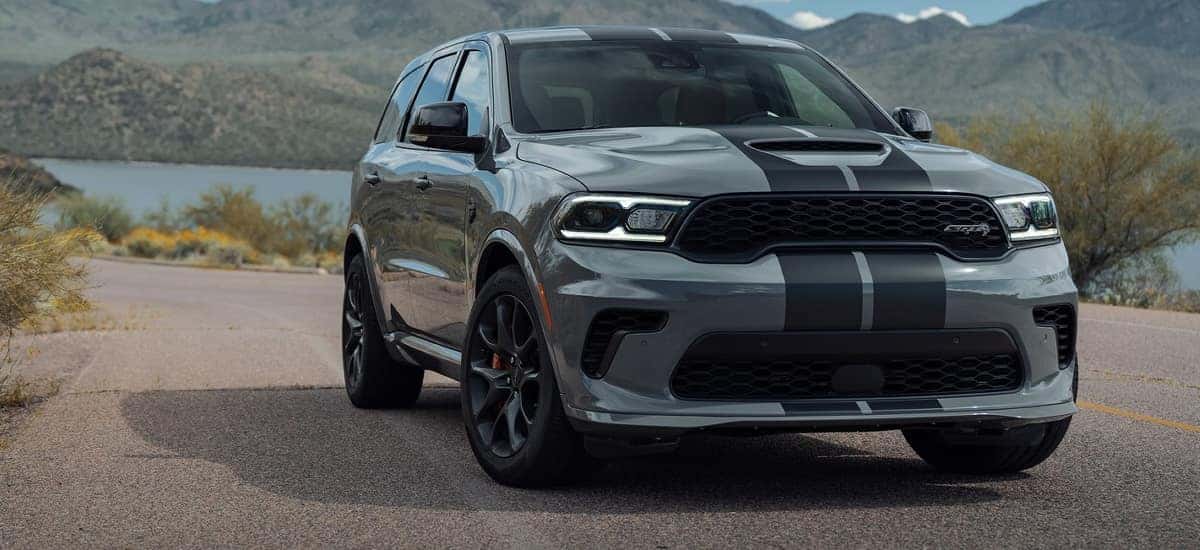 Back when the 2021 Dodge Durango SRT Hellcat first opened up orders to consumers, many scrambled to get theirs. It was thought to only be a limited-edition vehicle, never to be made again. Surely the streets aren't demanding a 700-horsepower SUV. The muscle car automaker may have bit off more than it can chew, like the short-lived 2018 Dodge Challenger SRT Demon, because the number of production units isn't as high as originally guessed. Perhaps it was releasing the Durango SRT Hellcat ahead of schedule, but this high-performance SUV will end in June 2021.
With Dodge focused on taking care of consumer orders first, U.S. dealerships will be stocking up soon after. Once they're on the lots, that's the only chance consumers have to get the Durango SRT Hellcat, because after that, it's gone. Like the Dodge Challenger SRT Hellcat Redeye, Dodge is dialing it back a bit for a new model, a hybrid version of the Durango mentioned back in 2019. Yeah, it's easy to forget the Dodge Durango plug-in hybrid coming out soon, but not soon enough. Fiat Chrysler Automobiles (FCA) is phasing out and merging with the PSA Group to become Stellantis, and investments are already being made on the automaker's assembly line, with a grand total of $3 billion going toward the development of the Durango plug-in, also known as the Durango mHEV.
We haven't heard much of the plug-in hybrid electric vehicle (PHEV) entering the Dodge Durango lineup. FCA has already begun to introduce hybrid functionality, first with the new generation of the Jeep Wrangler SUV and Ram 1500 pickup truck with the mild-hybrid system eTorque, and Jeep has been releasing plug-in hybrid 4xe models like hot cakes. With the recent merger, hybrid and other alternative powertrains are a major focus – and with strict CO2 standards on the rise, muscle car automaker Dodge can't afford another SRT Hellcat that will raise its numbers and hurt the automotive group overall when it comes to passing inspection.
The main question that leaves is what will the powertrain of this new Durango mHEV be? Currently, the Durango can come with a 3.6-liter V6 and 5.7-liter Hemi V8 engine. The latter will definitely make up for a loss in horsepower when coupled with an electric motor, but are SUVs really for racing? No, most consumers buy an SUV or crossover for its towing capabilities. With the 5.7-liter HEMI V8 powertrain, the Durango is able to tow up to 7400 pounds, and the Durango SRT has a best-in-class towing capacity of 8700 pounds. However, as has been proven time and again, electric motors can also offer plenty of torque, and without any acceleration from the engine. The mild-hybrid eTorque boosted the torque of the V6 and HEMI V8 by 39 lb-ft and 49 lb-ft, respectively. Just think what a whole electric motor can do for an SUV.
With the FCA having signed a deal with ZF for a new hybrid-ready eight-speed transmission, these gearboxes will pop up in models starting in 202. Dodge CEO Tim Kuniskis has already stated that he thinks electrification is the future of Dodge vehicles, and the Challenger and Charger will be making the move in the coming years. It's all good news when you look at it – change is not a threat, but an opportunity for success.
If revving engines is still your thing though, look for Dodge performance vehicles at Aventura Chrysler Jeep Dodge Ram.
Photo Source/Copyright: autoevolution.com