FCA Proposes New Merger with Another French Automaker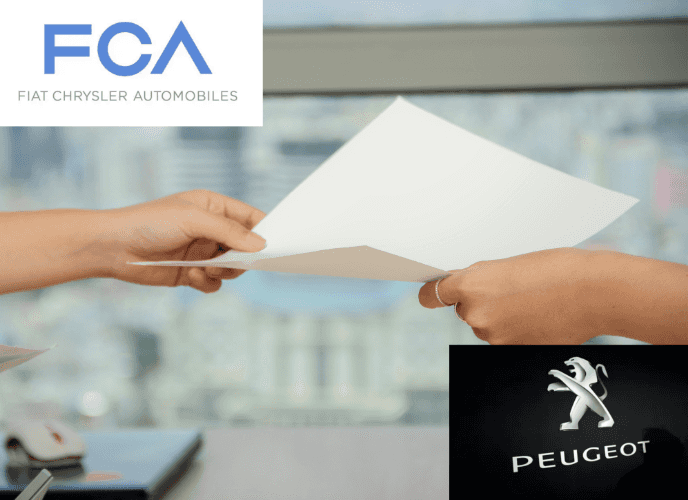 UPDATE, Thursday, October 31, 2019: FCA and the PSA Group have merged to become the world's fourth-largest automaker, consisting of Alfa Romeo, Citroën, Chrysler, Dodge, DS, Fiat, Maserati, Opel, Peugeot, Ram, and Vauxhall. The yet-to-be-named new company will be registered in the Netherlands, currently also the location of the headquarters of Fiat Chrysler, but will also offices running in France, the US, and Italy.
Fiat Chrysler Automobiles (FCA) has a lot going for it this year (2019), being a large automobile group consisting of several brands and creating numerous partnerships with tech companies for self-driving (Aurora Innovation and FCA) and a contract between FCA and ENGIE and Enel X for new and better electric vehicle charging solutions. In Spring 2019, FCA even proposed a transformative merger with French automaker Renault, currently leader the Renault-Nissan-Mitsubishi Alliance, but backed out. Although the self-driving modified Chrysler Pacifica, known as the Waymo signed a contract with Renault, FCA still wanted to work alone. Seems like that was just big talk from a hurt ego, because FCA is talking with French carmaker PSA Group to join forces.
Is it about Electric Vehicles?
One reason Fiat and Peugeot maker PSA are holding discussions over creating one of the world's leading auto groups is the expenses being spent shifting to electric vehicles (EVs). If we recall the partnership between Tesla and FCA back in April 2019, the two agreed to pool their fleets together so that FCA could pass the strict regulations of the European Union and its rules on carbon-dioxide emissions. Although FCA promised 14 electric vehicles and four battery-electric vehicles by 2021, there is no sign that the automaker has any plug-in hybrid or electric vehicle currently in production. Although FCA named Tesla a competitor in its five-year plan, the automobile group needed their help after all.
Instead of going through that again, FCA had the right idea. Now more than ever, the pressure is on for global carmakers to join forces to make the shift to plug-in hybrids and EVs. Both PSA and FCA have seen growth in shares over the last year, with Fiat Chrysler jumping up 11-percent. When it comes to the stock market, it's a fickle thing, but a company selling 11-percent more shares in a year is a sign of success. Moreover, the late Sergio Marchionne, former CEO of FCA, was said to have a vision for Fiat Chrysler, the vision of "creating a global automaker with the resources to successfully compete in the ever-changing auto industry."
Renault did it with Nissan and Mitsubishi, with the latter showing off multiple plug-in hybrid and EV concepts at the 2019 Tokyo Motor Show. If Fiat Chrysler is going to enter the race, they need to step it up. The merger would benefit PSA too – not only would a deal with PSA give Fiat Chrysler access to newer vehicle platforms in Europe and emerging technologies but it would help PSA re-enter the U.S. market after a decades-long hiatus. Plus, if anything, this is clearly a jab at Renault, with PSA being their rival. Scandalous!
With the ongoing reports of a potential "all-share merger of equals," shares for Fiat Chrysler are already surging. By the time you read this article, the merger has already been approved by PSA board of directors. Beyond that, however, neither automaker has further comment beyond a press release that confirmed the two companies were meeting Wednesday, October 30, 2019, to discuss the finer details. Anything could happen at this point.
Follow along with us on Aventura Chrysler Jeep Dodge Ram social media and find out if Fiat Chrysler Automobiles and the PSA Group become one of the world's largest leading automakers.
Photo Source/Copyright: Photo by Van Tay Media on Unsplash; FCA; Peugeot