So Far It's Been a Busy Year for Jeep!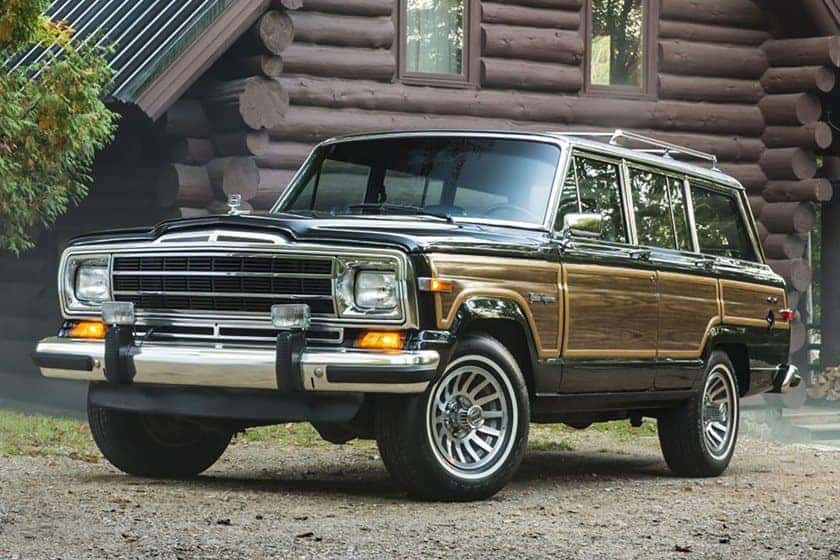 The Jeep® automotive brand has had quite the busy last few months. Starting with the debut of the 2018 Jeep Wrangler JL at the 2017 Los Angeles Auto Show, there's been tidbits of information sprinkled here and there, but recently, the news about Jeep and what's to come has petered out. We did some digging to find out what the automaker is up to. Surely they can't ride the coattails of the new Wrangler JL forever. Surprise, surprise! There's actually a lot brewing in the Jeep pot, but it's mostly shush-shush at the moment.
Going Premium
Jeep has absolutely no intention to disappear off the road map. If anything, they're gearing up for grander pastures. Remember the Jeep Grand Wagoneer tease?
"If I go back a few years, Grand Cherokee is positioned against [the BMW] X5. It was a premium position, and it should be rightfully in that place … I want to keep Jeep premium in the larger car segments." – Mike Manley, head of Jeep Brand, during an interview with Top Gear at the Geneva Auto Show.
With the Jeep Grand Cherokee able to play with the big boys, and the Grand Wagoneer set to be a luxury vehicle, Jeep is planning to go premium and beyond … super premium! Or at least that's what Manley calls it – "Grand Wagoneer [due in 2020] will be super premium. We've been working on it for several years. It has a long gestation period, and will be clearly positioned significantly above Grand Cherokee."
In competition with notorious names like Mercedes, AMG, and Porsche, Jeep is aiming high with the Grand Wagoneer. Set to be a luxury vehicle, the starting MSRP could be as high as $100,000 – made for those who just happen to have that kinda cash lying around. *shrug*
2018 Jeep Wrangler JL
During the debut of the 2018 Jeep Wrangler JL, we learned a whole lot more than what spy shots could teach us, like the sneak peek at the new Wrangler JL cabin interior and technology setup. A bit of a retro style was thrown in there while keeping things modern, and we also learned about some new configuration options, like the new powered sunroof soft top and the new convertible top. Two new engine options were also added for fuel economy and off-road rock crawling.
The first addition to the engine lineup was the new 2.0-liter turbocharged four-cylinder engine. Said to be the new "future-proof" engine by the FCA, this engine improves fuel economy without sacrificing horsepower – a nearly unheard of combination. Rated with best-in-class 270 horsepower and 295 lb.-ft. of torque, this tiny engine packs a bit of a punch due to the turbocharged design, but because it's only a four-cylinder engine, fuel economy doesn't take a large hit. The fuel economy of the engine is unknown at the moment.
Just as we thought the Jeep automaker was going to take five, they popped up again at the 2018 Consumer Electronics Show to show off new Jeep smartphone apps made specifically for the new Wrangler JL. In addition, they also shared the stage with a Mopar-modified Ram 1500 during the 2018 Detroit Auto Show, and around the same time, the net got hit with leaked information about new Jeep concepts, such as a probable Baby Jeep – though unlikely. In early March 2018, Jeep became the first cult automotive brand, and then news just sort of vanished.
And now we know why.
Promos
Jeep is gearing up to launch a new marketing campaign for the iconic all-new 2018 Jeep Wrangler and upcoming 2019 Jeep Cherokee (revealed at the 2018 Detroit Auto Show). Jeep is also going the smart route with these promotions by not sticking to just television and print ads – who doesn't live on Netflix and/or Hulu these days? To make sure they have a large outreach, both campaigns are running across television and print, in addition to digital and social channels, including Jeep brand's Facebook, Twitter, and Instagram channels. Each video is viewable on the Jeep brand's YouTube channel – or you can just watch them here.
"Freedom & Adventure" (also referred to as "Mom and Dad") is focused on World War II, when the iconic vehicle first served the country's troops, and tells the story of the now legendary Jeep Wrangler being brought into life.
"The World Comes With It" is less about story and more about aesthetics, set against majestic landscapes and natural imagery and how the Jeep nameplate has unquestionably stood the test of time, keeping the Jeep tradition of inspiring design, practicality, safety, and legendary capability, continuing the evolution of the brand.
Like we said, Jeep is gonna be pretty busy this year. Follow the news on Aventura CJDR social media.
Photo Source/Copyright: CarBuzz.com