New and Old Jeep Mobile Apps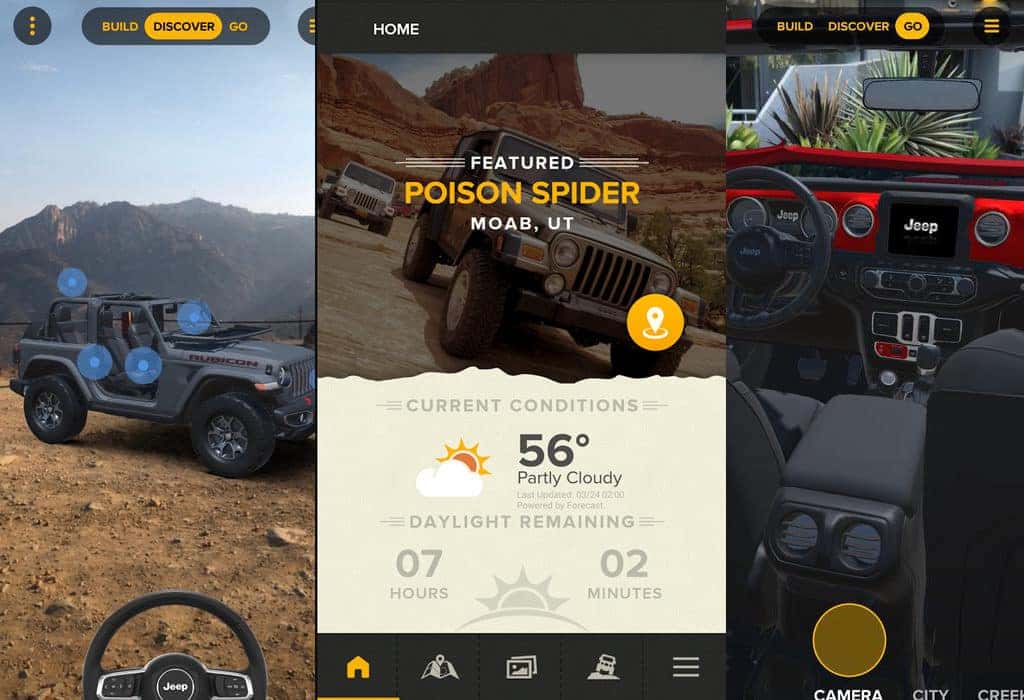 After the 2018 Jeep® Wrangler JL debuted at the Los Angeles Auto Show, we were pretty sure Jeep would take a back seat like Dodge did after the debut of the Dodge Challenger SRT Demon and wait for the hype to cool while production of the Wrangler JL quieted down. No dice on that one. Apparently, unlike other automakers that show off concepts and new vehicles at every auto show, Jeep decided to keep a couple of things hidden until the 2018 Consumer Electronics Show (CES) started. Now that CES 2018 has come and gone, we learned about some of the new tech Jeep is introducing with the 2018 Jeep Wrangler JL.
New Jeep Tech
At CES 2018, Jeep unveiled six new tech features that will surely interest prospective consumers of the new Wrangler JL. Four of these features are all-new connected services and features – Uconnect App Smartwatch Compatibility, Family Alerts, Online Search for Uconnect Navigation, and Drive 'n Save. We covered all of these features in our article, "Jeep Wrangler JL the 2018 Consumer Electronics Show", as well as the new Jeep Skill for Amazon Alexa and Echo(Dot) and the all-new Jeep Adventure Reality App.
This got us thinking. What other mobile apps are out there, specifically for Jeep? Interestingly enough, what many Jeepers and consumers don't know, is just like Dodge SRT Performance Pages, high performance Jeep vehicles have a Uconnect system that includes Off Road Pages. There is also an FCA produced app for smartphones called the Badge of Honor App, where off-roading fans can become a stronger part of the Jeep community by sharing off-road locations, earning points and ranking, and even badges for their vehicle. We thought with the new 2018 Jeep Wrangler JL on the way, this would be a good time to discuss these apps.
Jeep Adventure Reality App
Although the name is a little misleading, this is still a nifty app. The "reality" bit is actually an "augmented reality configuration tool" – or in other words, live Photoshop. The Jeep Adventure Reality App isn't like virtual reality where consumers can actually take an adventure in a Jeep vehicle, but they can build and experience their very own Jeep.
Consumers with the app won't be able to build a Jeep from scratch of course, but to start, they can explore a variety of models, trim levels, colors, and configurations. The ability to customize a Jeep has always been an icon of the brand, and when building a Jeep in-app, consumers can choose to build a two-door or four-door model, choose a hard top or soft top, change the body colors, and even minor things like the wheel designs. Moreover, possibly the most impressive feature, is consumers can actually go inside the virtual vehicle and check out the all-new interior in greater detail, sans VR goggles.
The high-resolution imagery of the augmented reality app can provide the user with the ability to know what it will really feel like behind the wheel, as well as interacting with the vehicle by removing doors, putting the windshield up and down, turning on the headlights, opening the doors, honking the horn, and turning the wheels. When done customizing, consumers can then take a look at what their Jeep would look like in real life by superimposing it on a background, like the images above.
In addition, consumers will be able to share their creations on social media with friends or even find their own Jeep build come to life. They can also find a dealer and search inventory to find a Jeep vehicle ready for customization. At this time, the Jeep Adventure Reality App is only available for iPhone 7, 8, X and iPad Pro.
Jeep Off Road Pages
Surprisingly, these aren't talked about all that much on the internet. Although not necessarily a mobile app, we did some digging and did find some similar features in the Off Road Pages shared with Uconnect and SRT Performance Pages. Thus, when coming to the main menu of the Off Road Pages pre-installed app, consumers will see the following submenus – Drivetrain, Suspension, Pitch & Roll, Accessory Gauges, and Selec-Terrain. Each offers the following information.
– Drivetrain: Check out the all-wheel drive system (if installed) and its specs, such as the setting of the transfer case, i.e. 4WD high, or if the rear differential is currently active.
– Suspension: Examine the articulation and ride height of the vehicle.
– Pitch & Roll: This gauge will display information to the driver that will inform them how tilted their Jeep is at all times when taking turns (roll) and how steep of an incline or decline the vehicle is on (pitch).
– Accessory Gauges: This is more so a diagnostics screen where the driver can check on coolant temperature, oil temperature, oil pressure, transmission temperature, and battery voltage.
– Selec-Terrain: On this screen, the driver can of course view their current Selec-Terrain setting based on the driving conditions. Most if not all Jeep vehicles come with a Selec-Terrain system with the following five modes – Auto, Sport, Snow, Sand/Mud, and Rock.
Badge of Honor App
Available on Android phones and iPhones via the app store, the "Jeep Badge of Honor" app is the official companion app to the online community of Jeepers. After downloading the app, Jeep fans can sign in, sign up and check in to legendary off-road trails across the U.S.A. marked by Jeep Badge of Honor. The app also has the following features:
▪ Discover new and featured off-road trails and maps
▪ Get trail locations and directions, information such as trail highlights and difficulty ratings
▪ Earn Trail Points and ranks within the Jeep Badge of Honor community, able to amount to special Hard Badges to put on one's vehicle
▪ Upload and share photos with the rest of the Jeep Badge of Honor community
▪ Learn about Off-Roading 101 for off-roading basics, important safety reminders, the history of off-roading, information on dealing with different types of off-road terrain, and about Jeep® Trail Ratings.
Always nice to see automakers connecting with the connected generation. Nearly everyone has a smartphone or tablet. Connecting our homes, phones, and cars together is the next step of inter-connectivity. Do you have any of these apps? Did you learn of anything new? Let us know on Aventura CJDR social media, and let's discuss. You can also look for your very own 2018 Jeep model in our inventory.
Photo Source/Copyright: FCA Media and Play.Google.Com