FCA Group is Building a Future-Proof Engine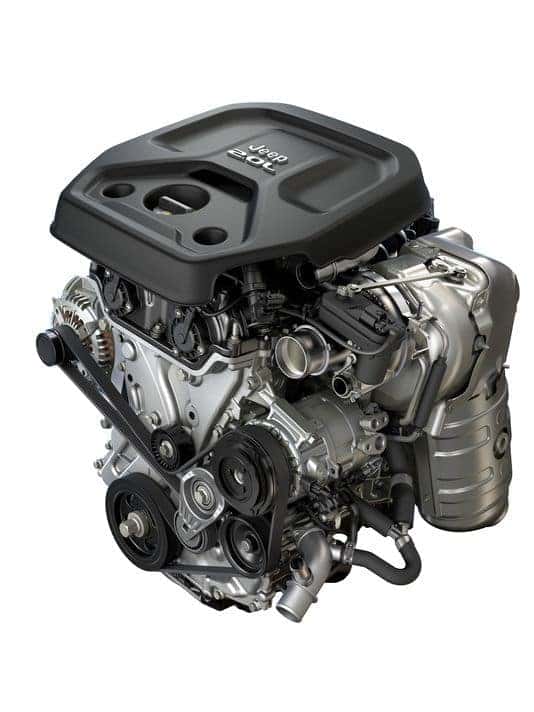 What does the future hold? That's a question that doesn't come with an easy answer. No one really knows what challenges or breakthroughs will come tomorrow, and when it comes to the automotive world, that means anything could happen. A little more than a decade ago, the first hybrid vehicle was mass produced, the Toyota Prius. Now, nearly every automaker is working on their own alternative fuel vehicle, and a large handful are working on autonomous, self-driving vehicles. These all may be fads or trends (doubtful), but when it comes to automotive technology, a vehicle is worthless without an engine. To keep internal combustion engines relevant in the future of automobiles, the Fiat Chrysler Automobile (FCA) Group is working on an engine that's future-proof.
Turbocharged is the Key
Yes, the new engine coming from FCA is a new 2.0-liter turbocharged I4 engine. The secret behind keeping internal combustion engines relevant in an increasing fuel conscious market is being able to deliver the power of a muscle car without sacrificing fuel economy. That's the tightrope many car owners have to walk. Do they want a car that will purr like a lion or a vehicle that can go across the state on a single fill-up? There are plug-in hybrids known to be able to drive from Miami to Tallahassee in one go.
So how can automakers still relying on good ol' gasoline-powered engines compete? Turbocharged engines are the key. A turbocharged 4-cylinder engine can easily deliver the power of a V6 engine without sacrificing fuel economy. If anything, a vehicle with a turbocharged 4 cylinder will get fuel economy roughly close to a normal 4-cylinder engine. What's even better, FCA is calling this a "Global Medium Engine."
"We definitely engineered the product to have a significant number of technologies that can be applied or applied in combination … We clearly have an eye on this being around for many, many years." – Bob Lee, head of Powertrain Coordination for Fiat Chrysler Automobiles.
Now, for those of you who are on the up-and-up about automotive news and auto shows, this new turbocharged inline 4 cylinder engine may ring a bell. Yes, it's one of the available engines in the new 2018 Jeep Wrangler JL lineup. Rated a best-in-class 270 horsepower and 295 lb.-ft. of torque, this tiny engine packs quite the punch. Paired to an eight-speed transmission definitely helps with fuel economy – the more gears or speeds, the easier it is to switch without expending extra fuel, the main reason for continuously variable transmissions (CVTs).
The new 2018 Jeep Wrangler JL also is dipping its toes into the alternative fuel pool by using a new system to generate torque. Known as the eTorque system, it will act much like a hybrid system, offering functions such as auto stop/start, electric power assist, extended fuel shut-off, transmission shift management, intelligent battery charging, and regenerative braking. In a sense, one could call the new Wrangler JL a pseudo-hybrid vehicle, and for those out there who don't want to sacrifice power for mileage may be interested to see more vehicles with a similar setup.
Well, those people are in luck. This new "Global Medium Engine" is said to replace the naturally aspirated Tigershark engine. Yes, the Tigershark engine is found in many vehicles, and gets the job done, but it doesn't fit the bill quite right when it comes to performance and fuel economy. Humorously enough, the popular Tigershark engine is also known as the "World Gasoline Engine", also an inline 4-cylinder engine. The Tigershark engine has found its way under the hood of many vehicles from 2013 to now, including the now discontinued Dodge Dart and Chrysler 200, the Jeep Cherokee, Jeep Renegade, and even the Ram ProMaster City. This won't be the end of the Tigershark engine though, but it may start to lose popularity in the future.
What makes this new engine future-proof is that the new turbocharged engine will provide more performance options even while regulatory requirements on emissions and oil tighten. That's great news, and not just for consumers and FCA, but plant assembly workers too. Workers at production plants may start to feel the heat when the product they're producing is no longer practical. Currently, the north plant for production of the engine, situated in Trenton, New Jersey currently employs 1600 people. There isn't any word on new jobs popping up for the new turbocharged I4 engine, but the plant is committed to retain at least 245 jobs during its planning phase.
"The good news about our situation is that we have needs for a lot of engines, and all of our plants feel pretty good right now." – Bob Lee.
Interested to learn more about this new turbocharged inline 4-cylinder engine? We won't be seeing them in vehicles on a large scale for 3.5 years, but if that's how long it takes to get it just right, then we say take all the time you need. We can still talk plenty about this engine, and the 2018 Jeep Wrangler JL on Aventura CJDR social media.
Photo Source/Copyright: freep.com