MotorTrend Presents Roadkill Nights Powered by Dodge Returns for 2022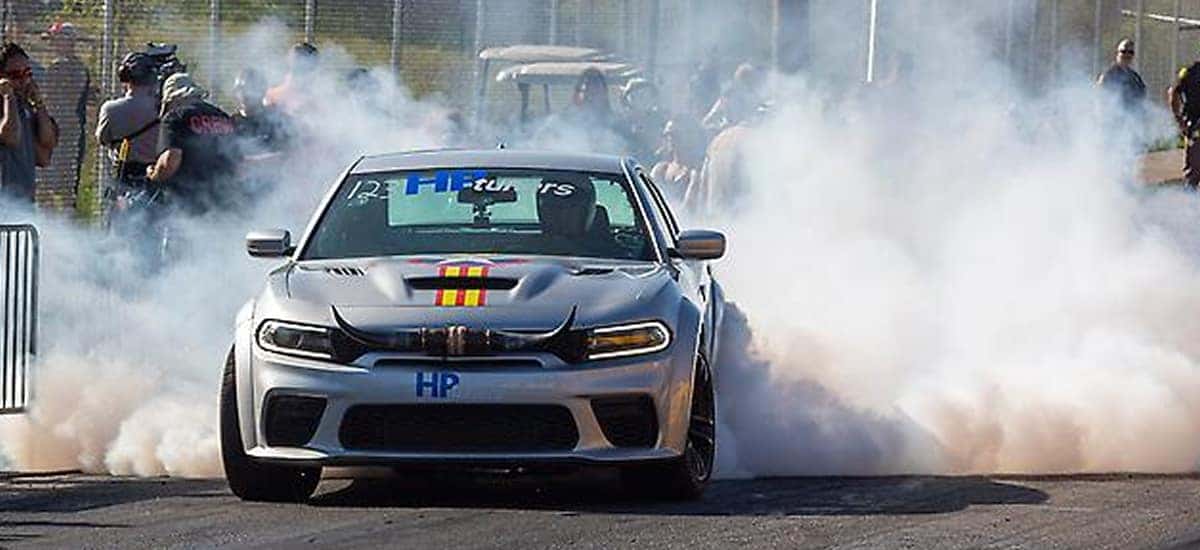 When Dodge announced its "Never Lift" campaign, a 24-month rollout of automotive-enthusiast-related events and operations every three months for the next two years, the automaker delivered. Since the announcement in November 2021, there have been five installments, including Operation 25//8, announced the new open position for Dodge Chief Donut Maker in January (crowned in April 2022), introduced the new Direct Connection Performance Parts catalog, Dodge Jailbreak models, Dodge Power Brokers, and the release of HEMI® Orange for the Durango. The Direct Connection hit a small slip with the semiconductor chip shortage, but Roadkill Nights is here to pick up the pace, opening another garage door of the Dodge Never Lift campaign.
"We are marking the seventh year of Roadkill Nights because of the passion of our enthusiasts, who have turned out by the tens of thousands year after year to join us in an annual celebration of all things high performance…We can't wait to return to Woodward with our friends from MotorTrend." – Tim Kuniskis, Dodge brand CEO – Stellantis
"MotorTrend Presents Roadkill Nights Powered by Dodge" is an annual event where street racing becomes legal again. Dating its origins back to 2015, it all started as a means for auto enthusiasts to test their mettle and their vehicles once a year. Today, it's a one-day car culture festival that offers a plenty of fan-favorite activities, such as Dodge thrill and drift rides, Dodge driving simulators, a classic and modern muscle car show, and of course, legal street racing. Every year, there's a huge turnout, and this year is expected to be huge after the 2021 edition of Roadkill Nights had more than 38,000 enthusiasts at the M1 Concourse in Pontiac, Michigan.
2022 marks the seventh year that Roadkill Nights is taking place. Yes, the math is correct on that one. 2020 cancelled a lot of automotive events that year because of the COVID-19 pandemic. Returning in 2021, and back at it again in 2022, the seventh edition of MotorTrend Presents Roadkill Nights Powered by Dodge is set for Saturday, August 13, 2022, this time on metro Detroit's famed Woodward Avenue. What makes this event special for the fans is that they also have a chance to enter and race their own vehicles.
One memorable event of last year's "MotorTrend Presents Roadkill Nights Powered by Dodge" was MotorTrend's series "Fastest Cars in the Dirty South," hosted by Eric Malone, where four well-known stars in the automotive online space – Alex Taylor, Tavarish, Westen Champlin, and Throtl – would be racing for glory on Woodward Ave. Testing their ability to modify a vehicle for legal street racing, each driver received a Challenger or Charger SRT Hellcat Redeye plus $10,000 in cash for modifications. Alex Taylor won the popular online automotive builder showdown, and will be returning for a new event inspired by the event. This year, it's a Dodge Direct Connection Grudge Race, where competitors will of course use Direct Connection parts to build their own a drag-race machine, including the Hellcrate Redeye 6.2L Supercharged Crate HEMI® engine and a plug-and-play Hellcrate Redeye 6.2L Supercharged Crate HEMI Engine Control Unit (ECU).
Sometime early this summer, more information for MotorTrend Presents Roadkill Nights Powered by Dodge, including information on the event schedule, spectator tickets, car show registration, participant registration for drag racing, and available VIP packages will be made available at motortrend.com/events/roadkill-nights/. "MotorTrend Presents Roadkill Nights Powered by Dodge" is an event produced by ROADKILL, a brand of MotorTrend Group, as seen on MotorTrend+ and MotorTrend TV. As always, even legal street racing can have safety risks, and all drivers out there should be careful when attempting to race.
Looking forward to Roadkill Nights 2022? Follow along with this event and the Dodge Never Lift Campaign when you follow us on Aventura Chrysler Jeep Dodge Ram.
Photo Source/Copyright: Stellantis Media