Off-Road Capabilities of the 2019 Ram 1500 Rebel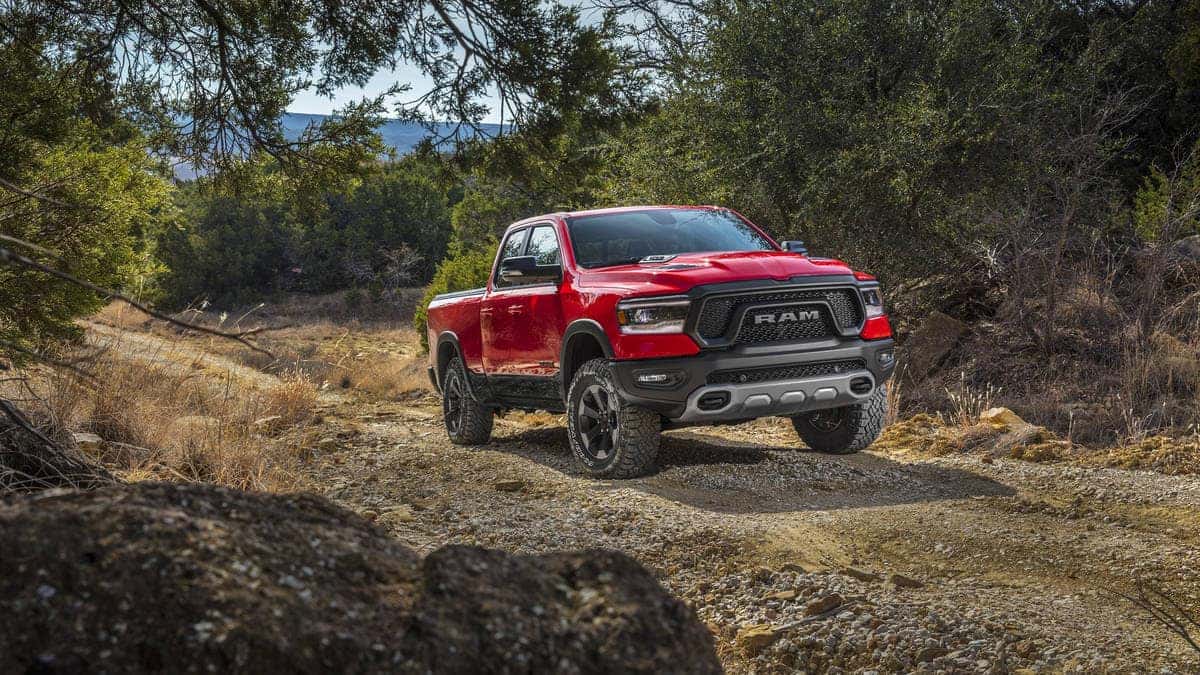 Ram has been pretty busy with the 2019 Ram 1500 light duty pickup truck since it debuted at the 2018 Detroit Auto Show. We thought Ram trucks were feisty last year, coming out with new special editions once every few months, like the 2018 Ram Limited Tungsten Edition, 2018 Ram Harvest Edition, and Ram 1500 Hydro Blue Sport. This year, it's more of the same, but in a good way. We did notice one thing though – aside from a slight mention of the new off-road package and Rebel trim, no one's really talking much about the Ram's off-road capabilities, and the off-road capabilities are pretty big news when looking at the work truck.
Updated Trims
We won't spend too much time talking about the trims that have shown up for the 2019 Ram 1500 following its reveal. The 2019 Ram 1500 Laramie Longhorn is a blast from the past and as gorgeous as it is rugged. Revealed in Texas was the Ram Lone Star, also known as the 2019 Ram 1500 Big Horn in the rest of the country. The 2019 Ram 1500 Tradesman base model was also released, but not before Mopar and Ram held a webcast at the 2018 Chicago Auto Show to not only announce their new Ram performance catalog with over 200 new parts available, but also demonstrate how consumers can customize their own Ram 1500 truck by displaying a 2019 Ram 1500 outfitted with several Mopar aftermarket accessories. This included an all-new Ram-rack (a fully adjustable system that attaches to rails in the truck bed and can carry oversized cargo), a Mopar 2" Lift kit, beadlock capable wheels, BFG KO2 35"tires for additional grip, new truck bed rails, an all new Off-road running boards tucked up close to the body for maximum ground clearance (and covered with spray-on bedliner material for extra grip), Mopar's Ram air flow cold air intake system under the hood of the 2019 Ram 1500, a Katback exhaust system with black chrome tips, Katzkin leather for the upholstery, stainless steel door sill guards, and Bucket style floor mats.
The pricing for the 2019 Ram 1500 was also announced, starting at $31,695 (plus destination fee).
So there's all this, and the off-road capabilities of the 2019 Ram 1500 have barely been discussed. Is everyone forgetting the new off-road package available to nearly every trim of the light duty pickup truck? The package adds four-corner air suspension and a front and rear stabilizer bar, a one-inch suspension lift, an electronic-locking rear differential, 32-inch on/off-road tires on (standard) 18- or (available) 20-inch wheels to provide additional grip, robust skid plate protection (transfer case, steering, engine and gas tank), tow hooks, and hill-descent control for added off-road capability. In addition, the transfer cases have also been upgraded with BorgWarner 48-12 for part-time 4WD operation with Hi and Low ranges and the BorgWarner 48-11 for on-demand 4WD. And this is just the standard for the 2019 Ram 1500 4×4 package.
Going Off-Road with a 2019 Ram 1500 Rebel
The 2019 Ram 1500 Rebel has some more off-road features. The Ram 1500 Rebel has new 18-inch wheels with 33-inch Goodyear Wrangler DuraTrac tires driven by an electronic-locking rear differential, the Rebel comes standard with coil spring suspension, a one-inch factory lift, and designed Bilstein shocks. Ram's active-level four-corner air suspension is an available add-on for the Ram 1500 Rebel, standard in the new off-road package. The Ram 1500 Rebel is also now available in both quad-cab and crew-cab configurations as a result of the beefed-up frame on the new 2019 Ram 1500. With all this goodness, one wonders how well it handles going off-road.
Let's put it out there now – the Ram Rebel is not just a swanky new appearance package. The off-road capabilities extend beyond this, built with suspension articulation, hill climbing prowess, and desert running capability. Basically, for hardcore off-road truck buyers, this is all the capability you'll ever need.
Drop the transfer case into 4WD Low, and the 2019 Ram Rebel can work through even the most demanding terrain without much trouble. With the 395-hp HEMI V8-equipped, the Rebel effortlessly climbs through bumpy ravines and up inclines too steep enough to cover on foot. In addition, although possible to go rock crawling, driving through rocky terrain at high-speeds will overwhelm the suspension a bit — but that's why it's called rock crawling.
The real shining characteristic of the 2019 Ram Rebel is the coilover suspension, with or without air suspension. Although it may make sense with other trims with the 4×4 off-road package to get air suspension, the Rebel is more sure-footed on rocky terrain than the rest of the lineup. Trims like the Laramie Longhorn do, however, feel sturdy with minimal body motion when trekking through densely packed and uneven dirt roads at high speeds.
In short, the 2019 Ram Rebel is a little over qualified for going off-road, but that makes for good competition. The 2019 Ram 1500 can do heavy lifting and go rock-crawling? The Jeep may want to watch out, even with its partnership under the same FCA umbrella. What do you think? Let us know on Aventura CJDR social media.
Photo Source/Copyright: AutoWeek.com