Mopar and Ram Packages at the 2018 Chicago Auto Show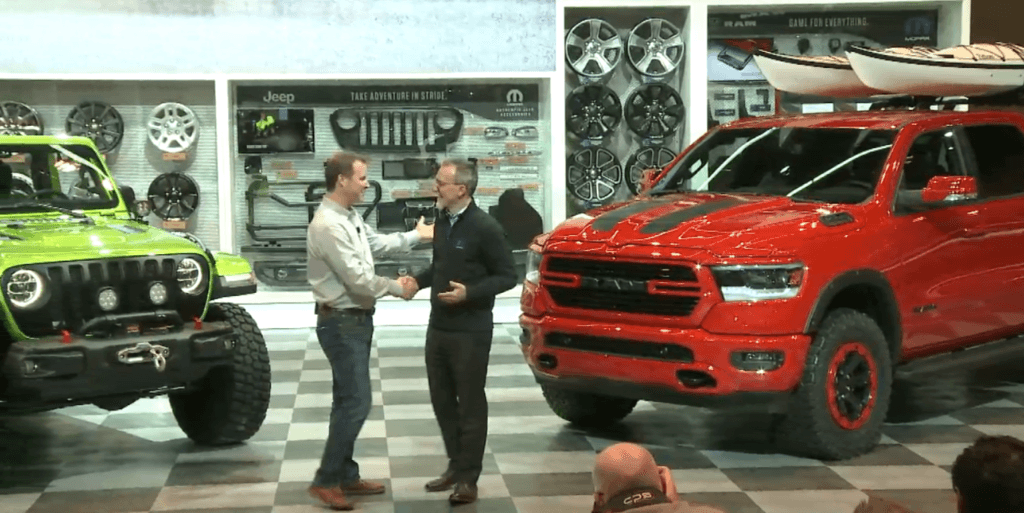 For those not aware, the 2018 Chicago Auto Show is the second major auto show of the year. In fact, the press got first dibs on what's new before the event opened to the public officially, February 10th. On Friday, February 9, Mopar and Ram got together for a special presentation. Many thought Mopar was going to release a special edition Ram 1500 being that the 2019 Ram 1500 recently debuted at the 2018 Detroit Auto Show. It just made sense given Mopar's long-running history with releasing limited edition Moparized FCA vehicles. During the presentation on Friday, a webcast went live to show off the new product. However, what we saw during the webcast was more like a handful of products versus a solid single edition.
Ram Making Headway
Just like the new 2018 Jeep Wrangler JL that made its debut at the 2017 Los Angeles Auto Show and then returned to the 2018 Consumer Electronics Show to show off even more goodies with new Jeep mobile apps, the 2019 Ram 1500 had a similar motive. First, the 2019 Ram 1500 debuted at the 2018 Detroit Auto Show/2018 North American International Auto Show, and then put on a little presentation with Mopar. Why is a new Ram model so important this year?
That would be because although a new model year, the 2019 Ram 1500 is practically a next-generation pickup truck. Just take a look at all the new changes Ram brought to their light duty truck:
– The new 2019 Ram 1500 has the strongest frame of any Ram truck before, constructed from high-strength steel that makes up 98% of the total body.
– The V6 and HEMI V8 engines have been implemented with the eTorque system for hybrid capabilities and additional power. On the HEMI V8, able to generate 410 lb-ft of torque, with the eTorque system, that's another 130 lb-ft of torque added on.
– Two new technology features have been introduced for truck drivers. The first, a 360 surround view camera that can provide a birds-eye view of the vehicle via four cameras positioned around the chassis to create a fully stitched image. The second, a blind spot system with trailer coverage, able to detect how long and wide one's trailer is while on the road and around turns.
– In terms of entertainment, the infotainment system got a new 12-inch touchscreen, a first for pickup trucks everywhere. The 2019 Ram 1500 is also the first vehicle to debut Sirius 360L, designed with on-demand technology that learns what people listen to and allows users to operate Sirius from virtually anywhere.
– The new 2019 Ram 1500 Laramie Longhorn and Limited trims, are made with all-new premium soft materials, such as authentic wood, leather, and metal.
– There's more space in the cabin, not only improving overall ride quality, but also allowed the addition of a reclining rear seat in the back of the cab for more leg room
– The 2019 Ram 1500 is able to haul a 2300 lbs payload and/or tow 12,750 lbs when powered by the HEMI V8
– Six trims make up the new 2019 lineup, all of which vary in personality and (optional) looks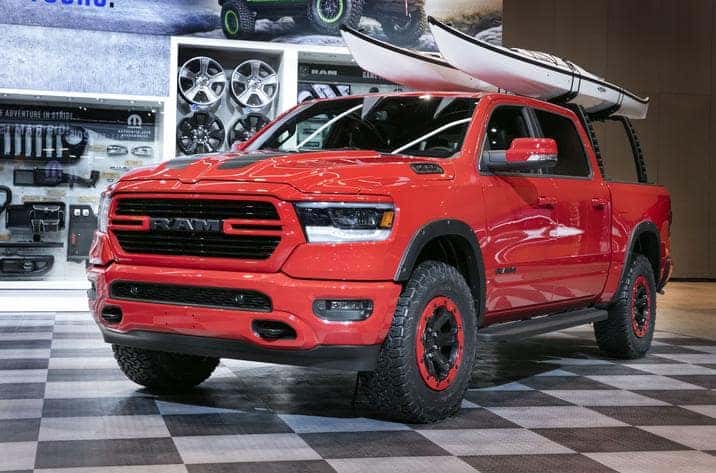 Ram Partners with Mopar
Having been in business for 80 years, Mopar has come a long way from a motor parts and accessory store. Mopar is known for being a custom auto shop now, designing performance parts for Dodge, Chrysler, and Ram. Mopar is also known for making limited editions of FCA vehicles, like the Mopar '17 Dodge Challenger they made last year. So when they announced a product presentation at the 2018 Detroit Auto Show together, many thought a Mopar '18 Ram 1500 was going to debut. Instead, it was something completely different.  
Some time last year, Mopar dug through its performance parts catalog and found one of their brands was lacking – Jeep®. The most customized vehicle in the world is the Jeep Wrangler, named the hottest 4×4 SUV at SEMA for eight consecutive years. Out of all the Jeep Wranglers that are customized, 98% of them come with at least one Mopar accessory. It may be due to a lack of gear, it may be due to product diversity, but Mopar realized it was lacking Jeep parts and launched a new portfolio with 200 accessories for the Jeep Wrangler. Many of those accessories showed up on the Wrangler at the Chicago Auto Show presentation.
200,000 hours were invested into the design, testing, and validation of those 200 new parts, and 80,000 of that 200k went into the design, testing, and validation of over 300 parts for the Ram 1500. Mopar has created an all-new catalog for the Ram 1500 that can give consumers the ability to customize their Ram pickup truck for any kind of lifestyle. They demonstrated this by showing off an outdoorsy setup with the following add-ons:
– An all-new Ram-rack, a fully adjustable system that attaches to the rails in the truck bed and can carry oversized cargo
– A Mopar 2" Lift kit
– Beadlock capable wheels
– BFG KO2 35"tires for additional grip
– New truck bed rails
– All new Off-road running boards tucked up close to the body for maximum ground clearance, covered with spray-on bedliner material for extra grip
– Mopar's Ram airflow cold air intake system under the hood of the 2019 Ram 1500
– A Katback exhaust system with black chrome tips
– Katzkin leather for the upholstery
– Stainless steel door sill guards
– and Bucket style floor mats
Now, the Ram 1500 isn't the only fully customizeable FCA vehicle. Whether looking to go off-road with a Jeep, or want to mix-and-match with off-road glory and raw power for heavy lifting, Mopar and Ram can make it happen. Excited about these new add-ons from Mopar? Let us know on ACJDR social media.
Photo Source/Copyright: Mopar Press Conference/livestream; FCA Media