Jeep Wrangler JL at the 2018 Consumer Electronics Show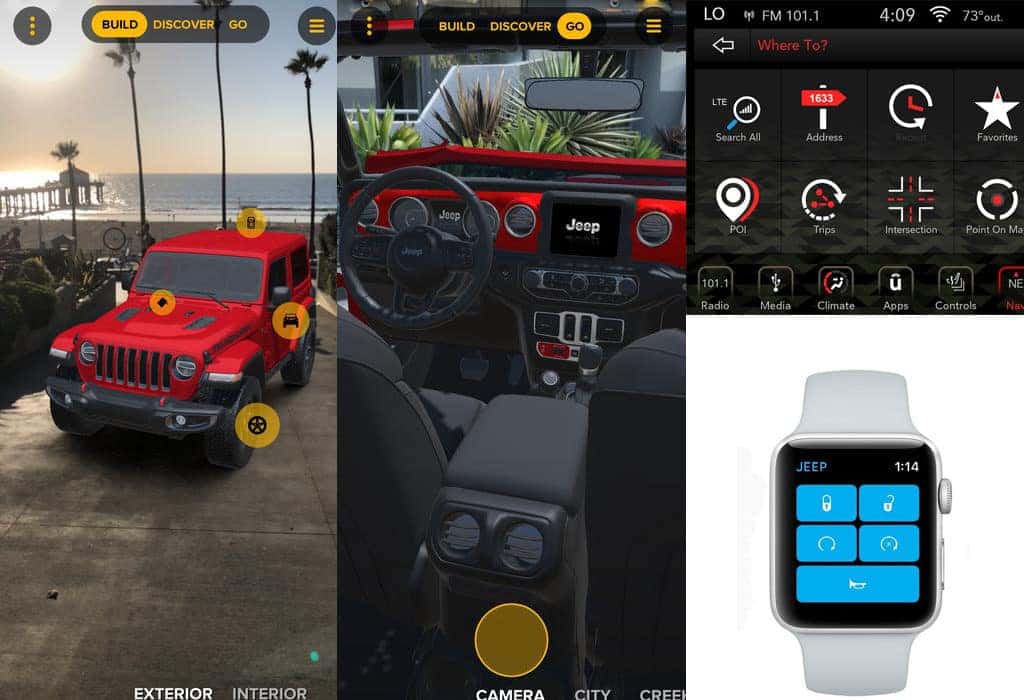 The 2018 Consumer Electronics Show (CES) already came and went with only three days for exhibitors and brands to show the goods before packing it all up again. However, those three days were packed with the latest and coolest gadgets coming to stores hopefully this year. Many interesting products stood out, and we were surprised to see nothing really glamorous in terms of vehicles. Just the same stuff we've been seeing for the past few years at auto shows. The 2018 Jeep® Wrangler did return for CES 2018 though, and it showed off some technology not previously demonstrated or discussed.
Advanced Technology Featured in 2018 Jeep Wrangler JL
Throughout the duration of CES 2018, lucky consumers got to test some new Jeep technology with a hands-on demonstration. We already know about all the good stuff about the new Jeep Wrangler JL at the LA Auto Show, such as its eTorque system and the next-generation Uconnect 4 infotainment setup. The real in-vehicle interactive technology advancements introduce a never-before-seen Jeep Adventure Reality app, Amazon Echo connectivity, and four all-new connected services – Uconnect App Smartwatch Compatibility, Family Alerts, online search for Uconnect NAV, and Drive 'n Save.
New Jeep Adventure Reality App
Interested in building a Jeep of your own and wondering how it will actually look on the road? The all-new Jeep Adventure Reality App does exactly that using an augmented reality configuration tool, much like the Ram upfit configurator. Consumers can explore trim levels, colors, and configurations of all Jeep models to build their own personal Jeep vehicle. Choose between two-door or four-door, hardtop or soft top, change the colors, choose wheel designs, and see it all come to life. Consumers can even step into the virtual vehicle and check out the interior in high-resolution imagery – no goggles needed.
Consumers can then share their vehicle build socially and find local dealers that may have what they're looking for on the lot. At this time, the app is only available on select Apple products. Specifically, the iPhone 7, 8, X and iPad Pro.
Amazon Skill for Jeep
Developing a skill for the Amazon Alexa virtual assistant seems to be the new thing for automakers. Chevrolet has one, Kia has one, and now Jeep has one, too. Available for Amazon Alexa and Echo Dot devices, consumers may enable the Jeep skill* to open a large selection of voice commands. Consumers may start the vehicle's engine, lock and unlock doors, send navigation instructions to the vehicle, and even check fuel and tire pressure levels from the comfort of their couch.
Uconnect Features
Uconnect is nothing new to those who have driven an FCA vehicle before. Now, it just got better with the ability to stay connected to one's vehicle with the new new Uconnect App Smartwatch integration. Compatible with the Apple Watch and Android Wear devices, owners can quickly and remotely start their vehicle, lock and unlock doors, sound the horn, and flash lights directly from their smartwatch. In addition, Uconnect NAV just got its own built-in Yelp! function, able to search for yet unknown points of interest, such as the new movie theatre having a grand opening or latest restaurant addition in town.
Family Alerts
Now, Jeep vehicles are available with a program made for teens. Just like many other products out there, Jeep Family Alerts can set up for a number of things.
– Set boundary limits with up to five geo-fence boundaries to keep an eye on where the vehicle is driven
– Curfew alerts give owners the ability to make sure would-be grounded teen drivers aren't driving later than they should
– Speed alerts notify the owner when the vehicle exceeds a certain speed limit
– Valet alert will give peace of mind to those skeptical about handing the keys over to a complete stranger, able to notify the owner with an alert if their vehicle leaves a 0.25-mile radius of the drop-off zone.
Drive 'n Save
Like Progressive, FCA now awards its drivers with good driving habits via auto insurance savings. This year, 2018, vehicles equipped with Uconnect Access or SiriusXM Guardian connected services will have this feature available. All owners have to do is sign up, enroll into the program, and then drive. Uconnect will monitor driving behavior and vehicle information, create a personalized driving score, and then send it to a VIN-specific account owners may view. Data is collected over three months for accuracy, and all scores stay anonymous until the driver chooses to discuss their account and personal information with an auto insurance provider.
Seems Jeep was saving some of this nifty tech for another auto show. What a nice surprise. Looking forward to testing some of this out yourself? 2018 Jeep Wrangler JL vehicles are in production and heading to dealership lots soon enough. Be sure to check our inventory of Jeep vehicles regularly.
*To enable the Jeep skill on Alexa or Echo (Dot), owners must first register with SiriusXM Guardian connected services prior
Photo Source/Copyright: FCA Media
Compiled by Jordan Rodriguez