Jeep Wrangler Unlimited Rubicon 392 Coming in Spring 2021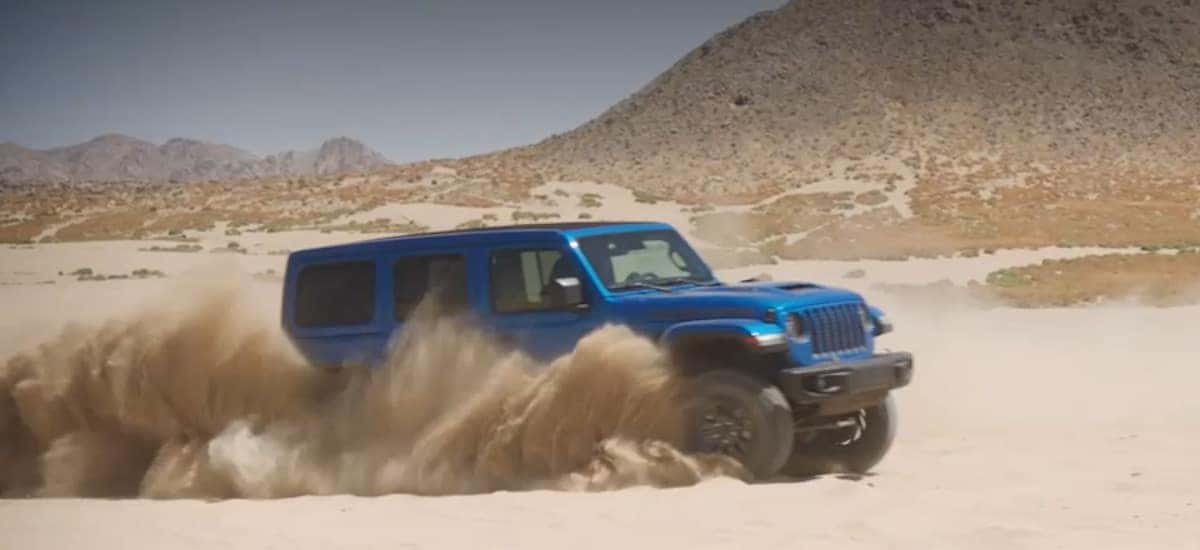 When it comes to off-road automaker Jeep®, we keep getting surprised by what comes next. In recent years, the first Jeep model to break a glass ceiling of sorts was the 2019 Jeep Gladiator, first announced and then revealed in 2018. Then in 2020, Jeep made good on its word to electrify its lineup, first introducing plug-in hybrid variants of the Jeep Renegade 4xe and Jeep Compass 4xe in Europe. The bigger deal was the Jeep Wrangler 4xe, going global. What comes next? The 2021 Jeep Wrangler Rubicon 392, available in Spring 2021.
Yeah, in case anyone has forgotten, "392" is a term usually associated with muscle car automaker, Dodge. Also, under the Stellantis umbrella, this wouldn't be the first time Dodge has shared its power with another automaker in the group, back when Fiat Chrysler Automobiles (FCA) was still its own automotive group. Does anyone remember the 2018 Jeep Grand Cherokee Trackhawk? Released the same year as the 2018 Dodge Challenger SRT Demon, the horsepower poured over to other automakers in the group, and Jeep used it to put a supercharged 6.2-liter HEMI SRT V8 under the hood of the Jeep Grand Cherokee SUV.
Of course, this didn't last very long, and like the 2028 Dodge Challenger SRT Demon, was more of a one-off for that model year. Ram Trucks also got some love. Once a part of Dodge, known as Dodge Ram before the two split, Ram put the 6.2-liter supercharged HEMI® V8 engine into the Ram 1500 to create the 2021 Ram 1500 Rebel TRX. Known as the Ram 1500 TRX or RAM TRX for short, it's the quickest, fastest, and most powerful mass-produced half-ton pickup truck in the world. With models like this coming out, it's no wonder that Jeep is testing the waters with another engine from Dodge before high-performance engines disappear from Stellantis forever.
Muscle car owners and lovers known about the 392-cubic-inch HEMI V8 engine. Found standard on the Dodge Challenger R/T Scat Pack and standard on the Dodge Charger Scat Pack, these vehicles get 485 horsepower and 475 lb-ft of torque. The Dodge Charger Scat Pack can accelerate from 0-60 mph in just above 4.0 seconds. This is not a mid-level engine like the 5.7-liter HEMI V8, no offense to its 370 horsepower and 395 lb-ft of torque, but the 392 sits just under the SRT Hellcat engines in the Dodge lineup. Putting a 6.4L HEMI® V8 engine in the Jeep Wrangler Rubicon will make this off-road SUV the quickest, most powerful Wrangler ever produced.
Why? Why not? Jeep already has legendary off-road capability, why not try to also own horsepower when it comes to multi-terrain vehicles? It's not just torque pushing the Jeep through off-road trails this time. With 470 horsepower, 470 lb-ft of torque, the Jeep Wrangler Rubicon 392 can accelerate from 0-60 mph in just 4.5 seconds and run a quarter mile in 13.0 seconds. It sounds a little crazy,
Now to hit everyone where it hurts. This kind of power doesn't come cheap. To own a 2021 Jeep Wrangler Unlimited Rubicon 392, consumers are looking at a starting MSRP of $73,500 (plus destination fee). How far are you willing to go as a Jeeper? Find new Jeep vehicles at Aventura Chrysler Jeep Dodge Ram.
Photo Source/Copyright: Jeep.com