Jeep Wrangler Pickup Gets the Gladiator Nameplate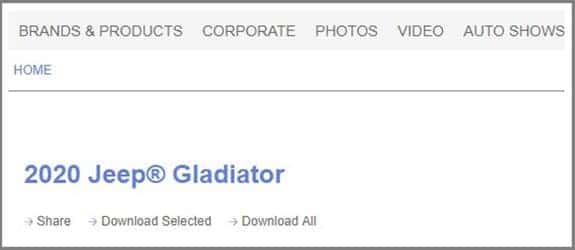 Woo-wee! Although set to debut later this month (November 2018), Fiat Chrysler Automobiles (FCA) just couldn't keep the new Jeep® Scrambler pickup under wraps any longer. The anticipation for this Jeep Wrangler pickup is strong, with Jeepers clamoring for the possibilities of their favorite Jeep model also offering the power to carry heavy payloads or tow their jet skis to the beach. Thanks to people who live on the internet, someone caught a screenshot of a page on the official FCA Media website before it was taken down – that page read "2020 Jeep Gladiator".
If that name doesn't ring any bells, it should – "Gladiator" was the name given to the first Jeep Wrangler-based pickup truck, a concept that never reached production back in 2005. Although the concept for the previous-generation Wrangler pickup was a hit, it never received the greenlight for production. Rumor has is that when Fiat Chrysler, previously known as DaimlerChrysler before the merge with FIAT, Chrysler was the parent company of Jeep. It would seem the merge agreed on back in 1998 fell apart in 2007, breaking any future concepts at the time.
Now that FCA is experiencing glory with its rise in sales, with Ram and Jeep consistently leading the pack, it's time to invest in some new concepts. With a five-year roadmap by Jeep out there, we can say these new concepts are officially going to be popping up in the Jeep lineup in the coming years. Wonder if they'll discontinue some older models to make some room.
If some are confused with the new Gladiator name, that may be because it was also used on a Jeep Wagoneer-based pickup way back in 1962 and sold for a decade, ending in 1971. A decade isn't very long for vehicle popularity, and that may have been another factor that put the Wrangler-based pickup on hold. The new Jeep Wrangler "Gladiator" is said to still provide the off-road performance of its SUV counterpart, and will still be aimed at lifestyle buyers who like the open-air freedom of the Jeep Wrangler – it just comes with a longer wheelbase to support the truck bed.
All of this information is coming from a trusted source at JeepScramblerForum.com, although they may soon need to change that name for the upcoming Gladiator. The forum's trusted source scanned the page before FCA Media took it down and was able to jot down a few notes for the internet to share. They're all codes, but they go a little something like this – Sport Pickup JTJL98, Overland Pickup JTJP98, and Rubicon Pickup JTJS98.
What does that mean? It means the Jeep Wrangler-based pickup already has three trims planned for the Gladiator. And you know what they say – nothing says "off-road warrior" like a Rubicon trim, always built to handle the harshest and most difficult of conditions. If the Jeep Gladiator comes with a Rubicon trim, then it will definitely be the beat-all off-road truck.
We'll find out more when the Los Angeles Auto Show kicks off at the end of this month, from November 30 – December 9, 2018. Stay tuned by following us on Aventura Chrysler Jeep Dodge Ram social media.
Photo Source/Copyright: CarBuzz.com