Jeep Rolls Out Jeep Compass 4xe and Renegade 4xe First-Edition Models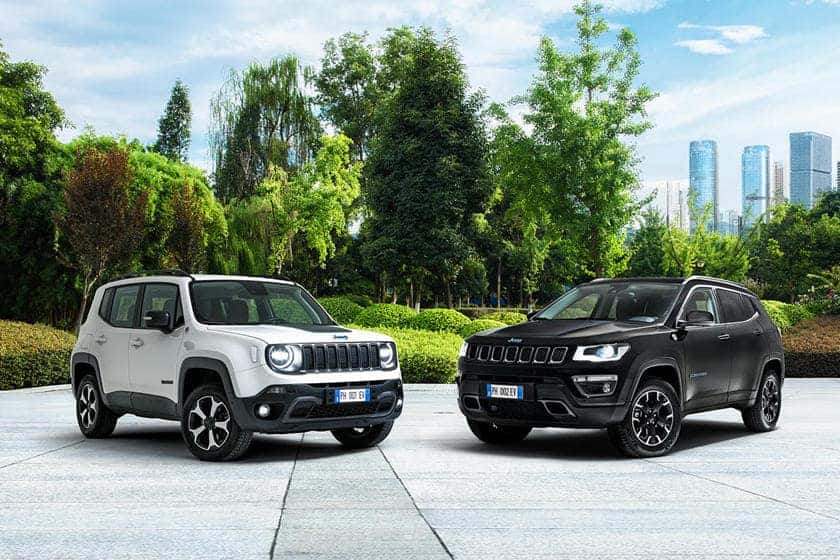 During the 2019 Geneva International Motor Show, automaker Jeep® wowed us with the reveal of their plug-in Renegade and plug-in Compass. More recently, during the 2020 Consumer Electronics Show, Jeep revisited the Renegade and Compass but also introduced the Jeep Wrangler Plug-in Hybrid, an obvious addition. It's all a part of the Jeep Five-Year Roadmap to make a hybrid version of every model in the lineup. Even with production models like these making their appearance in Las Vegas, Nevada, the first-ever plug-in hybrid Wrangler, dubbed, the 4xe, and the rest of the trio have yet to be offered in the states. For those overseas, however, Jeep is currently offering "First Edition" models of the Jeep Renegade 4xe and Compass 4xe in Europe.
Plans to Go Electric
Fiat Chrysler Automobiles (FCA) plans to release 10 plug-in hybrid electric vehicles (PHEVs) by 2022, and three of those vehicles should be available by the end of 2020. Most likely, we're talking about the Jeep Wrangler 4xe, Renegade 4xe, and Compass 4xe here. As per the Five-Year Roadmap, Jeep aims to release at least two vehicles per year, with 10 models from its lineup receiving PHEV variants by 2022 and four models from its lineup receiving battery-electric vehicle (BEV) variants by 2022. Moreover, by 2021, each nameplate should have some form of electric option. Whether that means we're going to see a surge of 4xe vehicles of more models with the option to add a powertrain with the mild-hybrid eTorque system is yet to be seen.
As mentioned, the first two models to debut, the Jeep Renegade 4xe and Compass 4xe are currently being sold in Europe with one trim available, the "First Edition" models. Relatively similar, both sub-compact PHEVs are powered by a 1.3-liter turbocharged four-cylinder engine and an electric motor. Together, the powertrain is able to generate 240 horsepower. It makes these models more powerful than any of their internal combustion engine counterparts, and although the Wrangler is bragging a 30 units more horsepower, the Renegade 4xe and Compass 4xe should be fun to drive due to their small stature and lower center of gravity – just don't try any donuts in this.
For the release of the Jeep Renegade 4xe and Compass 4xe "First Edition", a new eAWD by Jeep has been installed on each model. This new e–All-Wheel-Drive system transfers power from the engine to the front wheels and power from the electric motor to the rear wheels. What an interesting way to achieve all-wheel drive, and it's a new take on powertrains and drivetrains that we've seen growing in trend. Jeep has thrown out some estimates about the kind of power these models will churn out, and they're impressive for sub-compact PHEVs.
Jeep estimates that each model can accelerate from 0-60 mph in about seven seconds and hits a top speed of around 124 mph. If consumers wanted to test the power of just the electric motor, the Renegade and Compass 4xe are both limited to 80 mph, but the range consumers will get in electric mode is also impressive, with at least 31 miles, not counting for regenerative braking. All Jeep 4xe models will come with three driving modes including Hybrid, Full Electric, and E-save, plus special features, such as Sport Mode, Eco coaching, and Smart Charging.
"First Edition" models are based on top trim levels and include standard driving assistance features as well as a charging pack for home and public use. They are limited edition, and we're not yet sure if the North American market will receive its own share of the run. Most likely, we will, but if we do, all these specs may change for the U.S. models. Follow along with us on Aventura Chrysler Jeep Dodge Ram social media to find out when we hear about the U.S. specs.
Photo Source/Copyright: CarBuzz