Jeep Sponsors Juventus FC and Celebrates 10 Year Partnership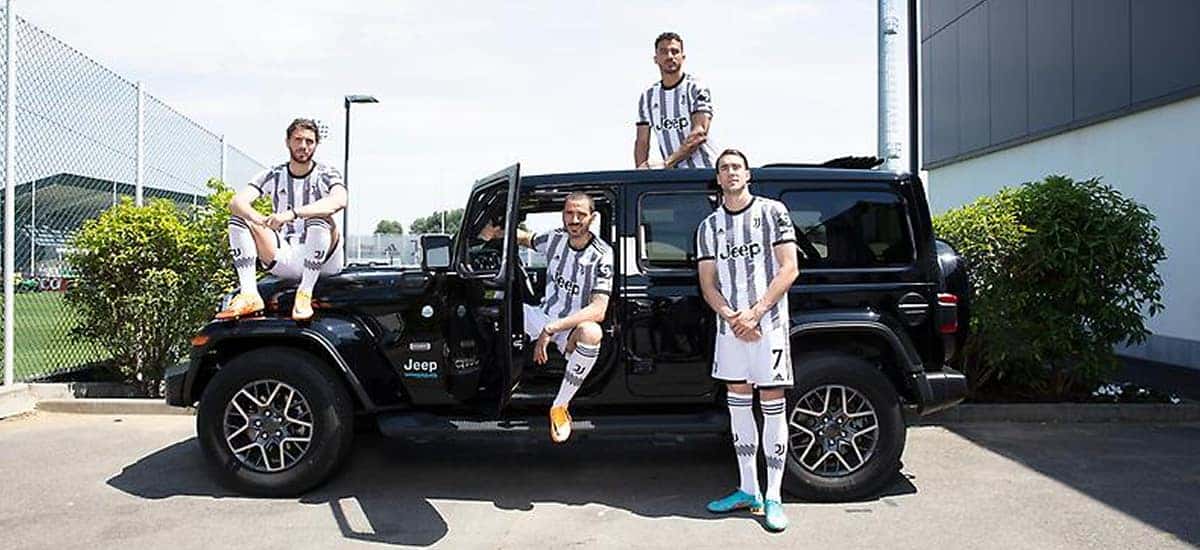 Automakers have been finding new ways to connect with their demographic and new consumers entering the auto market. Aside from upgrading vehicles with more modern technology and connectivity, another good way to connect with people and the community is to sponsor a sporting event or team. As Jeep builds its lineup with electric vehicles (EVs), it also continues to build a community. Welcoming Juventus FC to the United States as part of the club's summer tour, Jeep has been a long-time sponsor and invites fans to cheer on Juventus in upcoming matches.
This partnership with Juventus FC has been going on for 10 years, and celebrations of the anniversary can be seen Jeep brand and Juventus' official social media channels. Also wearing new "electrified" jerseys with the Jeep brand logo to advertise the new upcoming Jeep EV lineup and plug-in hybrid models includes stars Paul Pogba, Ángel Di María, Federico Chiesa, Dušan Vlahović, and Juan Cuadrado. It's the 2022-2023 soccer season, having begun on July 1, 2022 and marking the 10 years partnership between Jeep and Juventus. Back in 2012, during the 2012-2013 season, the Jeep logo first appeared on the bianconeri kit – the word seems to be strictly used synonomously with Juventus as the zebra, or black and white colors the soccer club has adorned since the beginning of the 20th century. During the partnership, the club has won many trophies and made many successful chapters in the history of Italian soccer.
For anyone interested or in the area, upcoming matches for Juventus are in Las Vegas (vs Chivas de Guadalajara) Friday, July 22 at the Allegiant Stadium; in Dallas (vs Barcelona) on Tuesday, July 26 at the Cotton Bowl; and in Los Angeles (vs Real Madrid) on Saturday, July 30 at the Rose Bowl. Cheer them on if you can, or maybe catch the match live or on streaming. It's crazy what Hulu and YouTube have to offer these days.
A little more about that upcoming electric Jeep lineup. We wouldn't mention that and forget about it. Joining the plug-in hybrid electric vehicle (PHEV) lineup, currently consisting of the Wrangler 4xe and Grand Cherokee 4xe in the North American market, with the Jeep Compass 4xe and Renegade 4xe also available overseas. Back in March 2022, a lot of automakers shared new business plans for the rest of the decade, Stellantis included with "Dare Forward 2030". By 2030, the automotive group plans to lead the auto industry with more than 75 BEVs planned to debut, with only 25 of those all-new BEVs will hit the U.S. market. The group has a global sales goal of 5 million BEV units by 2030. The best way to do this is not only convert auto brands to EV automakers – it's to start EV lineups with some of the strongest brands in the group, and that means Ram and Jeep.
Around the same time as Dare Forward 2030, Ram teased its upcoming all-electric Ram pickup truck. Just like Jeep debuting its Jeep Wrangler 4xe in the North American market, the icon of the brand, Ram will be releasing its first Ram 1500 EV. Alongside Ram, Jeep will be releasing its first EV as well, and teased images of the first all-electric Jeep SUV. With plans to release these vehicles in 2023/2024, be sure to be on the lookout for any news on Stellantis EVs and Jeep when you follow us on Aventura Chrysler Jeep Dodge Ram social media.
Photo Source/Copyright: Stellantis Media