All-Electric Ram 1500 Teased by Stellantis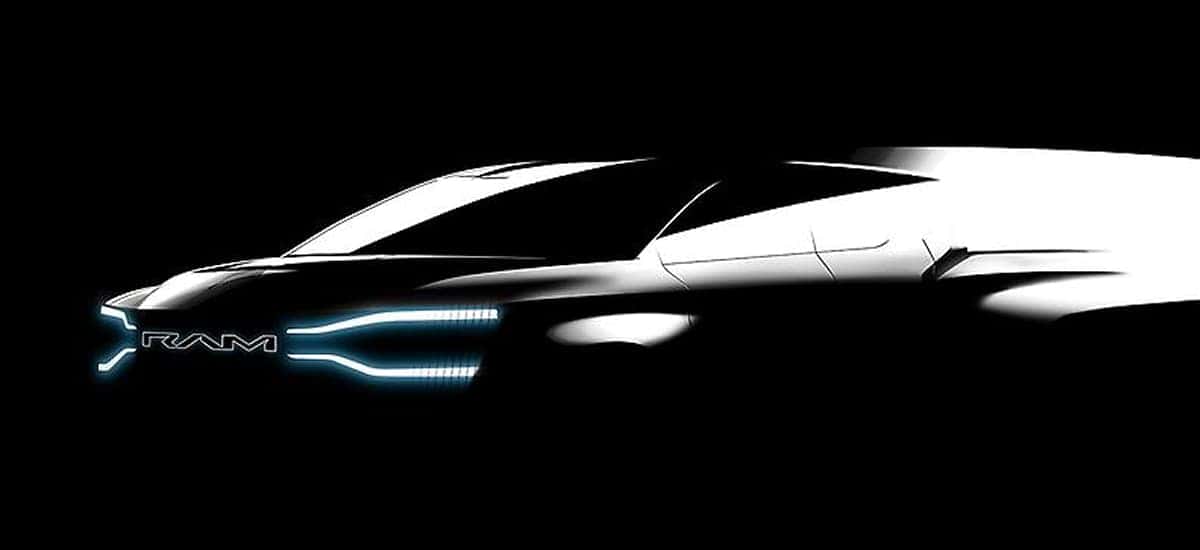 In February 2022, Ram launched a new campaign, Ram Revolution. The pickup truck automaker is getting more involved with fans as it shifts the lineup towards more electrified powertrains. Already making it big, the all-electric Ram ProMaster Vans were purchased in mass by Amazon. With a long-term agreement to utilize thousands of these vans on the road, it's just the kind of cushion Ram needs to take a risk and produce an all-electric pickup truck. Announced last year, the upcoming Ram 1500 battery-electric vehicle (BEV) pickup truck was teased with two images shown during the Stellantis Dare Forward 2030 virtual conference.
This year, Stellantis celebrated its one year anniversary. The merger of Fiat Chrysler Automobiles (FCA) and Groupe PSA became Stellantis in September 2020 and revealed the new Stellantis logo in November 2020. A successful and strong year followed, and although the two groups have been slow to make the change to an electrified lineup, off-road automaker Jeep was already building its lineup with plug-in hybrid electric vehicles (PHEVs), the 4xe lineup. As we mentioned, Ram has already had some success with the electric ProMaster, and late last year, Stellantis announced the shift to electrified options in the lineups of many automotive brands, Jeep and Ram included. During the first half of 2023, the first all-electric SUV from Jeep is planned for release, and the fully electric Ram 1500 pickup truck is planned to make its debut after that.
It's unclear if the recent teaser of the electric Ram 1500 means the release date has been moved up, but it was previously believed that the 1500 would come out some time in 2024, sharing the spotlight with its former parent automaker, Dodge. Yes, the muscle car auto brand is making the commitment to adding electric vehicles (EVs) to the lineup while still keeping true to that good ol' Dodge muscle car performance. Some consumers may be wondering why the shift, and why now? Two good questions.
The easiest answer is the carbon-dioxide emission restrictions set by the European Union. Most automakers go through Europe before going global, and when doing so, the EU rates vehicles based on their CO2 emissions. Aiming to drop to 95 grams per kilometer from 130 grams per kilometer by 2021, the EU became stricter, and automakers with a focus on performance over ecofriendly options hurt the overall score for Fiat Chrysler Automobiles (FCA) in 2019. In fact, the automotive group had to work with its competitor, Tesla, and FCA pooled their lineups together to get FCA to pass, but it cost them a hefty payout.
So, with that in mind, it's also very clear that the auto industry is making the shift towards alternative fuel vehicles. On the one hand, some may say Stellantis is behind, and may even be coming into the race for EVs too late. Stellantis CEO Carlos Tavares says otherwise, and believes that because the automotive group is late to the game, the EVs and PHEVs currently being designed and produced can avoid the same mistakes competitors have made and build upon their success with their own adaptations. There is some truth to that. Before the age of bicycles, there was an invention by German Inventor Karl von Drais that was in essence a push scooter you could sit on. Not as great as the bicycles we have today, but that's just an example of one product learning from another and then building on it, like Stellantis plans to do with the BEV Ram 1500.
Are you looking forward to the upcoming all-electric Ram 1500? We sure are. You can follow along with us on Aventura Chrysler Jeep Dodge Ram social media and join the discussion.
Photo Source/Copyright: Stellantis Media