How the Electric Ram 1500 Will Handle the Competition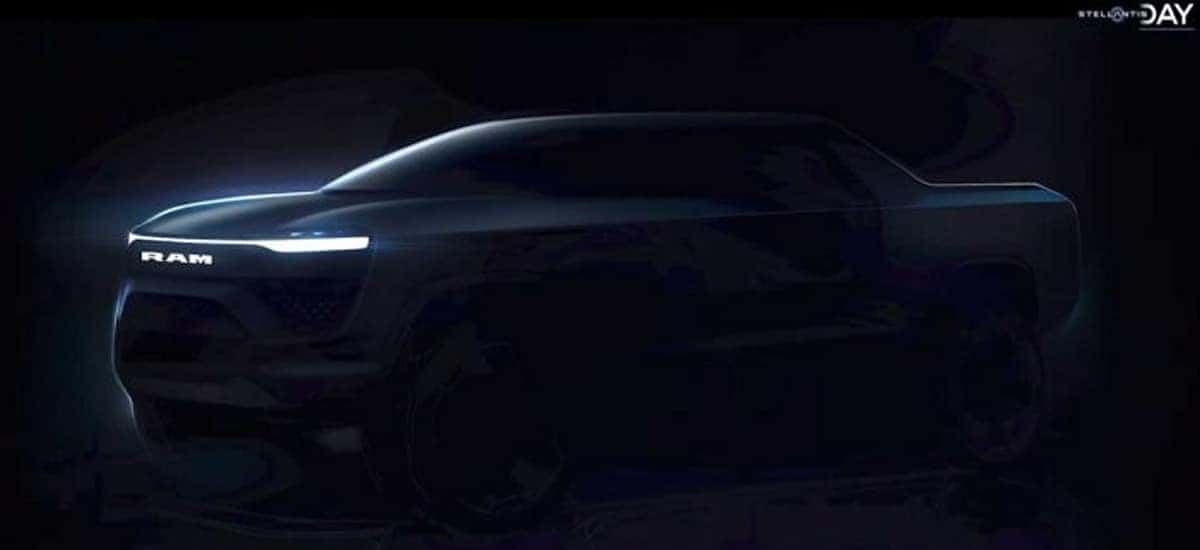 It feels like only a few months ago that Stellantis announced its electrified plans for the next few years. With 2024 sounding like a hot year for the large automotive group, Chrysler, Jeep, Dodge, and Ram will always be on our radar. After Chrysler showed off its Chrysler Airflow Concept at the 2022 Consumer Electronics Show, an all-new electric minivan (watch out Pacifica Hybrid), we can tell there is already some design and development underway. As luck would have it, two large players in the group are Jeep and Ram, and with the Jeep 4xe lineup budding, it's time for Ram to release its own alternative model. On track for 2024 is the first battery-electric Ram 1500 pickup truck.
The all-electric Ram 1500 won't be the first EV to come from the truck brand. Recent news about the all-electric Ram ProMaster and a contract with Amazon came to light in early January 2022, but more on that in another article. A battery-electric vehicle (BEV) is finally becoming the main goal for a lot of automakers, and the BEV ProMaster is set for 2023 – next year. With commercial trucks already making the transition to electric powertrains, it makes sense that a pickup truck brand would start big and work its way down to the smaller models.
Now, it's time to simplify. Not only that, but it's time for competition. If anyone thinks plug-in hybrids and electric vehicles (EVs) are still rare in the auto market, think again. Those types of vehicles are the main course for every automaker still looking to stay alive, with all-electric lineups promised by many within the next few years. Even muscle car automaker Dodge announced an electric lineup, and you can't bet Dodge eMuscle is getting attention from competitors in the high-performance category. With Stellantis finally inching towards the land of EVs and plug-in hybrid electric vehicles (PHEVs), many CEOs are looking at what the competition is working on.
"We are preparing the EV pickup trucks for 2024, and we are doing it by adjusting the specs and adjusting the performance in function of what we see coming up from our competitors…It's a fact that we are coming slightly after them…But it's also a fact that we have the opportunity to adjust the competitiveness and the appeal of our own trucks to what they are doing…" – Stellantis CEO Carlos Tavares told Automotive News
The target for many of the upcoming EVs from Stellantis are aiming for a real-world range between 300 and 500 miles with the ability to fast charge up to 20 miles per minute. Now that really would be something. No longer would we need to plan ahead for a rest stop or run an errand when needing to charge up. Need a few miles before the end of the day? It takes as long as pumping at the gas now.
As we mentioned above, all the major brands under Stellantis are working on an electric lineup, such as the Chrysler Airflow Concept; the ever-growing Jeep 4xe lineup, soon to release a BEV Wrangler; Dodge eMuscle; and now Ram with the electric 1500. Other players in the Stellantis brand that used to belong solely to Fiat Chrysler Automobiles (FCA) are Alfa Romeo and Maserati have announced the launch of EV lineups by 2027. Stellantis may be late to the party, but like Tavares said, it will also give the auto group a chance to see what works and what doesn't to insure success for the road ahead.
Keep up with the new electric vehicles coming from Stellantis when you follow us on Aventura Chrysler Jeep Dodge Ram social media. Find out why automakers are making the change with the Jeep Wrangler 4xe or the Chrysler Pacifica Hybrid.
Photo Source/Copyright: Stellantis