Electric Plans for Stellantis Over the Next Few Years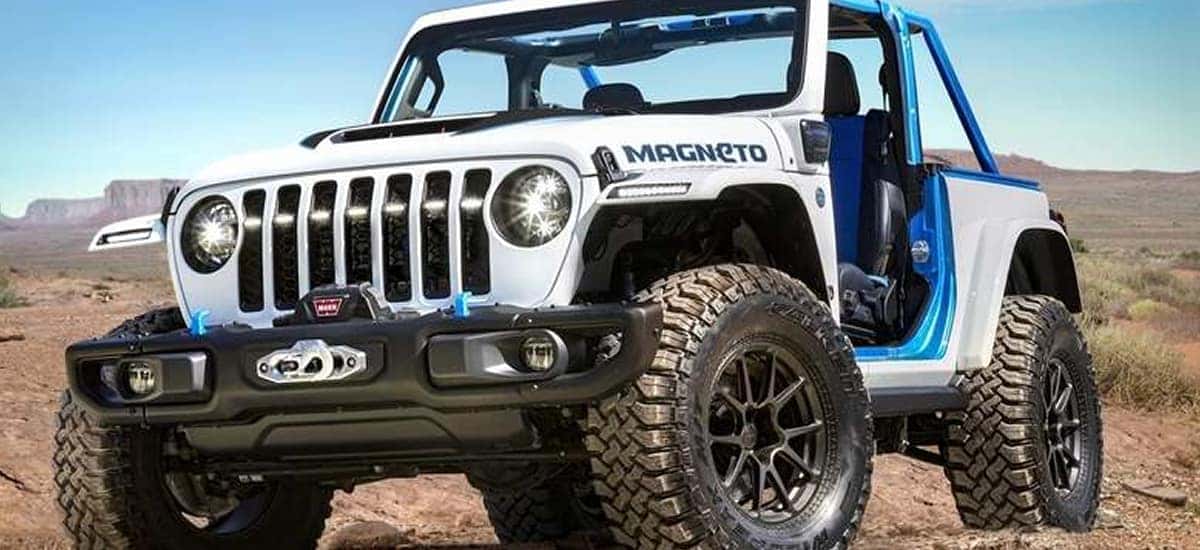 Stellantis is really gearing up for a more electrified future in the coming years. Dodge is launching the Dodge Durango Plug-in Hybrid next year (2022); Jeep has a made name for PHEVs in the lineup with its 4xe series, including the Wrangler 4xe; and Ram is also joining with an upcoming battery-electric-powered Ram ProMaster in 2023. That seems to be a special year for Stellantis – right before Dodge releases its first eMuscle model in 2024, an all-electric muscle car, Stellantis has a lot of plans set for for the next few years. Here's what we know so far.
Chrysler
Nothing. Stellantis had a chance to announce a plug-in hybrid or all-electric vehicle from Chrysler during EV Day 2021, but the automotive group neglected to mention anything other than what the brand already offers – the plug-in hybrid Pacifica minivan. Although the minivan is 5 years old, the automaker shows no interest in moving on from the current breadwinner. Maybe after 2023.
Jeep
The first brand to follow Chrysler and introduce plug-in hybrid variants of a favorite was Jeep. Currently making a name for plug-in hybrid electric vehicles (PHEVs) with the 4xe series, the off-road automaker is already looking into battery-electric vehicle (BEV) technology to develop the first battery-electric Jeep. In fact, Jeep has announced that it will most likely launch its first all-electric vehicle in the first half of 2023. An all-electric concept Wrangler based on the original gasoline model was already tested this past spring in Moab, Utah, during Jeep's annual 2021 Easter off-roading safari – the Jeep Magneto.
Dodge
We already know that the Dodge Durango Plug-in is coming in 2022, next year. Although something to look forward to, eMuscle is slated for 2024. That's really all the information we have on this at the moment.
Ram
As mentioned above, Ram is looking into producing a BEV version of the Ram ProMaster. Stellantis also mentioned that the automaker will soon be launching its own fully electric Ram 1500 pickup, also in 2024. No word on other models just yet, but can be sure the torque electric motors are known for will come in handy.
Alfa Romeo
By a surprising turn of events, Alfa Romeo is going full throttle with electric vehicles (EVs). By 2027, the automaker will be another to go all-electric, aiming to launch new models in North America, Europe, and China. The Italy-built Tonale SUV is already scheduled for release in 2022, with marketing set for the summer. If this model also comes to America, it will probably be later in the year with summer marketing starting in Europe.
Maserati
Back in 2017, Maserati already announced that it was going to join the bandwagon and start researching ways to electrify its models. The initial suggestion was to make use of the technology found in the Chrysler Pacifica Plug-in Hybrid minivan's powertrain. It's unclear if that panned out, because it seems the automaker will be releasing its first all-electric vehicle, instead — the GranTurismo – also next year, 2022. Maserati expects to have a fully electrified lineup by 2025.
So far, these are all adding up to Stellantis' plans to launch 21 electrified launches in the next two years, along with 10 plug-in hybrids and 11 BEVs. While we keep up with all the news, you can stay up to date. Just follow us on Aventura Chrysler Jeep Dodge Ram social media.
Photo Source/Copyright: Stellantis