FCA Vehicles Named Fastest for the by Money U.S. News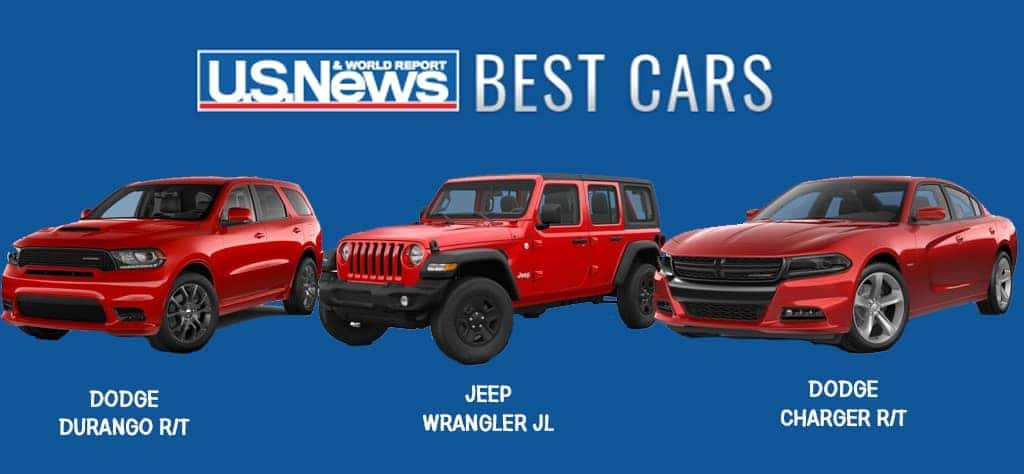 Did ya'll hear the good news? U.S. News & World Report is rounding up their lists of "The Best Of" for 2018, and a couple of them have shared some good fortune for the Fiat Chrysler Automobile Group. Recently, the 2018 Chrysler Pacifica was recognized as one of the best minivans that offer the "Most High-Tech Features for the Money." The new and upcoming 2019 Ram 1500 also got a little praise, but being that it's currently in production, we don't want to get too many mouths watering. Instead, we're going to look at another list that came out recently – the "Fastest SUV for the Money."
Out of the many Fiat Chrysler Automobile Group vehicles, there are a few different models that could be considered "speed demons." Many of them are $60,000 and up, like the Jeep Grand Cherokee Trackhawk, coming in at a staggering MSRP of $86,000. Since this list is more about fast cars that are also affordable, let's look at a smaller price range. U.S. News & World Report put together the list, and one of the many fast yet affordable vehicles out there is none other than the Dodge Durango R/T.
Powerful, nimble, and fun-to-drive, SUVs and crossovers have a lot going for them, too. Besides, there aren't a whole lot of affordable midsize SUVs that carry big V8 engines, so when putting the list together for the "Fastest SUV for the Money," U.S. News & World Report was quick to name the 2018 Dodge Durango R/T. Powered by a 5.7-liter HEMI V8 that produces 360 horsepower and 390 lb-ft of torque, and optimized with variable valve timing (VVT) for high performance, the Dodge Durango R/T can accelerate from 0-60 mph in 6.2 seconds and run a quarter mile in 14.7 seconds.
Plus, the Durango R/T HEMI V8 engine is designed with a multi-displacement system (MDS), a device that closes half of the eight cylinders in a V7 when cruising at steady speeds to conserve some fuel economy. With 390 lb-ft of torque, this same R/T SUV can also tow up to 7400 pounds when properly equipped. That's more than enough to tow a small boat.
There were a couple of other vehicles named by U.S. News & World Report, some of them also belonging to the Fiat Chrysler Automobile Group. One of those that popped up on the list was the 2018 Jeep Wrangler. It wasn't specified which Wrangler, but being that the production of the Wrangler JL was set to start after the JK finished production, and the last Wrangler JK unit finally rolled off the assembly line, one would think the JK was the one to make the list.
Nope – the writers and editors behind U.S. News "etc" was talking about the redesigned 2018 Jeep Wrangler JL. Every trim level comes with four-wheel drive, additional traction technology is available on upper trims, and with the new turbocharged four-cylinder engine, the FCA "future proof engine", it's clear to see why the 2018 Jeep Wrangler JL was named instead. Starting MSRP for the new 2018 Jeep Wrangler JL is set at $27,495*
Another vehicle to pop up on the list was the 2018 Dodge Charger R/T. For those that remember, the Dodge Charger and Jeep Wrangler were named by ALG during their Residual Value Awards. ALG determined that both vehicles were quality vehicles that were likely to retain the highest percentage of its MSRP after three years. The 2018 Dodge Charger and 2018 Jeep Wrangler both received the ALG Residual Value Award in their classes, and that's a testament to their quality and reliability. The 2018 Dodge Charger R/T is powered by a 370hp 5.7-liter HEMI V8 engine, and has a starting MSRP of $35,495.*
For a little credibility, the U.S. News & World Report is a respected piece of literature that is a recognized leader in college, grad school, hospital, mutual fund, and car rankings. The company as a whole is a media company that publishes news, opinion, consumer advice, rankings, and analysis on a multitude of subjects. Automotive is one of those subjects, and we're just glad they're so honest with their lists.
Interested in getting your fast car for an affordable price? Find your 2018 Dodge Durango R/T, 2018 Dodge Charger, or 2018 Jeep Wrangler JL today.
*plus destination fee
Photo Source/Copyright: Chrysler Ad Planner and Cars.USNews.com