'18 Chrysler Pacifica Hybrid Recognized for High Tech and Affordability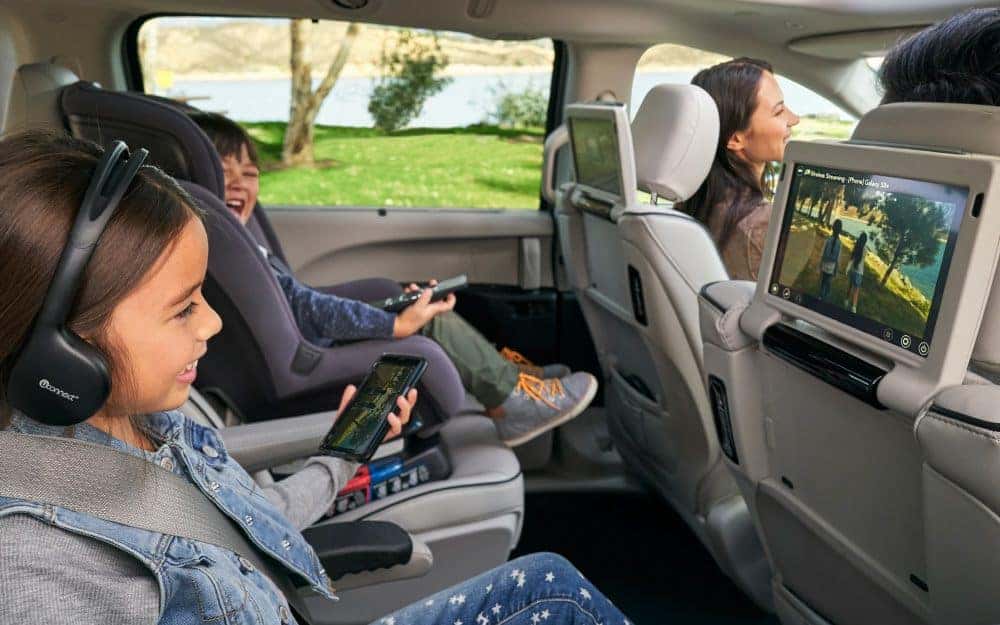 FCA just received a the second bit of good news from U.S. News and World Report. Recently, the 2018 Dodge Durango R/T was named on their "Fastest SUVs for the Money" list. That list also included the 2018 Dodge Challenger R/T and 2018 Jeep Wrangler. Shortly after learning about that news, we learned that the 2018 Chrysler Pacifica Hybrid was included on U.S. News and World Report's list of  "Most High-Tech Features for the Money."
The U.S. News & World Report is a media company that covers topics surrounding college, grad school, hospitals, mutual funds, and the automotive industry. Many of their publications include news, opinions, consumer advice, rankings, and analysis on a multitude of subjects. Nearing the middle of the year, the company recently released information on the many automotive awards and lists currently being concluded.
So much new automotive-integratable technology has popped up over the years. Tech like automatic emergency braking, automatic climate control, and internet connectivity were once high-priced features or near impossible to have in a vehicle. Now, we have those features in almost every vehicle, or at least available as an add-on in every vehicle. We've also received smartphone connectivity that offers consumers to use apps like Apple CarPlay and Google Android Auto. In-car apps that offer up-to-date information on traffic and weather are also a huge plus for people who spend a lot of time on the road. These days, a vehicle needs to offer even more to stay ahead.
Thus, when it came to putting together the "Most High-Tech Features for the Money" list, we can bet U.S. News & World Report had a hard time. Out of fourteen vehicles, the 2018 Chrysler Pacifica Hybrid was named as one of the vehicles to make the list. Oddly enough, this list only is about interior tech, so the U.S. News & World Report barely mentions the advanced plug-in hybrid system that gives the minivan a range of 33 miles on electricity alone. Instead, we're looking at everything else the Chrysler Pacifica Hybrid can offer.
Standard on every 2018 Chrysler Pacifica Hybrid is the intuitive and capable UConnect infotainment system. Not only this, but every trim comes standard with next-generation Uconnect 4 on a 7-inch or 8.4-inch touchscreen display. Depending on the trim, consumers may also get access to Uconnect Theater with wireless streaming to offer rear passengers their own variety of apps, a Blu-Ray/DVD entertainment system, seatback video screens, and the ability to watch movies, stream video, play built-in games or video games from external consoles or surf the web.
Convenient comfort tech features are also available on select trims, such as ventilated front seats, triple-zone automatic front and rear climate control, heated front and second row seats, an acoustic windshield, an auto-dimming rearview mirror, keyless enter-n-go, and a remote start system. Other entertainment features include an overhead DVD video player by Mopar, a 20 Harman Kardon speaker system, three-channel wireless headphones, SiriusXM Satellite Radio, and active noise cancellation. The 2018 Chrysler Pacifica Hybrid also offers advanced automatic safety systems on various trims, including blind spot monitoring, rear cross traffic alert, front and rear parking sensors, adaptive cruise control, automatic emergency braking, and a 360-degree camera.
Can you believe the 2018 Chrysler Pacifica Hybrid has access to all of this, and even the highest trim has a starting MSRP of $44,995*? No wonder it made the "Most High-Tech Features for the Money" list, and was a finalist for the 2018 Best Minivan for the Money and Best Minivan for Families awards. A few more FCA vehicles made the list as well.
The 2018 Ram 1500 deserves a shout out for offering some of the best available technology in its class, but we're betting come 2019, the 2019 Ram 1500 will outshine its predecessors very quickly. The 2018 Jeep Renegade also made the list, offering a number of new technologies for the 2018 model year, including 5-inch touch-screen infotainment system, a rearview camera, and Bluetooth in all trims.
Do you agree with these picks? With the FCA making a comeback and starting to change the game with their latest vehicle releases, a whole new standard for modern tech is being set once again.
Let us know on Aventura CJDR social media, or look for them in our inventory.
*Plus destination fee
Photo Source/Copyright: Chrysler.com