Towing a Boat? Dodge and Ram Have You Covered with an SUV or Truck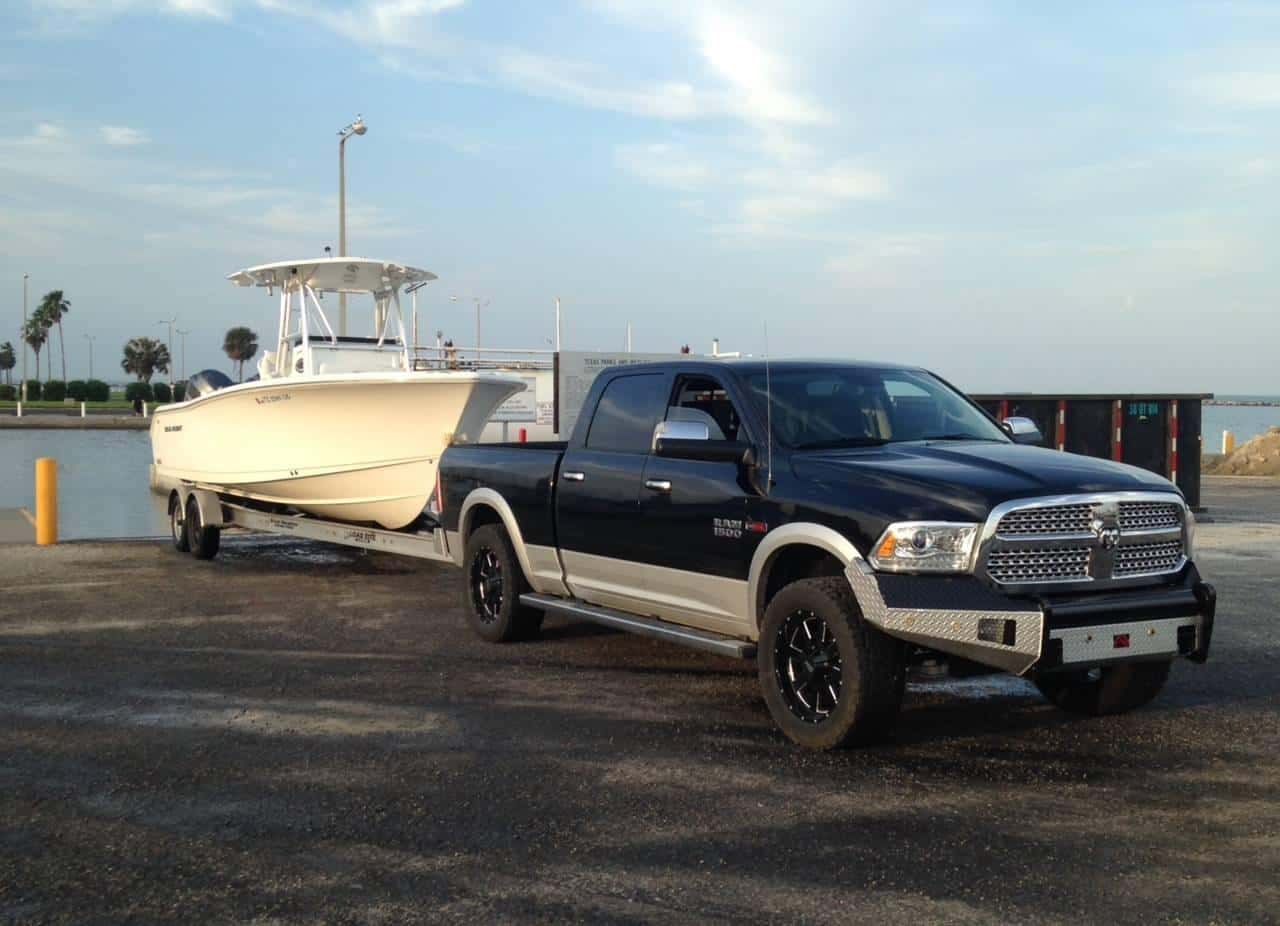 So, you're looking to do some towing, hauling some cargo, or just spend a nice day out on the water. It's a good thing there are many truck options that can help carry the weight. Even a basic sedan has a towing capacity of 1,000 pounds, enough for a jet ski. What about the bigger stuff though? That's when vehicles like the Dodge Durango and Journey and Ram 1500 and heavy duty trucks come out to play.
Boats, Boats, Boats!
If a sedan can haul a jet ski, surely a truck, SUV, or crossover can do as much, right? Let's build a scenario: you want to take a small paddle boat out to the Everglades. Doesn't weigh much, a couple hundred pounds at most, and Dodge has a couple vehicles that can get the job done. A compact SUV like the 2017 Dodge Journey has a maximum towing capacity of 2,500 pounds when equipped with the available 3.6-liter award-winning Pentastar V6 engine. Plus, the Journey can seat up to seven people (depending on the trim), has multiple storage options, and an in-floor cooler, so it's a great vehicle for a trip to the lake, beach, whatever.
What if we want to go out on a bigger boat? Maybe we're not going fishing but tubing, and for that you need a boat with speed. If your boat and trailer are less than 7,400 pounds, you can rely on a Dodge Durango powered by a 5.7-liter HEMI V8 engine. This engine generates 360 horsepower and 390 lb-ft of torque, so it's a great SUV for the job.
Have a bigger boat that is more than 10,000 pounds? Turn to Ram. Ram specializes in trucks for light- and heavy-duty towing jobs like the Ram 1500, 2500, or 3500. With a max towing capacity (when properly equipped) of 10,640 pounds, there's a whole lot the Ram 1500 can haul. A speed boat, a small fishing boat, several jet skis, etc.
Say we have a party boat – not a yacht, but one of those big boats a lot of people can fish on. They can be as large as 39-feet and weigh anywhere from 10,000 to 16,000 pounds. Ram's heavy duty trucks like the 2500 and 3500 make it look easy. When equipped with a diesel engine, the Ram 2500 has a max towing capacity of 17,980 pounds. Or, if you add an extra set of wheels to the rear axle of a Ram 3500 that is equipped with a diesel engine, you have more than 30,000 pounds of towing capacity.
What it all really comes down to is what you need the SUV or truck for. How much do you need to tow, and how much torque will it need to accomplish the task? Also don't forget about properly hitching and loading your trailer onto your vehicle. Let us know if you need any help with that. Otherwise check out our Ram and Dodge inventory here.
Photo Source/Copyright: Chrysler Ad Planner