Jeep Reveals Plug-in Renegade and Compass at Geneva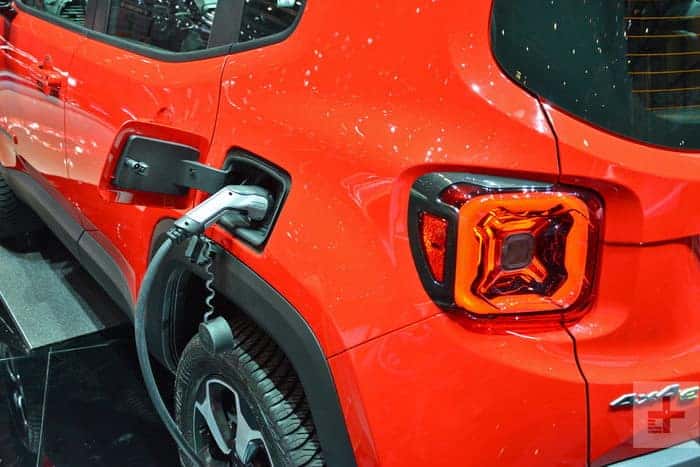 When we first heard that Jeep® was working on a plug-in hybrid variant of its popular Jeep Wrangler, there was a little skepticism. Although electric motors are notorious for generating a lot of torque, the prime element behind all the off-roading Jeep vehicles are known for, Jeep also thinks their consumers buy a Jeep for how far they can drive and the total range of the vehicle. We never heard someone say they love a Jeep because it's great on road trips, but we understand how a drop in range can make some automakers wary. After the reveal of the 2018 Jeep Wrangler JL with a mild-hybrid eTorque system, however, it seems the big boys at Jeep changed their minds.
Set to come out in 2020, the Jeep Plug-in Hybrid will also give rise to other vehicles in the lineup receiving a green upgrade or modification. Back when FCA revealed their plans for electric vehicles, Jeep also released their Five-Year Roadmap for future Jeep vehicles. As it would seem, nearly every Jeep vehicle is going to get an electric or hybrid twin. Although there has been plenty of talk about the Wrangler going hybrid first, it seems the new lineup starts with the Jeep Renegade Plug-in Hybrid and Jeep Compass PHEV making their official debut at the 2019 Geneva International Motor Show.
Let's cut to the chase – these are plug-in hybrid versions of the Jeep Renegade and the Jeep Compass. Also known as a plug-in hybrid electric vehicle, or PHEV. That means an internal combustion engine and an electric motor make up the powertrains for each. In an effort to avoid complication, both plug-in hybrid vehicles will be powered by a 1.3-liter turbocharged gasoline engine and an electric motor. With electric assist, this engine is able to generate between 190 to 240 horsepower for both vehicles, but Jeep has yet to complete its testing for a final number.
Because this is a plug-in, Jeep may offer various battery pack sizes to power the electric motor, to overcome that driving range problem they're so worried about. Although the size has not yet been released, Jeep has tested both plug-in hybrids, and the Renegade and Compass can travel up to 30 miles on electricity alone at a steady speed of 80 mph. If the rumor that gasoline combustion increases after going 60 mph, that number could be higher.
Curious about the off-road features? With an electric motor, there isn't a need for a prop shaft, also known as a drive shaft, is responsible for transmitting torque and rotation to the proper axles. With an electric motor in the rear, the rear wheels are powered by the electric motor, making a physical connection between the front and rear wheels unnecessary. This accomplishes what the auto industry calls a "through the road" all-wheel drive system, and Jeep claims it allows for better control over the torque for the driver.
There may be many more options coming out as the show goes on, and with Jeep Plug-in Hybrids set for 2020, we're sure 2019 will have plenty of news in the coming months. Stay connected and follow all Jeep news when joining us on Aventura Chrysler Jeep Dodge Ram social media.
Photo Source/Copyright: digitaltrends.com