U.S. News Names Chrysler and Dodge For Best MPG Minivans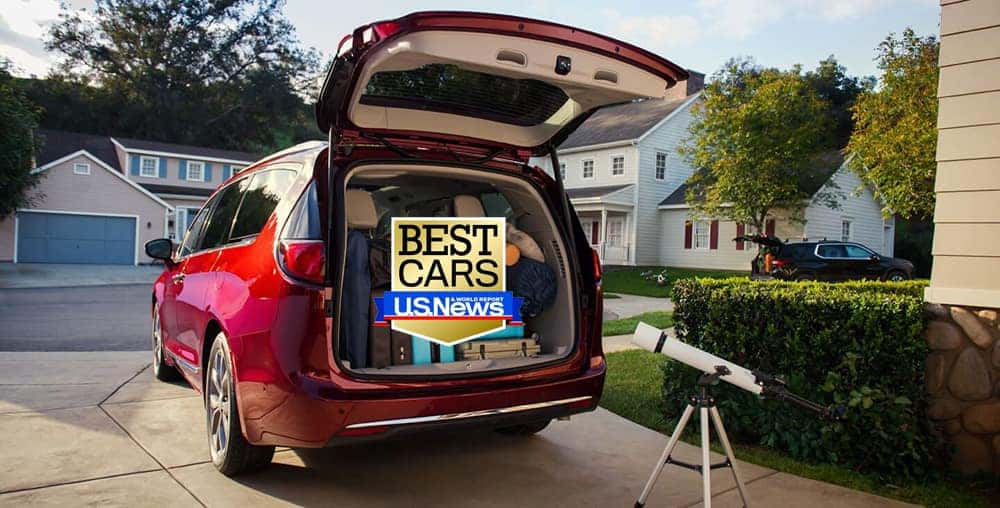 When it comes to researching cars and their features, consumers often want to find a credible source that discusses vehicles without sugar coating them. Websites like Kelley Blue  Book and Edmunds.com are some great choices, but there are also some great organizations and businesses out there that report on all sorts of things, automobiles included. U.S. News & World Report is one of these organizations, and they've been sharing the results of their studies over the last few months with "Best of" lists. The most recent is the "Which Minivans Get the Best Gas Mileage in 2018?" list, with Fiat Chrysler popping up twice, along with muscle car automaker Dodge.
If unfamiliar with U.S. News & World Report, we've talked about them before. The organization is always applauding Fiat Chrysler Automobiles (FCA) vehicles, such as when they named Dodge and Jeep as some of "The Fastest Cars for the Money", and the Renegade and new 2019 Ram 1500 when discussing "Most High-Tech Features for the Money." Known as a publication for news, opinion, consumer advice, rankings, and analysis on a multitude of subjects, U.S. News & World Report is recognized as a leading consultant for college, grad school, hospital, mutual fund, and car rankings.
When discussing vehicles, specifically minivans for fuel economy, U.S. News was quick to talk about Dodge and Chrysler, most notably the 2019 Dodge Grand Caravan. Although Dodge hasn't updated the Grand Caravan all that much in recent years, it's still a large icon for the generation on their way to school every morning during the carpool days. With the award-winning 3.6-liter Pentastar V6 engine under the hood, consumers are able to enjoy up to 25 mpg when driving on the highway. Dodge is known for thirsty cars, but what about Chrysler?
Starting MSRP for the 2019 Dodge Grand Caravan is $26,650 (plus destination fee).
The 2019 Chrysler Pacifica is in a class of its own, dominating minivan showrooms across the country. There's nothing quite like this modern minivan, with all sorts of Uconnect technology and its Stow 'n Go seating for all sorts of passenger and cargo storage configuration. It's really a hard choice to pass up for budding families, and with the same engine powering all trims, horsepower isn't something to worry about. It's the same 3.6-liter Pentastar V6 engine, but, optimized for fuel efficiency, the 2019 Chrysler Pacifica minivan gets a fuel economy of 19 mpg in the city and 28 mpg on the highway.
Starting MSRP for the 2019 Chrysler Pacifica is $26,995 (plus destination fee).
Of course, when discussing the Chrysler Pacifica, one would be hard-pressed to not include the Chrysler Pacifica Hybrid variant, number one on the list. Known as a plug-in hybrid, although advertised as just a regular hybrid for consumers wary of the recharging function, the Chrysler Pacifica hybrid is a masterpiece for those with many passengers or a lot of cargo, but just one of the two. Due to the electric motor and battery pack, the Stow 'n Go features of the regular Pacifica are gone with the hybrid, but because of the electric motor and battery pack, consumers can drive up to 33 miles on pure electricity. Of course, if using both gasoline and electricity, well then that's a total driving range of 520 miles.
Starting MSRP for 2019 Chrysler Pacifica Hybrid is $39,995 (plus destination fee).
With fuel economy ratings like these, U.S. News & World Report knows what minivans families should choose. What do you think? You can find your own Dodge Grand Caravan, Chrysler Pacifica, or Chrysler Pacifica Hybrid at Aventura CJDR, or let us know your thoughts on Aventura CJDR social media.
Photo Source/Copyright: Chrysler and U.S. News