The History of Mopar Engine Colors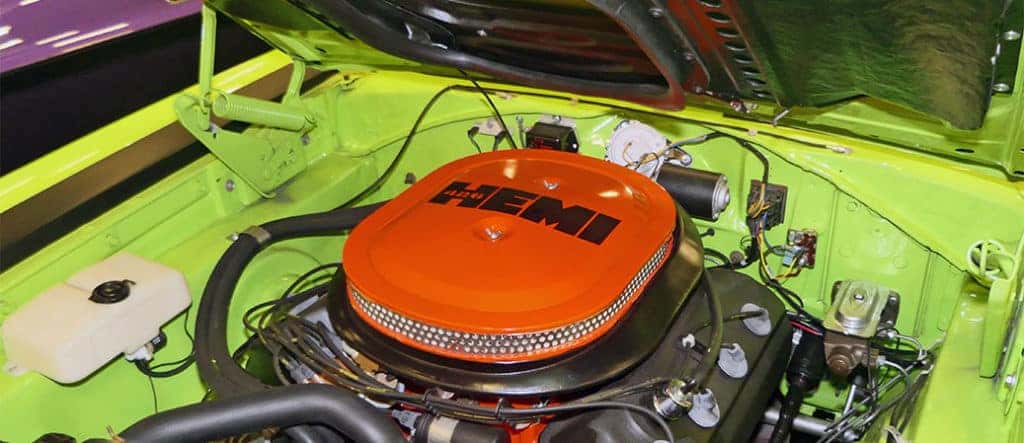 Mopar Custom Auto Parts is known in the automotive industry for its performance parts and accessories, specifically when dealing with vehicles under the Fiat Chrysler Automobiles umbrella. The company has actually made a name for itself in the last 80 years Mopar has been in business, starting from a simple auto parts store. Today, Mopar still customizes vehicles, like the Mopar '17 Challenger T/A, and the expansion of the Mopar performance catalog for Ram and Jeep. Another characteristic Mopar is known for is decking out what goes on inside the vehicle and not just how it looks. Pop open the hood of a Mopar customized vehicle, and you may find some colorful inner-workings.
HEMI Orange
Known as Mopar (P4120751), this bright orange color used by Mopar could be found on 962-64 Max Wedge engines, 1964-65 426 Race HEMI® engines, and 413 and 426 Cross Ram truck engines. With the era of new HEMI engines entering the automotive industry, Mopar felt a need to signify its entrance with more than just a name change of new suffix. "Aluminum Silver" was the default paint for poly engines, such as a V6 or V8, but the new HEMI needed something more to set it apart on aesthetics alone.
Later making a name for itself, the orange paint color became a dark red, known as Mopar P4349216, and later classified as "HEMI Orange". Used on performance engines from 1966 to 1971, consumers could find the new orange paint on high-performance 383 and 440 engines, and the 340 engines that became popular in the early '70s. Now, like many of Dodge legacy colors, HEMI Orange sits in the vault with the other High-Impact Paint colors.
Blue
Feeling a little more chill? Used on all "B/RB" big block engines during 1962-71 (with the exception of the 1969-71 high-performance 383/440 engines), was the medium blue-green color (Mopar P4120752). The turquoise color wasn't very popular, and was often confused with another blue paint by Mopar that turned a little turquoise once the engine heated up. This color was also found on a lot of 340 and other LA engines in late 1969, so the HEMI Orange paint job eventually won out in popularity when repainting engine blocks.
Yellow
Another short-lived color was Mopar P4529144. Bright and banana-yellow, this color is certainly an eye-catcher. Used on mid-1963 to mid-1969 Slant 6 truck engines, the yellow color dominates the engine bay and everything else in that under-hood compartment. You won't see this color much anymore though.
Classic Black
The default for every vehicle under the hood is the classic black paint job. For those that prefer this, but want to repaint their engine blocks, Mopar P4120753 became the color choice. Showing up mostly on 2.2L engines from 1981 to present, and in 318 and 360 engine blocks that go back to 1983, the Mopar black paint brought out the "pop" of the silver chrome and gray steel that makes up the many components that keep a car running.
Mopar still takes a paint brush to engines now and then. The Mopar "Hellcrate" Engine Kit comes with a 6.2-liter supercharged Crate HEMI®, colored in Street HEMI Orange under the hood. It may not make much of a difference, but true car enthusiasts think painting the engine block is what makes a performance vehicle their own. What do you think? Does painting parts of the car no one sees really matter? Let us know on Aventura CJDR social media.
Photo Source/Copyright: DodgeGarage.com