Stellantis Revealed an All-New 3.0L TwinTurbocharged Engine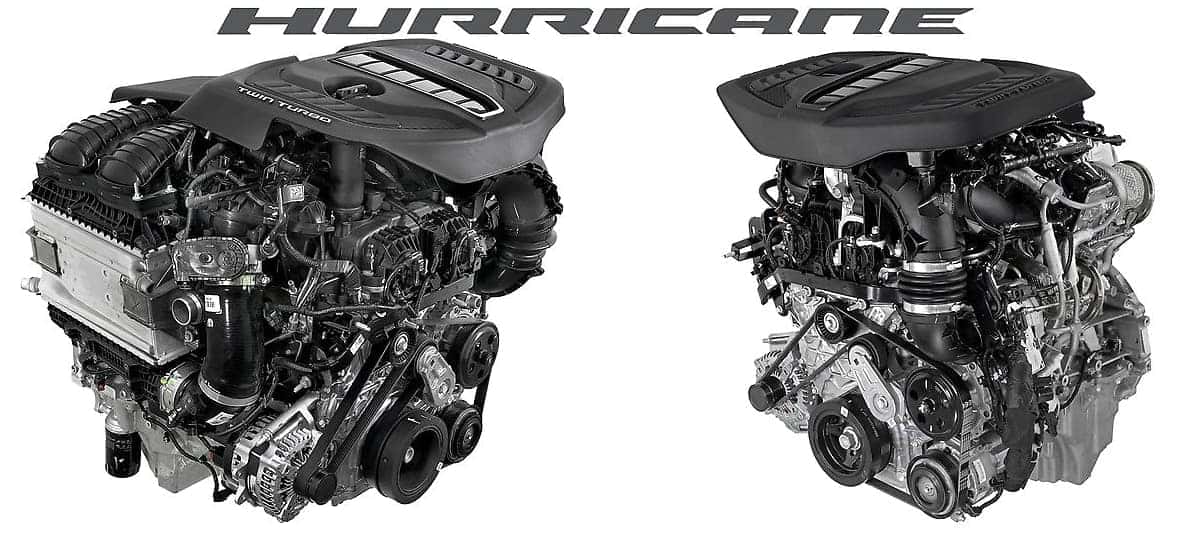 Stellantis being as successful as the large automotive has become may be a surprise to some people. The merger between Fiat Chrysler Automobiles (FCA) and the PSA Group was a little shaky at first, but the merger just celebrated its one year anniversary. Now, Stellantis has a lot of strong brands under its umbrella, with many finally going green and investing in plug-in hybrid and electric vehicle (EV) technology. If the Dare Forward 2030 business plan is anything to go by, more than 75 BEVs are planned for production, with a third going to the U.S., for Stellantis. Still supporting their internal gas combustion engine lineup and vehicles, Stellantis just debuted a new 3.0-liter Hurricane twin-turbo, inline, six-cylinder engine that can deliver some real power while keeping tailpipe emissions low and consuming less gasoline than larger engines.
"As Stellantis aims to become the U.S. leader in electrification, with a 50% battery-electric vehicle (BEV) sales mix by 2030, internal combustion engines will play a key role in our portfolio for years to come and we owe it to our customers and the environment to provide the cleanest, most efficient propulsion possible…The Hurricane twin-turbo is a no-compromise engine that delivers better fuel economy and an important reduction in greenhouse gases without asking our customers to give up performance." – Micky Bly, Stellantis head of propulsion systems
This heavily reminds us of the FCA's original "future-proof engine". A 2.0-liter turbocharged inline four-cylinder engine, able to generate a best-in-class 270 horsepower and 295 lb.-ft. of torque was supposed to replace some powertrains back in the day. It started popping up with the 2018 Jeep Wrangler JL lineup. Called the new "Global Medium Engine", this 2.0-liter turbo replaced the naturally aspirated Tigershark engine of the Jeep and was originally the engine to make up the majority of vehicles with low-to-medium horsepower. Keeping CO2 emissions lows has become an increasingly large endeavor to master, and that may be why Stellantis has developed this new engine.
Slow to conform and go electric, Stellantis chooses to keep its gasoline lineup alive while also sliding under the CO2 standards of the European Union. The new 3.0-liter, twin-turbo, inline, six-cylinder engine, named Hurricane, is powerful enough to be on par with some V8 engines, while keeping emissions low and less trips to the pump. Available in two distinct variants, there is the Standard Output (SO) and the High Output (HO) systems. When running on the SO setup, optimized for fuel economy, consumers can expect 400 horsepower and 450 lb.-ft. of torque. If going for more performance while still maintaining a significant fuel economy, the HO generates more than 500 horsepower and 475 lb.-ft. of torque.
It's going to get a little technical, but to understand what really went down, the press release highlights all the changes made to create this new engine. Each part has its own purpose, so here we go. Starting off with two low-inertia, high-flow turbochargers, air is funneled into three cylinders (one for each turbocharger) for rapid response to throttle inputs. The fuel delivery system is always important, and this new engine comes with a High-pressure (5,075 psi/350 bar) direct fuel injection with pumps actuated by a dedicated chain-driven shaft. Depending on the engine setup, SO or HO, there will be one or two pumps (respectively) in the overall setup. The engine design is a DOHC, also known as a dual overhead camshaft, designed with a wide-range and fully independent variable valve timing to conserve fuel economy. Keeping the air cooler for a larger intake, the engine also comes with a mounted water-to-air charge cooler with a dedicated cooling circuit (single inlet for SO/dual inlet for HO) and dual water-cooled exhaust manifolds built into the cylinder head. A lot of this is reminiscent of the technology that went into the SRT Power Chiller for the Dodge Challenger SRT Demon.
Engineering changes include a plasma Transfer Wire Arc (PTWA) coating in the cylinder bores to reduce the amount of friction between all those mechanical parts, and a high-flow ball-valve thermostat also helps to minimize any restrictions in the cooling system to further reduce damage to engine components. A continuously variable displacement oil pump with integrated scavenge stage also helps to conserve fuel by changing the pump output to engine demand, while also reducing the loss of performance. The last ribbon on the engine for conserving fuel is its fuel-saving engine stop-start (ESS) function with a robust starter motor for quick restarts when in that bumper-to-bumper traffic that suddenly clears up in South Florida.
Want to stay up-to-date with all the neat stuff Stellantis is working on. You can follow along with us anytime when you follow us on Aventura Chrysler Jeep Dodge Ram.
Photo Source/Copyright: Stellantis Media