Stellantis and LGES Sign an Agreement for Large-Scale EV Battery Development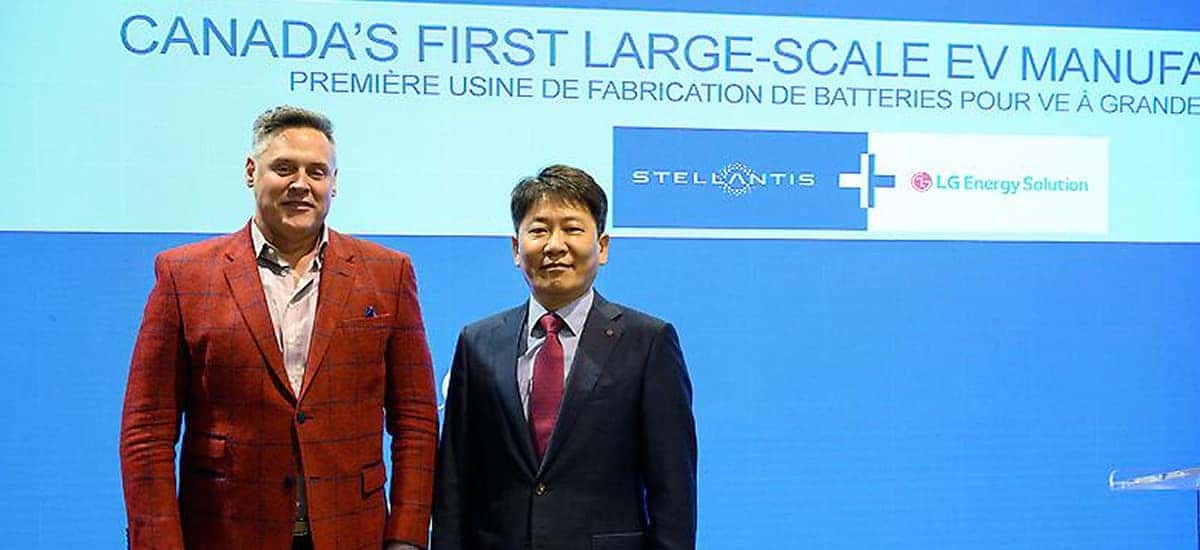 With the new rush of automakers shifting towards alternative fuel vehicles, electric vehicles (EVs) and battery-electric vehicles (BEVs), many automakers have plans to shake things up. Many released a business strategy for the next eight years, including Stellantis with Dare Forward 2030. The automotive group has more than 75 BEVs planned, with 25 of those all-new BEVs to hit the U.S. market. That's a pretty tall order, especially for an automotive group where no automaker has been inclined to produce EVs, let alone plug-in hybrids, until recently. The Chrysler Pacifica Hybrid was the only vehicle to make the plunge, and Chrysler has sat on it since. Now that all arrows point to EV production, Stellantis signed an agreement with LG Energy Solution (LGES) to establish the first large-scale, domestic, electric-vehicle battery manufacturing facility in Canada.
This is a big one for Stellantis. The large automotive group has been busy with many investments over the last few years, like the investment into self-driving startup Voyage Auto Inc. in 2020, and Aurora Innovation in 2019. There have also been some strong partnerships forming strong partnerships, like Stellantis and Foxconn working together to develop a jointly operated automotive supplier for future model technologies, including connectivity, artificial intelligence-based applications, and 5G communications. During the 2021 semiconductor chip shortage, the automotive group had enough with the uncertainty and Stellantis and Hon Hai Technology Group signed a contract with the purpose of producing purpose-built semiconductors to support Stellantis and third-party clients.
Now with a binding, definitive agreement with LGES, a global leader known for producing advanced lithium-ion batteries for EVs, mobility & IT applications, and Energy Storage Systems (ESS) that continue to change the world today, this is a big deal. Having 30 years of experience in advanced battery technology, LGES also works towards sustainability, a goal many automakers struggle with when it comes to EV development and their battery life-cycles. LGES has a global network that spans the U.S., Europe, Asia, and Australia, making them a strong partner to have in the industry today.
"Our joint venture with LG Energy Solution is yet another stepping stone to achieving our aggressive electrification road map in the region, aimed at hitting 50% of battery-electric vehicle sales in the U.S. and Canada by the end of the decade…We are grateful to the municipal, provincial and federal levels of government for their support and commitment to help position Canada as a North American leader in the production of electric-vehicle batteries." – Carlos Tavares, Stellantis CEO
This joint venture has a simple goal – produce leading edge lithium-ion battery cells and modules for Stellantis vehicles. With an investment of $5 billion CAD ($4.1 billion USD) into the manufacturing facility to get operations up and running, the all-new battery manufacturing plant will be located in Windsor, Ontario, Canada. Construction of the plant will start later this year, with operations expected to start up in early 2024. With the new plant located in Windsor, Ontario, home to Canada's largest automotive cluster, Stellantis and LGES expect a huge return investment, with the new plant becoming a strong battery supply chain in the region, and Canada overall establishing a broad, local battery ecosystem that generates electricity from renewable sources.
Looking for more new and updates about Stellantis and EV development? You can catch up and follow along when you follow us on Aventura Chrysler Jeep Dodge Ram social media.
Photo Source/Copyright: Stellantis Media