Second "Last Call" Dodge Model Announced – 2023 Dodge Charger Super Bee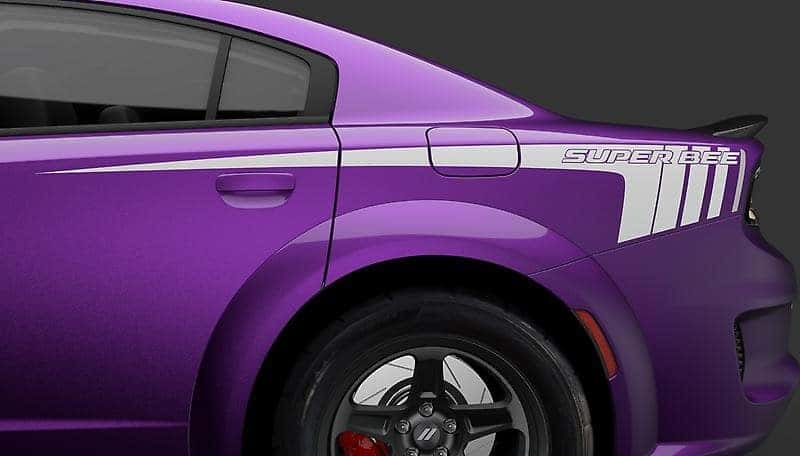 Wow, Dodge is really kicking things up a notch before eMuscle comes out in 2024. In fact, a whole year early, we've gotten a look at the first-ever Dodge plug-in hybrid electric vehicle (PHEV), the 2023 Dodge Hornet PHEV, and the first official entry into the all-electric lineup, the Dodge Charger Daytona SRT Concept. With Dodge going electric, we're going to have to say goodbye to the long line of high-octane engines, but not high-performance. With the next generation of the legendary Dodge Challenger and Dodge Charger being all-electric variants, the last model year for these muscle cars is 2022, and Dodge started a round of "Last Call" special edition models, along with the revival of , High-Impact Paint heritage color options and extending the time to order SRT Jailbreak models. With already one Last Call model revealed, the Dodge Challenger Shakedown, the second Last Call model just touched ground, the 2023 Dodge Charger Super Bee.
"The Dodge Super Bee is more than commemorative of a cool heritage name — it is also a Charger variant of the Challenger 1320 grassroots race package…The special-edition 2023 Dodge Charger Super Bee once again offers a Dodge vehicle that is equally at home on the street or on the drag strip." – Tim Kuniskis, Dodge brand chief executive officer – Stellantis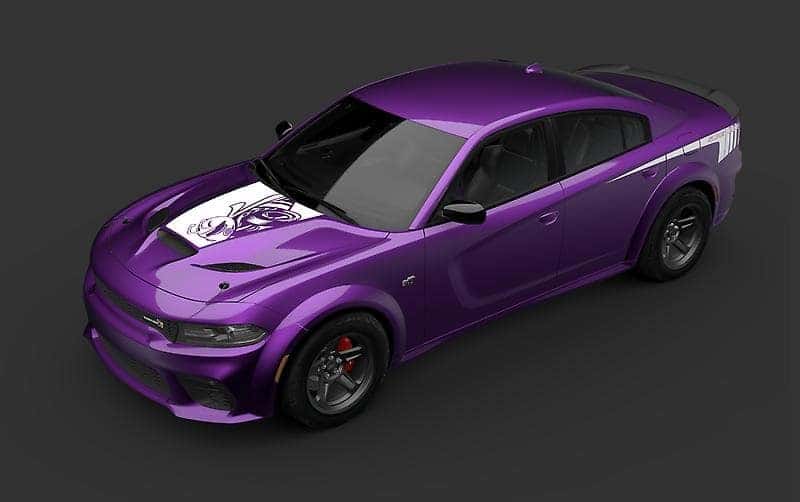 Like all special editions, the Super Bee will also be a limited edition, with only 1000 units being produced, with 500 Charger Scat Pack in B5 Blue and 500 Charger Scat Pack Widebody with a Plum Crazy paint job. Already adding some features out the gate with the Dodge Plus Group and Carbon/Suede package, the Charger Super Bee comes with its own set of unique features to separate from the rest of the "Last Call" special edition series. Every unit produced come with a special commemorative "Last Call" underhood plaque, a brushed aluminum underhood "Last Call" plaque featuring the vehicle name and a vehicle silhouette, the words "Designed in Auburn Hills" and "Assembled in Brampton" to pay homage to its origin. All eight "Last Call" special-edition models are also available in newly revived heritage exterior colors: B5 Blue, Plum Crazy purple, Sublime green, and Destroyer Grey.
So, what sets the 2023 Dodge Charger Super Bee apart from all Last Call models? The Super Bee of course needs to come with its own set of decals and badges, found on the front fascia grille and fenders, a set of seatback logos, and a Super Bee interior instrument panel badge. An SRT with a functional hood scoop also features Super Bee exterior graphics, and the same can be seen on the rear fenders. Depending on the model chosen, the graphics colors will change, listed as blue graphics with B5 Blue, and white graphics with Plum Crazy. The 2023 Dodge Charger Super Bee Scat Pack rides on 20-by-9.5-inch knurled wheels with 275 drag radials, whereas the Scat Pack Widebody edition comes with 18-by-11-inch drag wheels wrapped in 315 drag radials. Classic heritage styling, such as dual heat extractors, SRT black exhaust tips, and a red four-piston Brembo brake system help with the engineering of one of the last high-performance gasoline Dodge muscle cars. An adaptive damping suspension with Drag Mode and Black Mopar hood pin kit have also been thrown in there, for good measure.
All the details are available on Dodge.com for a more in-depth look at the Chrarger Super Bee and Challenger Shakedown special-edition models. With every week in September set to release a new "Last Call" model, before taking a break in October, the next model will be announced on September 7, 2022. Be sure to follow along with us on Aventura Chrysler Jeep Dodge Ram social media to find out when the new "Last Call" model goes live.
Photo Source/Copyright: Stellantis Media