Ram 1500 Concepts and Modified Jeep at SEMA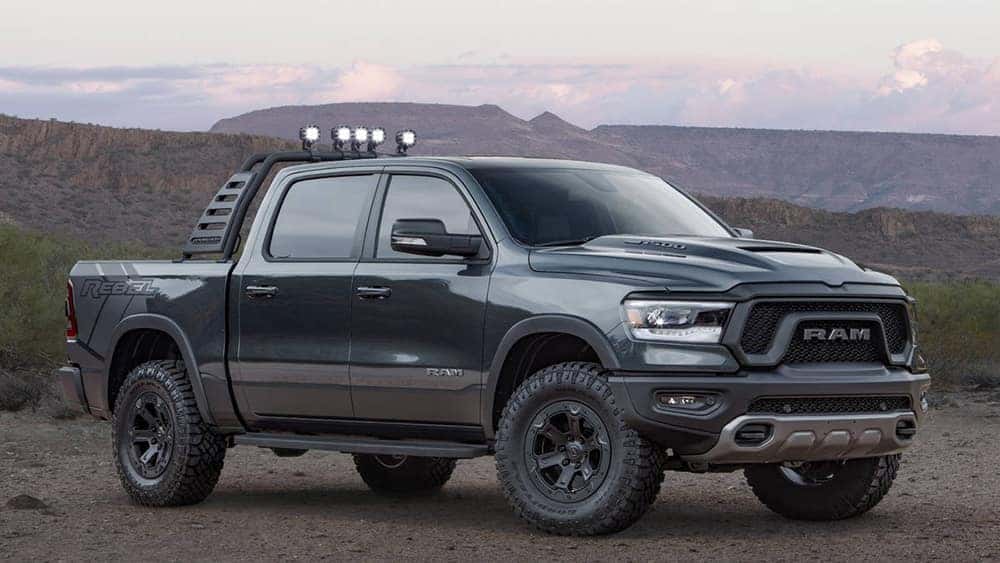 Fiat Chrysler Automobiles (FCA) has a lot going on at the Specialty Equipment Market Association (SEMA) Auto Show this year (2018). Possibly the largest debut is the new Hellephant engine crate from Mopar and the 1968 Dodge Charger they upgraded to house it. Able to generate 1000 horsepower and 950 lb-ft of torque, it's pretty impressive, but the 1968 Dodge Super Charger with the Hellephant engine isn't the only modified FCA vehicle showing up. Also set aside for some spotlight are two Mopar Ram concepts and a customized Jeep® Wrangler JK.
Ram 1500 Rebel Smoke Concept
Named the Rebel Smoke, this Ram 1500 Rebel concept is focused on off-road performance. Now, we already know that the 2019 Ram 1500 Rebel is off-road capable. This special edition concept also wouldn't be the first, with the Ram 1500 Rebel 12 recently released. So how is this new concept special?
To up the off-road capability, Mopar added an in-house lift kit that raises the off-road clearance of the Rebel by 2 inches, attached one-piece cast-aluminum black Mopar off-road running boards, and equipped the Rebel Smoke concept with Mopar satin black 18-inch-by-8-inch cast-aluminum beadlock wheels wrapped in 35-inch Goodyear DuraTrac tires. In addition, for those that off-road at night, a Ram Bar was added, arching across the truck bed and sporting five 5-inch LED lights to brighten up the road ahead with 4800 lumens each. A switch to activate them can be found inside around the dashboard.
Some functionality was also added, such as a rear bed step, a tire carrier that accommodates the oversize 35-inch tire and beadlock wheel, and all-weather floor mats to keep the interior clean. The Ram 1500 Rebel Smoke concept also has its own style with a custom neutral blue color, the sides of the truck bed feature a black spray-in bedliner and satin black Rebel graphics, the badging is painted in gray metallic, including the Mopar graphic on the hood, and 5-inch Mopar exhaust tips with dual-wall design.
The hood for the Rebel Smoke is a Mopar design currently being developed and produced as a concept. This design makes space for a Ram Airflow cold-air intake system that further increases the horsepower of the 5.7-liter HEMI V8 engine that powers the Rebel Smoke concept. In production, the cold-air intake system has the R-A-M logo molded into the front.

Ram 1500 Big Horn Low Down Concept
Going in a completely different direction, the Ram 1500 Big Horn Low Down concept is a Ram optimized for high-performance on the street. This was achieved by lowering the Ram 1500 Big Horn by two inches via a prototype lowering kit but rides on 22-inch oversized production wheels painted gloss black with brass monkey accents. The wheels, and added wheel flares, actually give the Ram 1500 Big Horn a meaner look.
In conjunction with the gloss black wheel paint job, the Low Down concept actually comes with a two-tone color scheme, with the top in gloss black and the bottom in billet silver. All of the badging also comes in gloss black. The last of modifications come down to five-inch exhaust tips and a one-piece Mopar hard tonneau cover, also finished in gloss black.
The interior has received a couple of changes, mainly featuring brushed and polished door sill guards with the R-A-M logo and Mopar all-weather floor mats. The Low Down also sports a 5.7-liter HEMI V8 engine souped up by a Ram Airflow cold-air intake system. Both concepts will surely have truck lovers grabbing up the new 2019 Ram 1500.
The Rawbicon
We know Jeepers love to modify their Jeep vehicles to beat the elements. For SEMA 2018, an aftermarket tuner that specializes in creating high-performance off-roaders, Raw Motorsports, decided to trick out the Jeep Wrangler JK. To start, Raw Motorsports put a larger, more powerful 6.4-liter SRT 392 HEMI V8 engine, paired with a Magnuson TVS2300 supercharger, under the hood of the Wrangler. It sounds like they were aiming to replicate the Trackhawk on the Wrangler.
All of that power seems like overkill, especially since the Wrangler is best known for going off-road. Well, to help keep such capability available, a long-arm suspension kit and stage 2 front sway bar, Eibach racing coil springs, King Shocks coilover shocks and air bump shocks were all added. For a little style and functionality, the new supercharged Wrangler features a custom stainless-steel rear bumper, custom 2.5-inch exhaust tips, and 20-inch off-road wheels wrapped in chunky 40-inch TOYO MT Open Country tires.
Although most likely a one-off, at least we know all the specs for any Jeepers wishing to replicate this beast of a Jeep Wrangler. You can find yours at Aventura CJDR, and keep up with us on social media to find out if and when these new Ram concepts come to fruition. Anything can happen after a debut at SEMA.
Photo Source/Copyright: AutoWeek and Raw Motorsports