Mopar Unleashes the "Hellephant"
If anyone saw that teaser released by Mopar prior to the 2018 SEMA Auto Show, then they may have been pretty curious as to what that was all about. Well, now that SEMA is taking place, we finally know. Mopar has released a new engine kit that pays homage to the history of Mopar, but moreover the legendary 426 HEMI engine first introduced in 1964 and nicknamed the "elephant" engine for its power and size. Like the engine in the 2018 Dodge Challenger SRT Demon, this engine pushes the boundaries for muscle car enthusiasts – we're looking at 1000 horsepower.
Yes, the "Hellephant" 426 Supercharged Mopar Crate HEMI® engine is a brand-new HEMI-engine-powered beast, able to generate 1000 horsepower and 950 lb-ft of torque. That's insane for a horsepower crate engine kit offered by an Original Equipment Manufacturer (OEM). However, we won't be seeing this engine pop up in another model; this is more so a kit for engine assembly and installation, harken back to the 707HP "Hellcrate" Mopar debuted at SEMA 2017.
"Our enthusiasts crave power and performance, and our new 'Hellephant' Mopar Crate HEMI engine and kit deliver huge horsepower and torque in a plug-and-play package that is unique in the industry." – said Steve Beahm, Head of Parts & Service (Mopar) and Passenger Car Brands, FCA – North America.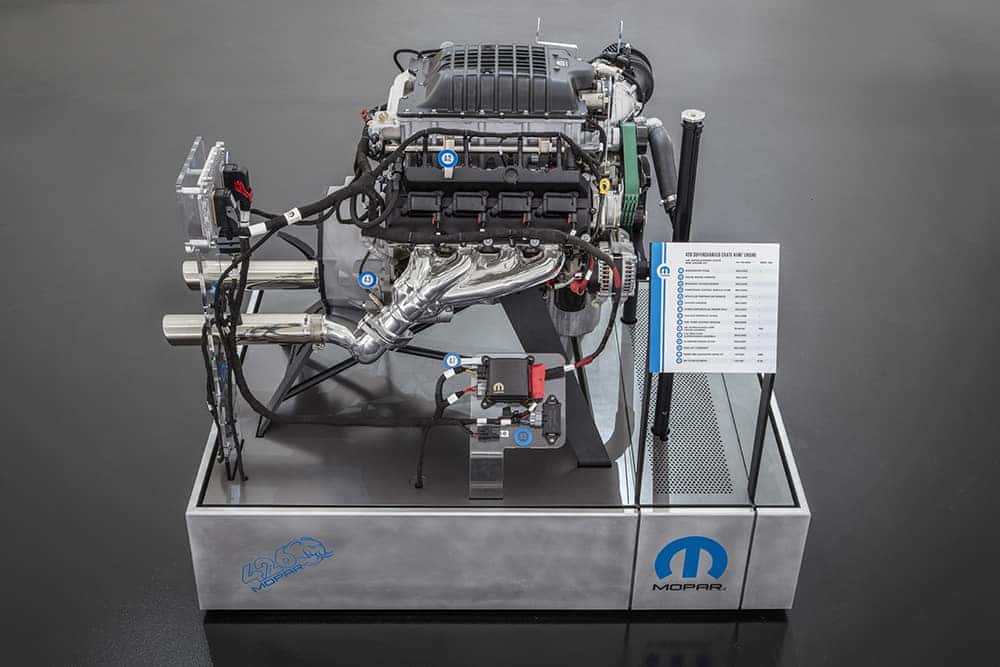 How does the "Hellephant" engine hit 1000 horsepower? It's thanks to an enriching design of a bulked-up displacement with 4.0 inches of stroke and bore specs at 4.125 inches; an improved supercharger with a high-efficiency rotor mounted on the engine block, made out of aluminum to cut some weight; valve covers imported from the Dodge Challenger SRT Hellcat Redeye and valve train; valves, locks and retainers pulled from the Dodge Challenger SRT Demon; a special high-lift cam; and custom-forged pistons. For complete assembly, the engine also requires a water pump, flywheel, front sump oil pan, supercharger with throttle body, fuel injectors, and coil packs. Relatively simple to install for experienced plug-and-play installers, this kit is meant for pre-1976 street and off-road vehicles, but we know that won't stop anyone.
Providing a nod to Mopar and the original "elephant" engine, a distinctive "Hellephant" logo can be found on the engine and the "Hellephant" 426 Supercharged Mopar Crate HEMI Engine Kit. Also included in the kit are a powertrain control module (PCM), power distribution center, engine wiring harness, chassis harness, accelerator pedal, ground jumper, oxygen sensors, charge air temperature sensors, fuel pump control module, and cam bus interface device. The kit also comes with in-depth information sheets with helpful installation tips and requirements, all of which will be available during the first quarter of 2019.
If interested in this crate but not the installation, come to Aventura CJDR and make an appointment with our service department.
1968 Dodge "Super Charger" Concept
What better way to show off the "Hellephant" engine than installing it into the kind of car it was made for? Modified for present times and to accommodate the large "Hellephant" engine, the custom Dodge "Super Charger" also comes with the stock T-6060 manual six-speed transmission from the Dodge Challenger SRT Hellcat. If anything, this is a Dodge Charger with all the trimmings of its cousins.
"The 1968 Dodge Charger is one of the hottest classic cars, which is why we decided to use it as a starting point for the 'Super Charger' Concept. It's an amazing vehicle and a great showcase for our 'Hellephant' engine." – Beahm.
Known as the custom "De Grigio" Grey Metallic classic 1968 Dodge Charger, to mark its 50th anniversary, the supersized hood scoop found on that of the Dodge Challenger SRT Demon has been integrated into this Dodge Charger to deliver a burst of fresh air to the "Hellephant" engine. The headlamps have also been tweaked to fit Dodge Charger SRT Hellcat headlamps behind the grille, and the custom rear spoiler is inspired by the modern Charger R/T. Custom fiberglass front and rear bumpers have been flushed for the new design, and custom fiberglass front chin splitters show some influence from the Dodge SRT Demon.
The original Dodge "Super Charger" also received some upgrades that weren't borrowed from other vehicles. Carrying over from the original vehicle is the hood, constructed from fiberglass on the outside with inner-steel construction inside, and the original door handles and drip rails were shaved away for a more clean, refined look. In addition, the front door vent windows are removed and replaced with a one-piece side glass, and 1971 Duster mirrors were added for a more modern appearance.
What kind of new Charger would this be without testing the new and popular "wide body" look? Given a new stance thanks to front and rear fiberglass wheel flares painted in "De Grigio" Grey Metallic body color, the front wheels have been pushed forward two inches, extending the classic wheelbase to 119 inches. To continue the "wide body" look, the chassis has been dropped by 2.5 inches in the rear and 3.5 inches in the front to aggressively hug the pavement. Stopping won't be too difficult though with six-piston Brembo brakes. "Super Charger" badging has been added above the doors and classic tail stripes at the rear.
We can also find the custom-milled aluminum "Hellephant" medallion on a Satin Black fuel door. The lower exhaust tips are eliminated and replaced with reengineered Alfa Romeo Stelvio 5-inch dual-walled exhaust tips, and the brake lights have been reconfigured with LED lights that create a bit of a glow around the exhaust tips. To complete the look of the exterior, the front wheels are stock 20 x 11-inch Devil's rims straight from the Challenger SRT Hellcat, and the rear wheels are upsized 21 x 12-inch custom-milled aluminum Devil wheels.
A "Hellephant" design touch can be seen throughout the model on Satin Black vinyl decals, the "Hellephant" logo on the front fenders, the interior Satin Black trim of the door panels, and the center of the integrated Dodge Viper steering wheel. With a full array of Mopar gauges across the dashboard, the instrument panel insert is colored in "De Grigio" Grey Metallic. The stock front seats have been replaced with Dodge Viper seats, wrapped in Alcantara leather accented with red stitching. Like the Dodge SRT Demon, the front seats come with four-point Sabelt black racing harnesses, and the rear seat delete option opens up space for a custom 2-inch roll cage while shedding some weight. Custom floor mats modified from the current Charger SRT and Mopar pedal kits for the Challenger can be found in the front, with black Challenger SRT Hellcat carpet covering the rear.
Well, Mopar definitely brought the heat to SEMA this year. What do you think of the new "Hellephant" 426 Supercharged Crate HEMI engine assembly and kit? Join the discussion on Aventura CJDR social media.
Photo Source/Copyright: PRNewswire.com