New Trims Coming to the 2020 Jeep Gladiator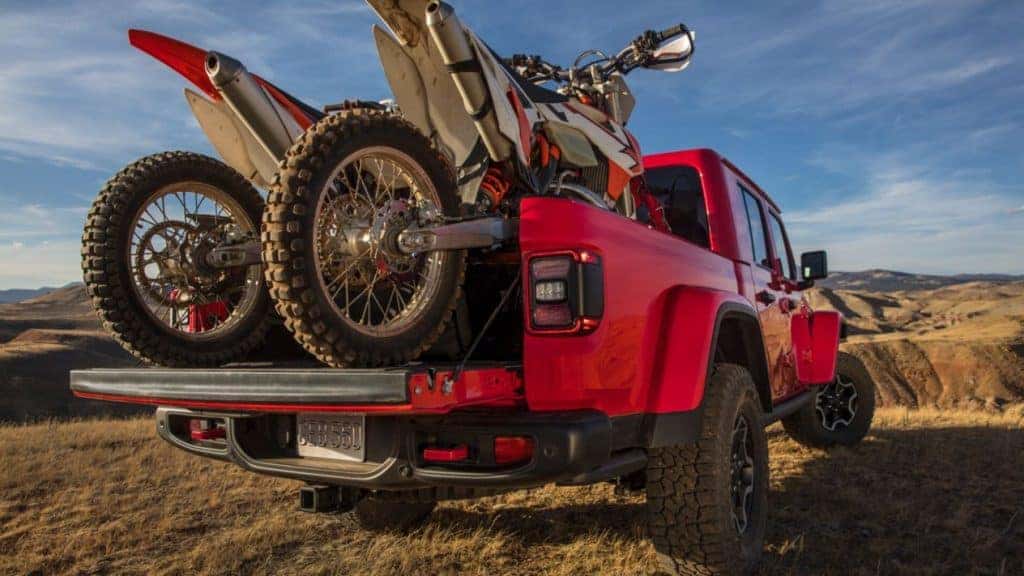 The 2020 Jeep® Gladiator was an immediate winner in the eyes of pickup truck drivers and Jeepers alike. A pickup truck with the capability and the configuration of a Jeep Wrangler? It was a dream come true, but something was still amiss – why only four trim options? Known for a long line of trims in every model lineup, fans were curious about why the Gladiator felt a little limited. Over the course of a year, we've heard about the Jeep Gladiator Mojave and the Gladiator North Edition was added, but those are more along the lines of performance for driving conditions we just don't experience in South Florida. What about just a nice Jeep Gladiator that's a little different from the rest? Jeep fans won't have to wait much longer for a new Jeep Gladiator trim.
According to a leak on Gladiator Forum, it would seem that two more trims will be added to the lineup soon enough. The image below is straight from the forum, and according to the administrators, it's from a Jeep dealer bulletin board. In other words, it's definitely official, this is not just a rumor. Below, we're getting our first look at the 2021 Jeep Gladiator Willys and 2021 Jeep Gladiator 80th Anniversary Edition.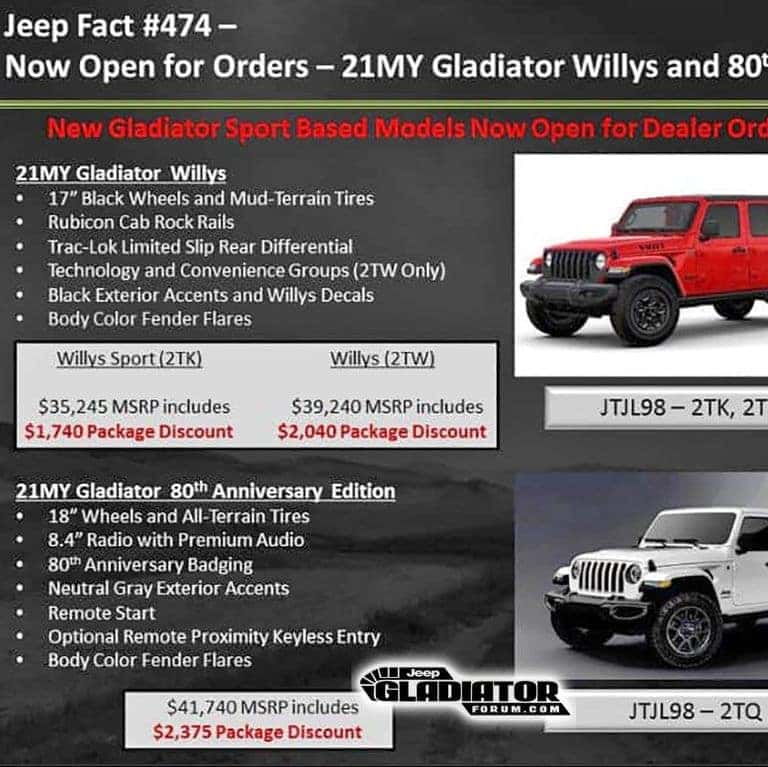 Although these are new trims being added, both are said to be based on the base trim, the Jeep Gladiator Sport, so don't expect too many bells and whistles. Still, each trim does come with its own set of Jeep equipment to set it apart. The 2021 Jeep Gladiator Willys is comparable to the Jeep Wrangler Willys Edition in the front, and although the image cuts off the tail end, we can only assume it's the same all throughout, plus a truck bed. We know the image isn't the best, so let's save you the eye strain from reading all the details.
The Gladiator Willys rides around on 17-inch black wheels wrapped up in mud-terrain tires. With a blacked-out grille and black detailing, it's got some style, but the performance of the Gladiator Willys is a nice plus. Equipped with Rubicon cab Rock Rails and a Trac-lok limited-slip differential, this pickup truck can handle quite the tumble. As we said, it's based on the Sport, but the Willys Edition comes standard with the Technology and Convenience Groups, which typically comes with additional safety features, such as an automatic parking system, automatic high beam headlights, automatic wipers, lane departure warning, traffic-adaptive cruise control, and forward collision warning with automatic emergency braking.
80 years is quite the accomplishment, and the 2021 Jeep Gladiator 80th Anniversary Edition is sure to be a treat. With 18-inch wheels carrying this pickup truck, it comes with all-terrain tires and is the more on-the-road with style of the two trims. Where the Willys is more geared towards going off-road and a little adventure, the 80th Anniversary Edition is quick to get loud and share what it's all about with a premium audio system with an 8.4-inch touchscreen. Optional remote proximity keyless entry is also a stylish plus.
We can only assume that these two new trims will come out some time next year, 2021. According to the bulletin the 2021 Jeep Gladiator Willys has a starting MSRP of $35,245 (plus destination fee), with a second variation (2TW) starting at $39,240 (plus destination fee). The 2021 Jeep Gladiator 80th Anniversary Edition has a starting MSRP at $41,740 (plus destination fee). Follow along with us on Aventura Chrysler Jeep Dodge Ram social media for more details.
Photo Source/Copyright: Jeep and Gladiator Forum