Jeep Releases New 2020 Gladiator Mojave Edition at Chicago Auto Show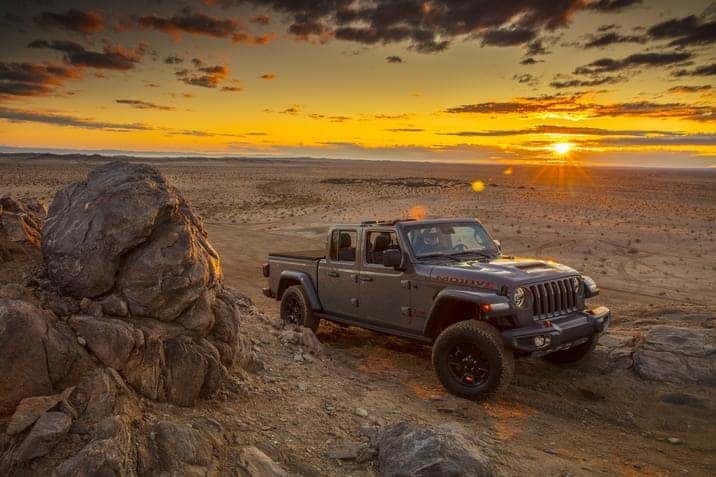 The 2020 Chicago Auto Show kicked off and already went during the second weekend of February 2020, but boy there was some exciting news. So much that we're splitting this up into two parts, each one focusing on a vehicle that took the spotlight – a new 2020 Jeep® Mojave Edition and the new 2021 Chrysler Pacifica minivan. One of these vehicles we were promised back when Jeep released their Five-Year Roadmap, and if Jeep is any kind of automaker, it's one we know will keep its word. The first Jeep Desert Rated vehicle to hit the sand dunes is none other than the Jeep pickup truck that stole our hearts in late 2018 during its official debut, the Jeep Gladiator. Check out our other article on the even more safety-and-technology-packed Chrysler Pacifica minivan.
Jeep is breaking ground with the Gladiator Mojave, the first Jeep vehicle be branded by the newly minted Desert Rated badge. Just like vehicles that receive the Trail Rated badge, a testament to their capability to handle any off-road challenge that may come, Jeep Desert Rated vehicles do the same on a different kind of terrain. Desert Rated vehicles represent the best vehicles for high-speed off-road capability and performance while traveling across the grueling desert or even sandy roads – just don't take it on the beach like they do in commercials. You'll get a fine for that /sad face.
4×4 capability has always been the foremost pillar of the Jeep brand and the new Gladiator Mojave is a natural extension of our legendary Trail Rated 4×4 capability leadership…Jeep Gladiator is already the most capable midsize pickup on the planet and, with the addition of the new Mojave model, we are delivering our most passionate customers a new level of capability with the ability to master high-speed desert and sand terrains." – Jim Morrison, Head of Jeep Brand – FCA North America
Hitting showrooms in the second quarter of 2020, the new 2020 Jeep Mojave Edition is already well into production. Some consumers may be wondering what makes a Desert Rated vehicle so special, isn't it the same as any other Jeep Trail Rated vehicle? Although that's technically true, able to tackle sandy environments thanks to the Jeep brand's selection of powerful 4×4 systems, every Desert Rated Jeep also comes with an assortment of features found standard on the Gladiator Mojave. These include: new, specially-tuned FOX™ 2.5-inch internal bypass shocks with external reservoirs; industry-exclusive FOX front hydraulic jounce bumpers; a reinforced frame; a one-inch front suspension lift with a silver front skid plate; stronger axles with cast-iron steering knuckles; aggressive front seats with integrated upper bolsters; and 33-inch Falken Wildpeak All-terrain tires. What a way to break out the first Desert Rated vehicle.
With a best-in-class approach angle of 44.7 degrees, breakover angle of 20.9 degrees, departure angle of 25.5 degrees, and a best-in-class ground clearance of 11.6 inches, the Gladiator Mojave already has all the off-road credentials it needs. Its capability coming mainly from the Gladiator's original Command-Trac 4×4 system, featuring a two-speed transfer case with a 2.72:1 low-range gear ratio, heavy-duty third-generation Dana 44 front and rear axles with a 4.10:1 axle ratio, and standard electronic-locking rear differential, this is more that sets the Desert Rated vehicles apart from the rest of the lineup.
Every Desert Rated 4×4 Jeep vehicle was developed, tested, and then completed a series of strenuous tests that covered five categories: Ride Control and Stability, Traction, Ground Clearance, Maneuverability, and Desert Prowess. Ride Control and Stability came with a new groundbreaking desert-tuned suspension that would allow drivers to tackle the desert terrain without sacrificing control and comfort. Traction is a large factor in sandy areas, and with a 4×4 system in play, the Gladiator Mojave can traverse unpredictable surfaces such as sand, gravel, and loose dirt without fail. We've discussed that amazing Ground Clearance that allows the Gladiator Mojave to blast through desert dunes like nothing, but its nimble and responsive handling is a testament to its Maneuverability, able to climb extreme angles and swiftly navigate through the sands. Of course, any vehicle built specifically for the Desert needs to be able to withstand such conditions and keep its driver and passengers alive. Tested and proven to withstand the intense heat, coarse sand, loose gravel, and intrusive dust that one may find in the desert or desert-like environments, Jeep Desert Rated vehicles come with a little Desert Prowess.
We're not sure if you want to remove the doors and roof of a Jeep when traveling the hot desert, but it's your call when it's your new 2020 Jeep Gladiator Mojave Edition. Find yours at Aventura Chrysler Jeep Dodge Ram.
Photo Source/Copyright: FCA Media