New Dodge Heritage Options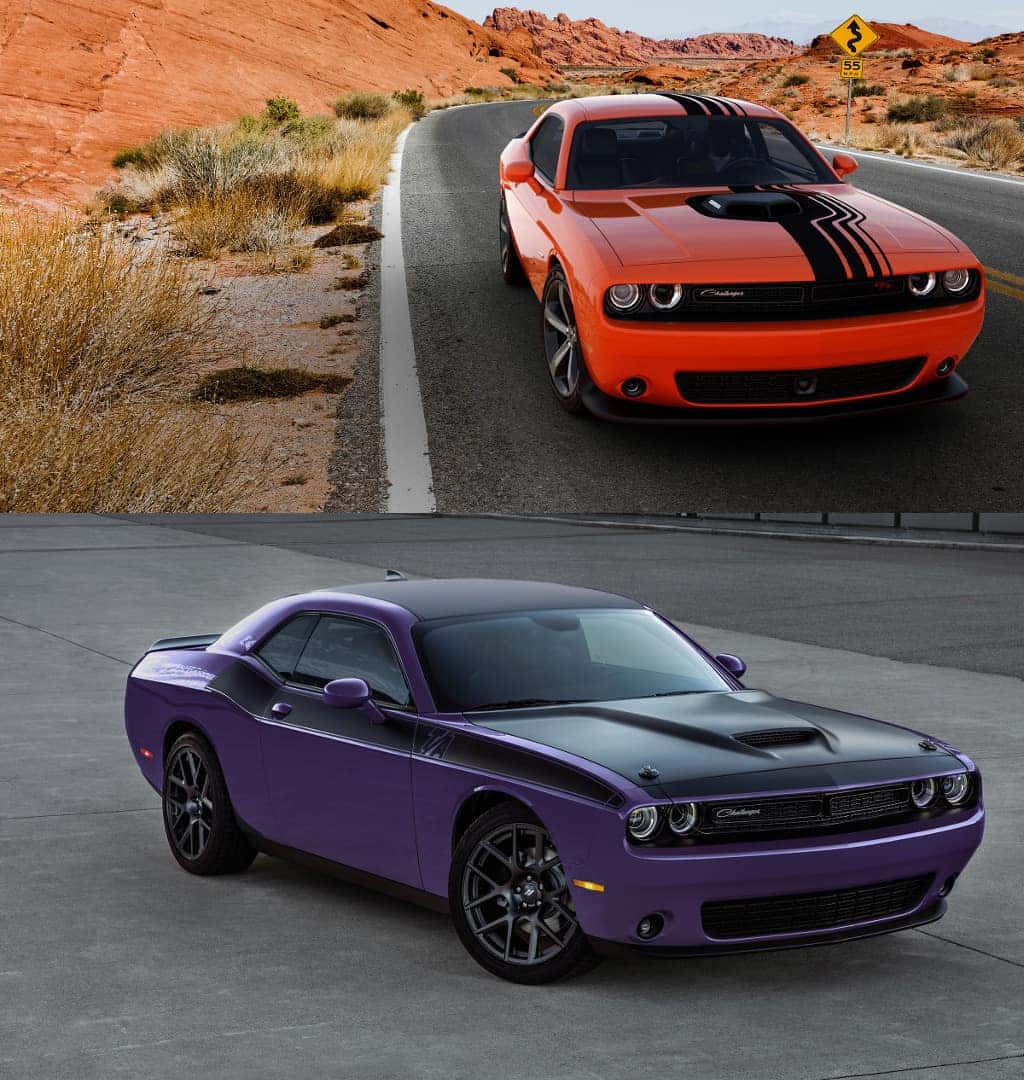 The Dodge brand sure does have a lot going for it in the automotive world, especially when it comes to muscle cars and pony cars. Riding on the same platform for the past several decades, both the Dodge Challenger and Dodge Charger are starting to show their age. A next-generation for each model is set for 2020-2021, and both are a ways off. There's even talk of the two iconic models being discontinued to make way for more modern vehicles, sharing the same fate as the Dodge Viper SRT. Before their time comes however, Dodge continues to release new package deals that fan the flames for a little longer. Take a look at what packages Dodge has released in the past two years.
New Shakedown Package
The newest available Shakedown Package is for muscle car enthusiasts just looking for a unique looking Challenger. The Shakedown Package was inspired by the 1971 Dodge Shakedown Challenger concept shown at the 2016 SEMA Show, and it will be available on 2018 Dodge Challenger Shaker models (2018 Dodge Challenger R/T Shaker, R/T Plus Shaker, and 392 Hemi Scat Pack Shaker). This package brings back old school style with asymmetrical black racing stripes over the hood, roof, and deck lid, white-face instrument gauges, and an upgraded Alpine audio system with six speakers (nine speakers for the R/T Shaker Plus and 392 Hemi Scat Pack Shaker).
In addition, Dodge is breaking some High Impact Paint (HIP) colors out of the vault for 2018 models. The Dodge heritage colors brought back for the 2018 model are B5 Blue and Plum Crazy, and the two colors can be ordered for any Dodge Charger; on the Challenger lineup the colors are limited to the Challenger T/A, T/A Plus, and T/A 392 models during the initial release of the Shakedown Package.
"Dodge//SRT has a rich history of using iconic heritage and high-impact colors and unique graphics to make our vehicles look custom, straight from the factory … Whether a customer remembers B5 and Plum Crazy from when they were new in the '60s and '70s or they're a new customer today, these paint colors and unique Shaker stripes stand out in the crowd and speak to our customers' passion for their cars and their love of the Dodge and SRT brands." -FCA North America Head of Passenger Car Brands Steve Beahm.
Scat Pack Dynamics Package
This was the first big hit released by the muscle car brand that would give consumers on a budget the chance to deck out their vehicle. The Dodge Scat Pack Dynamics Package was the go-to for turning a low-end Dodge Challenger or Dodge Charger into a Dodge SRT Hellcat, but without an increase in power. With a price tag over $60k, Dodge isn't going to let just anyone buy a mid-tier model and get 707 horsepower with a simple add-on package.
That's not really a deal-breaker though. Who needs SRT Hellcat power unless they're drag racing? Past hitting the raceway, no one really needs that kind of horsepower. It would be nice to modify a Dodge Challenger or Charger model to look like the Hellcat, though, and that's exactly what the Dodge Scat Pack Dynamics Package can do.
Available only on Scat Pack trims of the Dodge Challenger and Dodge Charger, consumers would get a Scat Pack with bolder and wider 20-inch lightweight forged aluminum wheels in low gloss black, outfitted with Pirelli all-season tires, and a braking system made up of 6-piston Brembo calipers and rotors in the front, and 4-piston setup in the back. Choose the right paint job and purchase a few aftermarket decals, and bam! That Scat Pack Dodge Challenger or Charger can pass for a Dodge SRT Hellcat for $20,000 less.
Hellcat Drag Pack
What if the Scat Pack Dynamics Package isn't enough? What if simply looking like a Hellcat isn't the goal? Then there's some good news with the upcoming Hellcat Drag Pack, soon to be made available by the muscle car automaker in 2019. The catch here is, like the Scat Pack Dynamics Package, the Hellcat Drag Pack is only available for the Dodge Challenger SRT Hellcat model. The package is designed for the Hellcat because it is set to upgrade a normal Hellcat into a pseudo-Dodge SRT Demon.
At the moment, there's a lot of what-ifs that go into the details of the Hellcat Drag Package. As far as we know, the package will add a fraction of the power and 75-percent of the components found in the 2018 Challenger SRT Demon onto any new Dodge Challenger SRT Hellcat. We're looking at about 18 units of horsepower and anything from stickier tires for better grip to the SRT Power Chiller that makes the power of the Dodge SRT Demon possible. Oh, and the AirGrabber hood scoop has definitely been teased as an add-on for the Hellcat Drag Pack.
If not looking to buy a Dodge Challenger SRT Hellcat, Mopar did come out with a new 707HP Hellcrate during the 2017 SEMA show. Designed to turn a normal muscle car into a Dodge SRT Hellcat, and being an aftermarket product, anyone could get a Dodge Scat Pack trim on the Challenger or Charger and then buy the Hellcrate to get a Hellcat on a budget. Mopar does say the Hellcrate is only designed for pre-1976 vehicles, but that's most likely something they have to say. Like the ratings on video games; MA is made for a mature audience, but teenagers will still play them.
Well it's time to rev those engines muscle car fans. There are three package options out there to relive the glory days and make nearly any Dodge Challenger or Charger model a force to be reckoned with. Check out our inventory for your own Dodge Challenger or Dodge Charger and take one for a test drive to decide if you want more power or just a sick paint job.
Photo Source/Copyright: FCAAuthority.com