Mopar Bringing Multiple Customized Vehicles to 2019 SEMA Show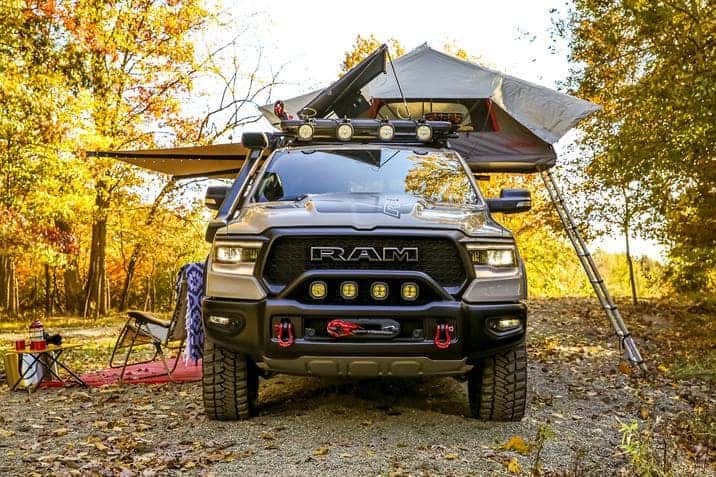 The next big American auto show coming up is the 2019 Specialty Equipment Market Association (SEMA) Show. Great things happen at this auto show, giving automakers a chance to not only show off new and upcoming vehicles but also gives third-parties a chance to show off new gadgets and after-market accessories built for a variety of vehicles. During the 2018 SEMA Show, the Ram 1500 Rebel Smoke concept made its debut, and aftermarket tuner Raw Motorsports turned the Jeep Wrangler into a monster truck. Mopar also showed up at the last show to debut their unbelievable 1000 horsepower 426 Supercharged Mopar Crate HEMI® engine, the Hellephant. This year, Mopar is returning with concepts for Ram and Dodge, Jeep accessories and mods, and will return with the Mopar '19 Dodge Challenger.
Two Vehicles in the Spotlight
Mopar is bringing two vehicles with it to the 2019 SEMA Show. The first is being called the Ram 1500 Rebel OTG (Off The Grid), an overlanding-themed vehicle concept with the intent to be taken off-road and enjoy the great outdoors. The second concept is a reimagined 1968 Dodge D200-series pickup truck, the Mopar Lowliner Concept, will see the light of day for the first time ever. Joining these concepts are a total of 14 Mopar customized vehicles and hundreds of Mopar products.
"These vehicles showcase how Mopar is constantly expanding and exploring new ideas to meet the needs and fuel the imagination of our passionate fans…Whether it's overlanding in remote locations or reimagining an alternative classic design history, Mopar has its customers covered." – Mark Bosanac, Head of Mopar Service, Parts and Customer Care, FCA – North America
Ram 1500 Rebel OTG (Off The Grid) Concept
Ready to get out there and breathe some fresh air? Designed in collaboration between Mopar and leading outdoor equipment suppliers, the Ram 1500 Rebel OTG was born. Equipped with the new 3.0-liter V-6 EcoDiesel engine, the OTG concept has the power to go off-road, but some improvements were definitely made. Mopar's concept two-inch lift kit, beadlock wheels, and 35-inch Goodyear tires were added, and several Mopar accessories, such as a front bumper with integrated winch, a larger grille with flow-through R-A-M badging, and a functional snorkel air intake open up the possibilities for this Ram truck.
For those intent on taking a road trip or camping, there's plenty more to love about the Ram 1500 Rebel OTG concept. For one, a solar panel set has been installed with easy deployment to generate electricity and helps to lessen the load without the need for a backup generator. Speaking of carrying a heavy load, when it comes to loading and unloading the truck, a hide-away bed step makes it easy to get in and out of the truck bed. There's even a retractable battery-powered cooler and kitchen unit with a gas-powered stove and sink with an on-board water system built into the truck bed and storage for small tools.
Atop the truck bed, a bed rack system has been installed with a collapsible rooftop tent that comes with a stowable ladder. When the sun goes down, campers can still have plenty of light with LED off-road driving lamps mounted on the front bumper. There are also supplemental LED backup lamps integrated into the rear bumper that can also serve as campsite illumination.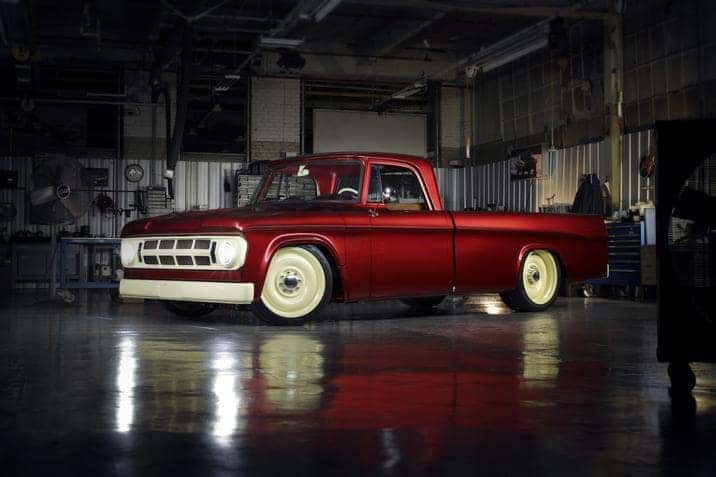 Mopar Lowliner Concept
Mopar is known for taking old Dodge vehicles and turning them into something new – and sometimes a monstrosity if we're talking about the 1968 Dodge "Super Charger" Concept, powered by the Hellephant engine. The Mopar Lowliner is based off of a rescued 1968 Dodge D200-series heavy-duty pickup truck. Mopar add some customizations and new equipment and then wrapped it all up with a Candied Delmonico Red and Dairy Cream paint job. Someone has a sweet tooth!
To give the vehicle a more dramatic stance, the ride height was reduced, and the wheelbase was extended. A custom power-tilt front end was added to show off the legendary 5.9-liter Cummins diesel engine under the hood, and a custom air suspension was added to the front and rear axle for three different modes: low, driving height, and driving height plus. We're sure more information will be released on what those means come November.
New graphics and badges have been added to the Mopar Dodge Lowliner concept, such as the Mopar Omega M logo on the front fenders and a vintage Dodge graphic on the truck's tailgate. New additions and replacements were also made to improve the old truck, including with new 22-inch wheels, seven-inch LED headlamps, and custom taillights with integrated backup lights. Although a bit old, the interior has been upgraded with seven custom Mopar instrumentation gauges, leather upholstery covering the headline and original bench seat – orange-amber Blazing Saddle Tan leather with a distressed look – and a custom-tailored tan carpet across the floor. Keeping it somewhat retro though, Mopar left the original Dodge fratzog emblem on the horn ring cap and topped the floor-mounted shifter with translucent metal-flake shift ball etched with the Cummins logo.
All this and more will be showcased by Mopar at the 2019 SEMA Show. It all starts November 5th in Las Vegas. Mopar will also hold its annual SEMA press briefing at 7:26 p.m. Eastern/4:26 p.m. Pacific on Tuesday, Nov. 5, and the presentation can be viewed live online at Mopar.com. Be sure to check back with us at Aventura Chrysler Jeep Dodge Ram social media to find out what else Mopar brings to the 2019 SEMA Auto Show.
Photo Source/Copyright: FCA Media