Mopar '19 Dodge Challenger Ready for Order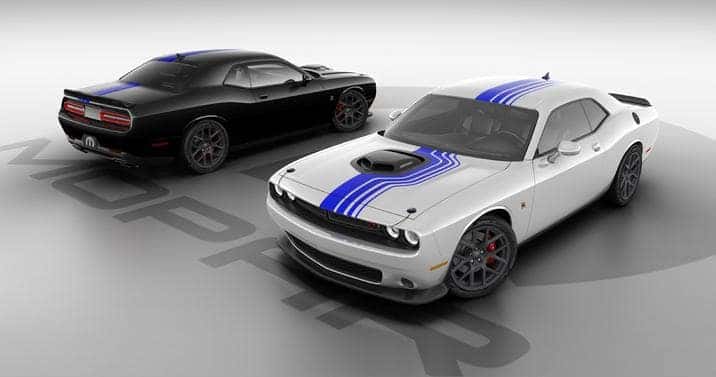 With all the new updates for Dodge in the winds, and the sad loss of some favorites, like Dodge paint color Destroyer Grey, a familiar name known for custom auto parts and mock-ups has recently surfaced once more. It's Mopar. We haven't heard much from the custom auto parts name this year, but Mopar is back and wants to celebrate a decade of customization. With catalogs of products enthusiasts comb through for modification, Mopar will once again show what they can do with the Dodge Challenger. Introducing the Limited-Edition Mopar '19 Dodge Challenger.
Limited-Edition Mopar '19 Dodge Challenger
"Over the last decade, we've customized an impressive group of vehicles with exclusive Mopar performance parts and accessories that our enthusiast customers crave…This year we're commemorating our tenth Mopar build with another unique and collectible Dodge Challenger, which continues to be the modern muscle car every bit as beloved today as the first generation vehicle was 50 years ago." – Mark Bosanac, Head of Mopar Service, Parts & Customer Care, FCA – North America
When automakers say "limited edition", one raises a brow and wonders if that's just a sales gimmick. Make no mistake, the Limited-Edition Mopar '19 Dodge Challenger is a limited edition run, with only 100 units – 90 vehicles for the U.S market and 10 vehicles for Canada – set to be produced. This limited edition is also special, marking the Mopar '19 Dodge Challenger as the 10th limited-edition, Mopar-modified vehicle delivered straight from the factory. What an honor!
As usual, a trim is always used as the foundation, and with all of its additions for the 2019 model year, the 2019 Dodge Challenger R/T Scat Pack has definitely earned the right to be a Mopar custom car. There isn't much modification when it comes to power. Known for its performance, the potent 392-cubic inch HEMI® V8 engine was chosen for this project, able to generate 485 horsepower and 475 lb-ft of torque. Paired with a standard six-speed manual transmission (TorqueFlite eight-speed automatic transmission), drivers can relive the days of controlling the power and torque of the engine.
With a Mopar cold air intake for increased horsepower with an increase of airflow to the engine, and Mopar strut tower braces that help increase structural rigidity for improved handling and control, this Challenger mod embraces the powerful heritage of the Dodge name. For some extra style, the braces and strut caps are silver-coated. Providing some serious stopping power is the popular brand name Brembo, with four-wheel disc performance brakes with red calipers.
Being the tenth Mopar modified model, the exterior always benefits the most. Outfitted with unique Mopar Shakedown graphics and accented with asymmetrical Mopar Blue center stripes that run from the front fascia to the rear decklid spoiler, a hint of vintage styling remains. An air-gulping scoop stands proudly on the hood, flanked with Shaker badges on both sides of the vehicle and functional black hood pins that give it a classic look, even with a unique Mopar Design badge in the back. Mopar wheel locks are standard, and consumers will want them with the 20-inch x 9-inch forged aluminum wheels riding on Goodyear P245/45ZR20 performance tires that come standard, along with genuine Mopar-branded center caps and valve stem caps.
Inside the Limited-Edition Mopar '19 Dodge Challenger isn't too bad. Upgraded with performance front cloth seats that wear a two-tone Mopar logo embroidered into the seat backs, Mopar has upgraded parts of the dashboard and console. For one, a custom Mopar '19 instrument panel badge can be found near the passenger-side air vent and polished door-sill guards wear the Challenger logo. To complete the upgrade, premium Berber floor mats have been added to the cabin.
Because this is a limited-edition vehicle, each buyer will get an exclusive Owner's Kit, complete with a "birth certificate" with the exact date of manufacture and the proprietary build number out of the 100 units. Owners will also get an exclusive full-color Mopar '19 booklet, a keepsake with the engraved vehicle number out-of-100 units, and a Mopar '19 rendering produced by the Mopar design team. Ah, memories.
The Mopar '19 Dodge Challenger, based on the 2019 Dodge Challenger R/T Scat Pack, has a starting MSRP of $45,835 (plus destination fee). Orders start now (September 2019) so contact Aventura Chrysler Jeep Dodge Ram for your Mopar '19 Dodge Challenger. Orders will be delivered during the fourth quarter of 2019.
Photo Source/Copyright: FCA Media