New Jeep Products for 2017
When the 2017 Easter Jeep Safari began in April, we discussed some of the cool new Jeep Safari concepts that rolled out, figuratively and literally. Well, the event has ended and passed, and it's time to talk about all of the cool Jeep accessories and components that were shown off at the vendor show. Some of these have already made headway onto the internet and are getting well-deserved attention, so don't think these are all Safari-exclusive. Of course, they're all post-factory parts, but we'll be sure to name the company that makes each piece of equipment so you can look up the products you like.
Off-Road Accessories
Like we wouldn't cover a couple of these? Aside from new axles and wheels, there was a nice selection of off-road equipment at the vendor show. Here are some of our top picks.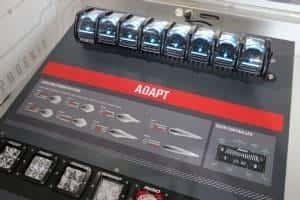 A new lightbar from Rigid Industries, known as the Adapt lightbar is what may be the next generation of lightbars for those of us who love to off-road at all times of the day. Able to adjust from a spot to flood pattern, a simple controller gives the driver (or navigator) the power to adjust the light pattern and color when going off-road. Plus, it can be set up with eight presets and connected to the vehicle's engine computer (ECU) to change it up based on throttle position. It's a perfect addition for a new Jeep, especially if planning to go a little off-roading at night.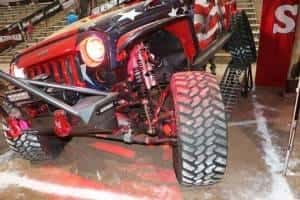 What off-roading list would be complete without a suspension system? The Skyjacker LeDuc series suspension systems are pre-tuned high-performance systems ready to be bolted onto any Wrangler. Made with Fox coilovers and Fox reservoir shocks, and hydraulic bumpstops, the systems are made to handle tough terrain and provide an easy ride. We talked a bit about coils and shocks in our new "Performance Parts Explained" series focused on Dodge performance, and a DIY on adding suspension to a truck. Maybe we'll talk a little more about bumpstops in our next performance post, focused on Jeep 4×4 systems, but they're basically there to improve the comfortability of a ride while protecting vehicle suspension.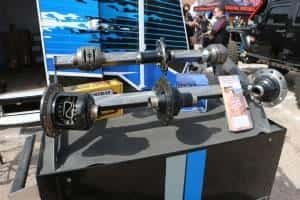 Aw yeah, here we go. New locking differential assemblies by Motive Gear, the PowerTrax Grip Pro. For anyone who doesn't know what a locking differential is, it's a component that locks in the rotational speed of all four wheels so that every wheel on each axle rotates in unison, regardless of the available traction. This is especially helpful when one or more wheels slip up, and the driver doesn't lose control of the Jeep. Anyways, the PowerTrax Grip Pro uses six helical cut gears, and the more throttle used, the stronger the lock up; moreover, it only releases when you let up. Motive Gear also came out with the PowerTrax Grip Lok for 100 percent lock whenever your foot is on the gas pedal.
Lifestyle Accessories
These accessories are more so made to liven up the off-road experience, or just offer some convenience during a pit stop.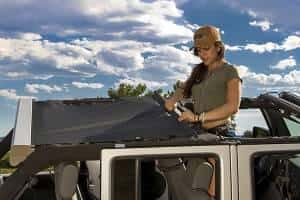 Looking for an easy way to grab some shade when it's hot or enjoy a sunny day? Mountain Off Road Enterprises (M.O.R.E.) just launched its Retractable Roller Shades for JK Wranglers. When on the trail or road, the shades can be pulled forward to cover the back seats or the entire cabin, driver's choice. This will be helpful for those who have removed the roof on their new Jeep to enjoy the breeze, but still want the choice to cover up, especially if, oh we don't know, it rains … thanks for being indecisive, Florida.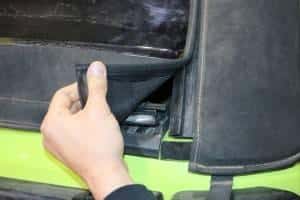 It's time for a little pit stop, or maybe you're getting a little romantic by driving to your favorite off-road spot, we won't judge. Either way, the Trektop NX Glide from Bestop makes it easy to remove side windows quickly from a premium soft top. To up the romance, Bestop also released the RoughRider Tailgate Shelf that doubles as an easy workspace or storage unit with a removable polyester mesh pouch. It's also easy to install and made specifically for new Jeep Wrangler and Wrangler Unlimited models (2007-2017) – but don't let that stop your imagination. Who says we can't install it into a Jeep Cherokee or Renegade? A little modification never hurt.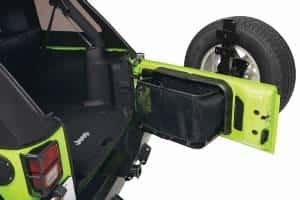 Emergency Situations
Last week, we discussed what to do if your Jeep gets stuck. The primary focus was recovering traction and winches. Can you guess what these items are?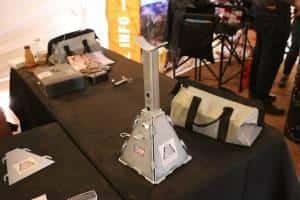 We also talked about lifts in that article. If in the need of a quick Jeep repair because you hit a nasty rock, or just got a little stuck, the Stash Stand from Klinzmann Fabrication would be a great piece of equipment to have handy. Able to collapse down, it can be stashed away in the trunk or cargo compartment easily. Made from 3/16-inch steel, each Stash Stand has a 4-ton suggested weight limit, but has been tested up to 20,000 pounds, or ten tons. That's great news for large vehicles like the Jeep Cherokee or even Grand Cherokee.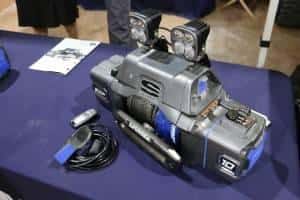 Last is the Superwinch, said to be a game-changer. Made right here in the U.S., the mid-frame winch comes with built-in wireless control, power ports, a steel or synthetic line (we assume it's consumer choice), and the winch is encased in fully gasket-sealed housing. You can also see some lights on there to help with low visibility situations. The wireless part is kind of cool – set it up, press a button, and watch it reel in … or at least that's how we imagine it'll work.
These are just some of our picks, but there were many more items shown off at the vendor show during Jeep Safari. Did you go, and if so, did you find anything worth sharing? Let us know on social media.