Leaked Information About the New 2018 Jeep Wrangler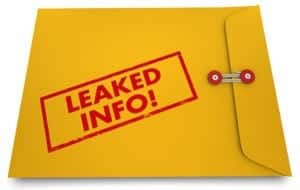 Well, it was bound to happen. Ever since the news about the new 2018 Jeep® Wrangler coming to the 2017 Los Angeles Auto Show, every Jeep enthusiast out there has been clamoring for details. Some people can't just wait, and recently, new information about the new JL has been leaked to the internet ahead of its official debut. Don't you just love the internet that way? Let's check it out.
Powertrain
First things' first, we've heard too many rumors about the new Wrangler platform and what powers it, but now we know for sure. For one thing, Jeep vehicles are sometimes offered with four-wheel drive, but it's always part-time, even with the Jeep Wrangler and Wrangler Unlimited, which are only available with a 4×4 drivetrain. That's because of the transfer case built into the vehicle's 4X4 system that only transfers power to all four wheels when the driver dials it in or the driving conditions call for it. The 2018 Jeep Wrangler will offer a full-time four-wheel drivetrain, a first for the popular off-road vehicle, along with the once dead "Selec-Trac" system by Jeep.
Second, the 2018 Jeep Wrangler will definitely come with three engine choices, their availability possibly depending on drivetrain and trim. The first two engines that will be available on release will be a 2.0-liter turbocharged I4 or the award-winning 3.6-liter Pentastar V6 engine. A little later into the model year, Fiat-Chrysler's 3.0-liter turbodiesel will return to the stage. What a powerhouse lineup already!
Customization
At the moment, consumers have a choice of 13 trims to choose from between the current Jeep Wrangler and Jeep Wrangler Unlimited models. That number is going to be brought down to the single digits as to not overwhelm consumers, but to also give them better features as a more affordable price. On top of that, many customization packages are going to pop up, a total of ten so far. The number of trims may decrease for each model may decrease, but customers can still personalize and customize their Jeep the way they see fit, whether it's opting in for LED lights or a better infotainment system.
New Stuff
Just a few more bits before we fan you off all this excitement. Jeep will be releasing an all new management system dubbed the "Trail Rail Management System." It could be an upgraded version of "Selec-Terrain" or a new system altogether. That one will have to wait until the official debut.
The other good news many consumers and off-road enthusiasts will be happy to hear about is the power-folding soft-top roof. No power hard-top yet, but the ability to fold back the soft-top with the push of a button is definitely welcomed, especially when wanting to have the top down even though there's a chance for rain. A three-piece hard top will also be available for more customization over the look of one's Jeep.
Now that's we call an information leak! Let's talk about all the new stuff on social media and keep the hype train going all the way to the LA Auto Show. After all, we still have a long way to go for December.