Jeep Has a New Five-Year Roadmap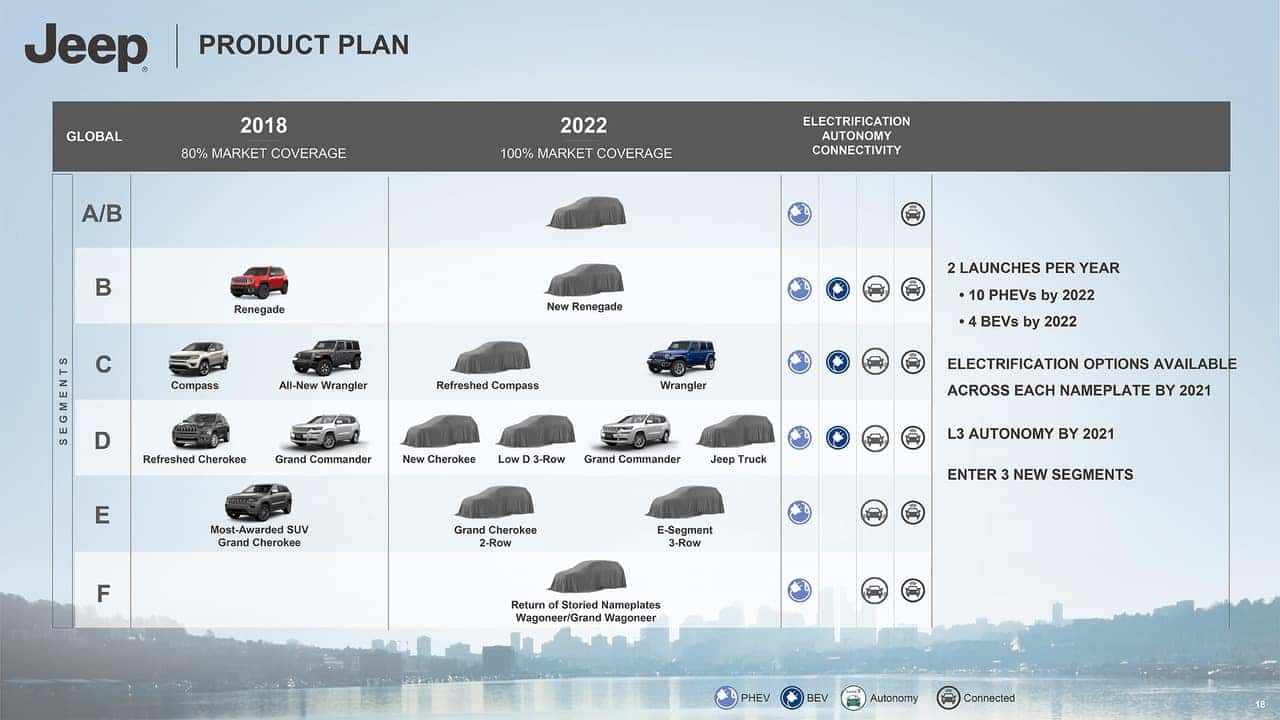 It seems like Jeep® is starting to change things up with its future automotive lineup. What started as a small change with the mild-hybrid system, the eTorque, in the 2018 Jeep Wrangler JL and the 2019 Ram 1500 light duty pickup truck, is seemingly leading into all new vehicles and modifications of previous lineups to meet a changing auto market. Jeep recently released their roadmap for 2022, and it seems like a lot of change will be taking place over the next four years, and we can't wait. Are you all ready for a whole new Jeep to hit center stage?
Improving On What Works
Jeep won't be leaving their roots anytime soon. After all, with their origins in the U.S. Army, Jeep is known for being able to tackle all kinds of terrain and road conditions. With that in mind, Jeep will be looking to add several new models, including a couple of SUVs, crossovers, pickup trucks, the Wagoneer and Grand Wagoneer duo, and possibly a smaller car (come on, Baby Jeep!) During this time, Jeep will also be looking into increased capabilities.
Off-road capability is still the focal point of Jeep, hands-down that's where the automaker is at. However, while moving forward, the on-road performance of Jeep vehicles is starting to get some much-needed attention. The automaker eventually wants to create what they call the perfect everyday car, offering all weather and off-road capability, high fuel efficiency, and stress free mobility. There's also talk about new off-road vehicles and an electric car segment … Wait — are we still talking about Jeep?
New Off-Road Glory
Sometime between 2018 and 2022, Jeep will be launching a whole new generation Renegade to take on the uneven terrains and rock crawling of yesteryear. The largest announcement however comes in the form of a new sand-running vehicle trim, said to be made available by the end of the road map – 2020. It's yet unclear which model this trim will belong to, but it's already pretty clear it will help pave the way for a new series of performance models from Jeep.
Trailhawk trims of Jeep models have always been known to take on any off-road challenge, the best of the best. It would seem the "hawk" theme is going to continue, but Jeep is doing more than focusing on the various "trails" a Jeep Trailhawk can rule over. Trailhawk, Trackhawk, Deserthawk! Yes, a Deserthawk trim will be added to the catalog of Jeep vehicles. A new Jeep Cherokee was pictured alongside the announcement of the Deserthawk, but word is the Deserthawk trim will be applied to multiple Jeep models.
There will also be a new "Desert Rated" badge to accompany the Deserthawk trims. Underpinned by "eight desert-specific engineering standards" with an emphasis on high-speed sand capability, a vehicle will have to meet all eight to get the "Desert" rating as well as earn the Deserthawk title. The number of upgrades a Deserthawk will receive has yet to be revealed, but long-travel heavy-duty suspension, knobby tires, and undercarriage reinforcements sound like a good place to start.
Do the Electric Slide
If anyone ever had a betting pool that Jeep would never ever go electric, you just lost a buttload of money, pal. Part of the new five-year strategy is to go with the flow and enter the alternative fuel vehicle market. Jeep had announced ten plug-in hybrid electric vehicles (PHEVs) and four battery-electric vehicles by 2022. Oh, and the best part – level 3 autonomy. Don't get too excited though, level 3 is about as smart as adaptive cruise control (yawn).
So, in case anyone is wondering, this means that yes, Jeep is dropping diesel vehicles in many global markets, and will be replacing them with plug-in hybrids for the lowered emissions to meet constantly increasing CO2 standards as well as provide the fuel economy they so desperately wish to offer their consumers. Plus, someone at Jeep must have swallowed their pride about not producing electric vehicles, although notorious for generating high amounts of torque, the backbone of every off-road Jeep vehicle.
Coming up, we're going to see an all-electric Wrangler, a new Jeep Renegade, another rehash of the Jeep Compass, three crossovers, two SUVs, and the luxury Grand Wagoneer. Are ya'll excited? Tell us what you think on Aventura CJDR social media.
Photo Source/Copyright: Motor1.com