2020 Jeep Gladiator is Revealed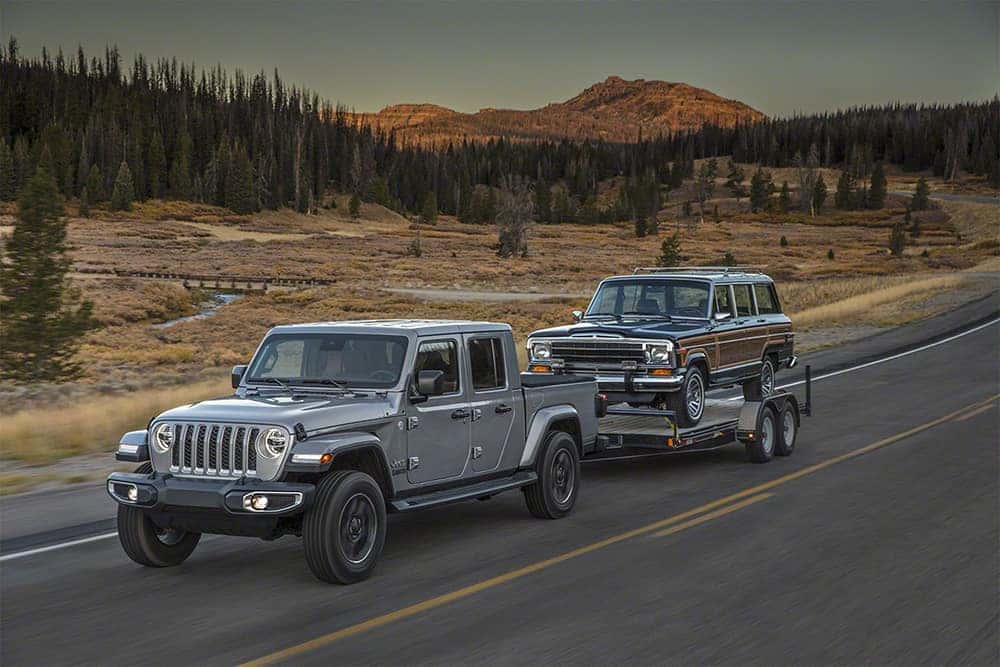 Well it's finally here. The Jeep Wrangler-based pickup truck we've all been waiting for has been revealed. Once thought to be called the Jeep Scrambler, this new pickup truck from Jeep recently got a new name: Jeep Gladiator. And it is a pickup truck, by the way. Set for release in 2020, we'll get to see all there is to the new Jeep Gladiator, but for now, we finally have the correct details on all the specs.
The Jeep Gladiator Pickup Truck
Yes, the new Jeep Gladiator is actually a pickup truck. It's not a Jeep Wrangler with a truck bed – no. The automotive engineers at Jeep knew that if they were going to make a Wrangler-based pickup truck, then it had to be a pickup truck first and a Wrangler second. With the midsize truck segment a little thin, and Ram Trucks bringing their own midsize Ram pickup truck to the market, it's the perfect time to show what an automaker can do with the right design and engineering. It looks like a Wrangler, but it's so much more.
Engineering
The only for sure powertrain available at the moment is a 285hp V6 engine that can generate 260 lb-ft of torque. There is talk of an upgraded 3.0-liter EcoDiesel engine, being that this is a pickup truck, but we're not here to bring you rumors. For now, the V6 engine can be paired with a six-speed manual or six-speed automatic transmission. There has been no mention of eTorque yet, but that mild-hybrid system popped up in the powertrain for both, the 2018 Jeep Wrangler JL and the 2019 Ram 1500. It would be stupid not to equip the Jeep Gladiator with the eTorque.
This pickup truck is also made to go off-road. The Jeep Gladiator has an approach angle of 43.6 degrees, breakover angle of 20.3 degrees, departure angle of 26 degrees, and a total ground clearance of 11.1 inches. And that's just the start of off-road capability. Although only the Rock-Trac Rubicon and regular Command-Trac transfer cases are available, a newly introduced Off Road + button will allow the Gladiator to reconfigure itself on-the-go for sand running, rock crawling, and even Off-Road Pages for consumer configuration. This pickup truck even has a 30-inch water fording capability (Rubicon trim).
It's a Midsize Pickup Truck
The 2020 Jeep Gladiator is a truck through-and-through. With an assortment of tires for the various trims (Sport, Sport S, Overland, and Rubicon) there are also some changes to the Jeep body itself to offer the capabilities of a truck. Currently, it's rated at a 7,650-pound maximum towing capacity and 1,600-pound maximum payload. At release, the only option to fit that payload will be a 5-foot box, but that's why there's always a trailer hitch.
Oh yeah, a Jeep Wrangler with a truck bed comes with its own trailer hitch, right? Technically, yes. For towing, there is an option to add a Class 4 receiver and 4- and 7-pin harness plugs or a regular ball hitch to the bumper.
Check Out That Bod
A Jeep Wrangler-based pickup truck is going to have some changes while still keeping the good looks of its cousin. 31 inches longer, with a 137-inch wheelbase, the Gladiator is 400 pounds heavier than the original Wrangler JL. We can thank the bigger axles, brakes, wheels, and suspension for that. The increase in weight doesn't come without style though.
The 2020 Jeep Gladiator is the only convertible pickup truck on the market, offered with either a removable hardtop, a soft top, or both if preferred. The rear of the bed gets a little flare, the rear link arms are set lower for better towing capability, and protecting the body of the Jeep Rubicon model are full-length side bars, along with an additional bar for the bed area. Speaking of which, the bedsides are lower and shorter than a regular full-size truck for easier loading, and the tailgate comes with a halfway-down option for easier loading of long or heavy items.
Riding on 17-inch trims, 18-inch if driving the Overland trim, consumers can get some added style and capability with optional 33-inch mud tires. Or, go full Wrangler and remove the top and doors. There's also an optional tonneau cover for easy access and removal in terms of the truck bed. Inside, the rear seats fold down for cargo space but can lock in the upright position to keep everyone safe with the top off. Lockable underseat storage is also featured, like the many hidden compartments in the new 2019 Ram 1500. Oh, and side steps are available for all trims, whilst rock rails and bedrails come standard on the Rubicon trim of the Jeep Gladiator.
Want to know more? Follow us on Aventura Chrysler Jeep Dodge Ram and check out our test drive. We'll be sure to get our hands on a Jeep Gladiator asap.
Photo Source/Copyright: TruckTrend.com