Jeep and Merrell Debut Special-Edition Hiking Boots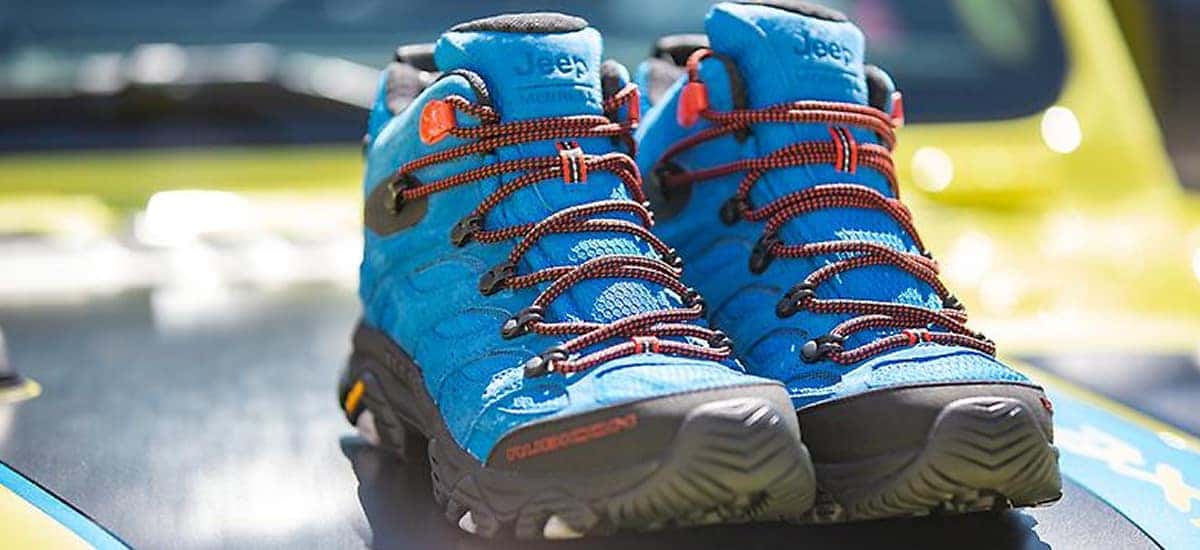 Off-road automaker Jeep® is known for giving its fans more to work with. A fandom of Jeep owners called Jeepers love to buy and modify their Jeep vehicles, whether it's the customization of the roof and doors or upgrading the performance. The Jeep Performance Parts (JPP) catalog by Mopar and Jeep definitely brings a performance boost, and partnerships with American Expedition Vehicles and Jeep put another feather in the automaker's proverbial cap. A storefront between Jeep and Amazon even offers consumers Jeep merchandise, and at one point, there was a cooler made by Jeep and Igloo. Jeep loves to give back, and this time around, it has off-road adventure in mind with a special-edition hiking boot by Jeep and Merrell, the Merrell Moab 3 Mid x Jeep.
"Adventure meets adventure with the Merrell Moab 3 Mid x Jeep collaboration, and we're thrilled to work with an iconic partner like the Jeep brand whose legacy has so much alignment to our own history on the trail…The Jeep brand has a loyal fan base similar to Merrell, and these boots have on- and off-road capability for you to navigate any journey with confidence." – Merrell Senior Director of Brand Marketing Lindsey Lindemulder
Available for purchase on Monday, October 16, 2023, the boot will make its official launch in eight countries in both men's and women's sizes. First, giving a preview of the boot during the North American International Auto Show (NAIAS), running from September 13-24, 2023, at the Huntington Place in Detroit. The event is a fitting time to show off the two Michigan brands collaboration. NAIAS is considered one of the most influential automotive events in the world, making it the perfect stage to give the boot some attention.
Jeep 4xe easter eggs can be found in the boot, along with some key design details by Merrell for the new hiking boot. It all starts with custom-molded Rubicon badge, marking the boot as the official boot of Jeep and paying homage to the most capable Wrangler for the world's best-selling hiking boot. Other details include red "tow" lace hooks, representing the red tow hooks found at the front bumper of the Wrangler Rubicon; metal lace hardware, representing the hatches on the Jeep 4×4 hood; a monochromatic color scheme to mimic iconic Jeep 4×4 exterior colors; an upper mesh that resembles the hexagon pattern on the Wrangler grille; a larger heel webbing hook, made to represent the seat belts; the Jeep brand's iconic seven-slot grille is embossed in backstay (the part of the shoe that gives support and stiffens around the heel; and unique footbed inserts that feature a topographical map of Hell's Revenge. What special-edition Jeep product would be complete without the popular off-road trail in Moab, Utah?
In conjunction with the official debut during the NAIAS, Merrell will also be running a Jeep Wrangler giveaway. Now that will surely get people talking. Running from Monday, October 23, 2023, through Monday, November 6, 2023, the sweepstakes is open to residents of the U.S., Canada, Peru, and Panama. No purchase is necessary to enter, and one lucky winner gets a new Jeep Wrangler to go with their special-edition boots.
Want to hear more about what Jeep is working on? Follow along with us on Aventura Chrysler Jeep Dodge Ram social media. You can also buy your new Jeep and modify it for adventure when you buy a new Jeep SUV at Aventura Chrysler Jeep Dodge Ram.
Photo Source/Copyright: Stellantis Media