Jeep Performance Parts Adds Half Doors to Gladiator Pickup Truck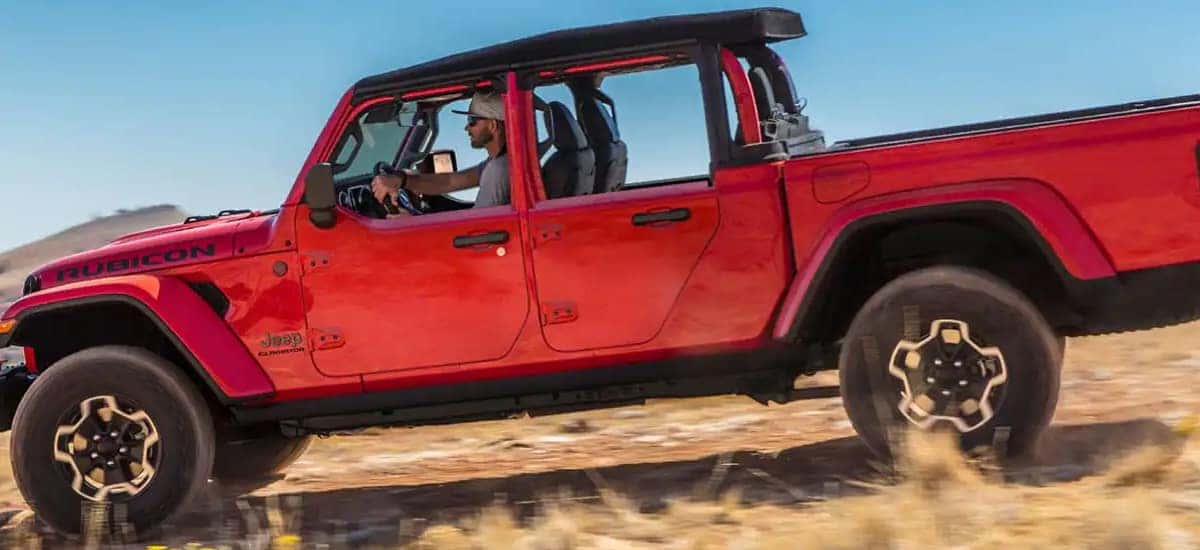 Off-road automaker Jeep® has been very busy in 2021. Along with the global release of the Jeep Wrangler 4xe, Jeep also launched its own Performance Parts Catalog in conjunction with the one-and-only MOPAR. Known as an aftermarket parts supplier, MOPAR has an extensive catalog of parts and kits consumers can purchase and install to modify and enhance their vehicles. As the lineup grows, more components will be added to the Jeep® Performance Parts (JPP) and accessories catalog, such as performance parts for the new 4xe series, and most recently, a new take on half-doors for the 2021 Jeep Gladiator.
Not available previously to the Jeep Gladiator, Jeep is known for offering many options for open-air freedom, especially on Wrangler models. With the Gladiator based off of the Wrangler, any addition added to the original will undoubtedly be added to the pickup truck rendition. That goes double for the release of dual half doors. Engineered, tested and backed by the factory, the new half doors in the New Jeep Gladiator Dual-Door Group puts half doors in the front and rear of the vehicle, with lower window ledges for increased visibility. The Dual-Door Group does come with full doors though, for consumers who prefer to have a window at least in the front-row.
To get these new half-doors with the Dual-Door Group, waiting for an aftermarket purchase isn't necessary, as this group can be purchased as part of original new-vehicle purchase in the U.S. Lightweight and made of high-strength aluminum, the doors are installed on the vehicle, with matching body-color aluminum doors are packaged within the vehicle. Just like the easy-to-change soft top of the new Jeep Wrangler JL, the new upper-window assemblies create a weather-tight seal and feature zippered plastic windows to make changing them quick and easy. Consumers can choose a base-model vinyl that matches the production soft-top roof or the premium acrylic of the premium soft-top option. Each door can be completely removed without the use of tools.
Because this option can come factory-assembled, the New Jeep Gladiator Dual-Door Group pricing is already available. Available in base and premium options, the Dual-Door Group with base-model upper-window assemblies adds $4,590 onto the MSRP (sales code AJB), and the Dual-Door Group with premium-model upper-window assemblies adds $4,990 onto the original MSRP (sales code AJS). As a plus, both each Dual-Door Group options are covered by the Jeep new-vehicle warranty of three years/36,000 miles.
"Open-air freedom is a hallmark of the Jeep brand…Following our introduction of new half doors for Jeep Wrangler earlier this year, we are now giving passionate Gladiator owners an opportunity to let even more of the outside in." – Jim Morrison, Vice President, Jeep Brand North America
Like many other Jeepers out there, you too can start enjoying the open-air freedom of an off-road adventure with a new Jeep Wrangler or new Jeep Gladiator. Both models come equipped with a Command-Trac part-time 4WD system and Selec-Trac® Full Time 4WD System, except for the Rubicon trim. Instead, the Rock-Trac HD Part Time 4WD Sys and Rock-Trac Full Time 4WD System for rock-crawling. Choose your adventure wisely and find a new Jeep Wrangler or new Jeep Gladiator at Aventura Chrysler Jeep Dodge Ram.
Photo Source/Copyright: Jeep