Special-Edition Playmate Pal Coolers from Jeep and Igloo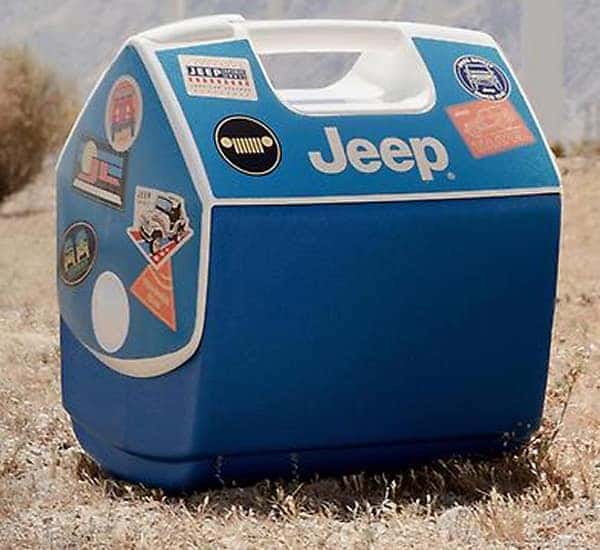 South Florida goes from "baby, it's cold outside" to "it's hot out there" really quick, doesn't it? Can't even stand around in the sun without breaking into a sweat. That's why it's the perfect time to go to the beach or the pool when the weekend rolls around. We all love to get a little tan or splash around, and share some refreshing beverages with our friends. There's always that one guy with great cooler, and you can be that guy, or lady, with a cool special-edition Jeep Stickers Playmate Pal from Jeep and Igloo.
"The Jeep brand embodies the spirit of adventure while Igloo further enhances the good times had on those adventures — it's a partnership we're excited to take together…Thanks to the fun, timeless design and ability to keep road drinks and snacks perfectly fresh, the brand-new Jeep Playmate is going to make Jeep life even cooler."  – Brian Garofalow, chief marketing officer at Igloo
Can you say "adorable"?
Igloo, that cute compact cooler company, has designed with cooler with Jeep that people can slap stickers onto. Like a briefcase that has gone international, or a passport filled with visas, this little cooler can also show off its travels. Igloo wasn't always an ice cooler producer. Back in 1947, it was just a service that brought clean water to work sites. Eventually, Igloo bloomed into the name associated with a super-functional, best-in-class ice chest. The company rejuvenated family life, making outdoor recreational activity now possible with picnics and waters and juice boxes for everyone to enjoy a meal and keep playing. Suddenly, a summer road trip was possible without spending extra cash on restaurants along the way.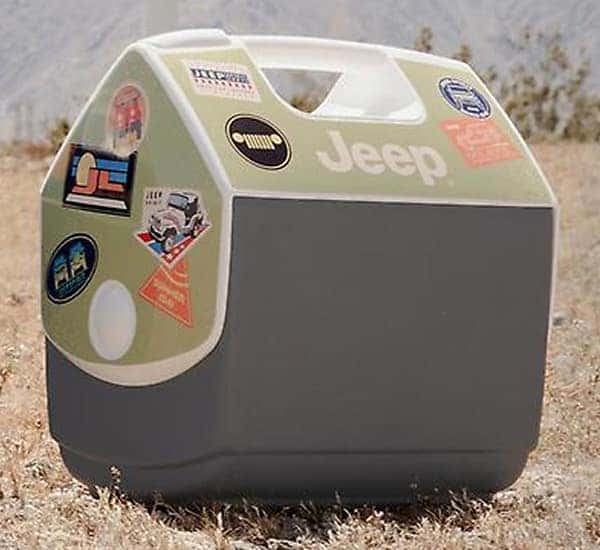 Those are cherished memories, and Jeep wants to help be a part of them. With the special-edition Jeep Stickers Playmate Pal, it's not huge, but each cooler has a capacity of seven quarts, or nine 12-ounce cans. What is in those cans is up to you *wink wink*. Going for a total of $44.99 (plus tax, probably), the Jeep Stickers Playmate Pal cooler is available in two colors: carbonite and sapphire. Is "blue" and "grey" not fancy enough of a name? Because that's what it is.
Recognizable as a product by Igloo and Jeep, aside from a large "Jeep" name slapped across the cooler top, there is also the instantly recognizable Jeep seven-slot grille, custom graphics, Jeep brand mark, and adventure-inspired stickers. Speaking of stickers, if you have run out of space on your Jeep, or have a lease and can't adorn your Jeep with special "Badge of Honor" decals, then the special-edition Jeep Stickers Playmate Pal would be the perfect place to show them off. They're a great conversation starter, and fellow Jeepers won't need to see you in a Jeep to know you're part of the pack.
Jeep added additional trails to the Badge of Honor program back in 2021, and we're sure the list will continue to expand. Sign up, conquer a trail, get a sticker – well, a badge. Still, pretty neat way to show off your Jeep, or Jeeper spirit. Looking for an adventure of your own? Come find a new Jeep at Aventura Chrysler Jeep Dodge Ram today.
Photo Source/Copyright: Stellantis Media