FCA Reveals New Uconnect Market Platform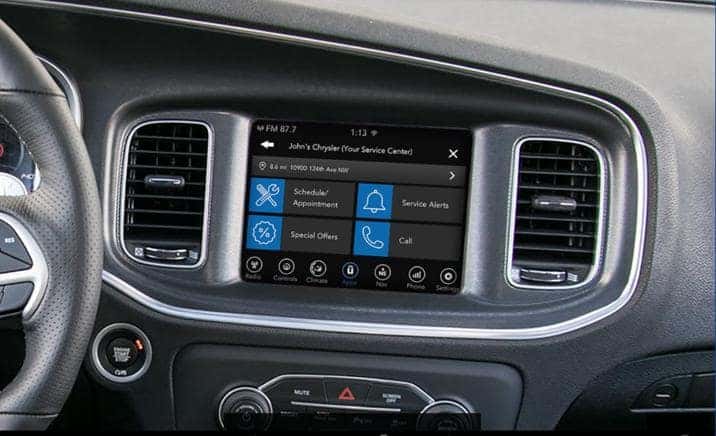 There is a lot of news coming from Fiat Chrysler Automobiles (FCA) as of late. In June 2019, the automaker proposed a merger between FCA and Renault-Nissan, then retracted the proposal, and now it's anyone's guess after Waymo partnered with Renault-Nissan instead. Instead, FCA partnered with Aurora Innovation for their self-driving technology, and invested in EV charging technology with ENGIE and Enel X. Now, the newest release to come from FCA is a new platform that allows FCA customers to connect with their favorite or most-used merchants while on-the-go to save time and make life easier from the comfort of one's vehicle – Uconnect Market.
It's a little odd when we think about it. Uconnect Market is basically a service that cuts out the middle-man when it comes to making a reservation for dinner or needing to get auto service. A new development, this in-vehicle commerce platform gives customers the ability to do a number of things, that we can already do online, like (1) ordering food and beverages, able to skip lines and save time by paying ahead, or (2) making a dinner reservation by calling ahead or reserving a table on the way there. Then Uconnect Market can do other things, like help consumers find the nearest gas station and even save money on fuel purchases. There's even a hint at some form of remote payment where a consumer can securely authorize pump-and-pay fuel at participating locations – maybe for parents has a teen driver that needs money for gas?
Uconnect Market is also just another example of vehicles catching up with what smartphones have been doing for years. With Uconnect Market, automobiles have a combination of the following services on a single platform:
–        A digital wallet where the vehicle owner can setup an online account, like a Samsung account or Apple Pay, but goes a step further and lets owners enroll for a credit card for use with selected Uconnect Market partners
–        Like any website for auto maintenance that's gone digital, consumers will be able to access national Mopar service offers, locate a certified Mopar service center while on-the-road, and schedule service appointments
–        Through the use of Yelp, the driver and passengers can get a list of nearby restaurants by category and will have the option to make reservations at participating restaurants, like Domino's pizza
–        All throughout North America, owners can use ParkWhiz, an Arrive-powered brand, owners can find, book, and pay for parking at thousands of garages
–        And as mentioned above, owners can get a list of nearby fuel stations when it's time to fuel up. In addition, they can authorize a fuel pump charge at participating Shell stations by using Shell Pay & Save program to save money and possibly remote authorize a payment or pre-pay
"Our customers live busy lives, and our goal with the Uconnect platform is to provide an advanced portfolio of services to make their daily drive more convenient, productive and enjoyable…This is why we are launching Uconnect Market, as we continue to ramp-up our connectivity efforts around the world with the goal of having all new FCA vehicles connected by 2022." – said Alan D'Agostini, Global Head of Connected Services, FCA.
Uconnect Market was developed in partnership with Seattle-based Xevo, recently acquired by Lear Corporation, and follows the recent FCA announcement of a new in-vehicle "ecosystem" using HARMAN (Samsung) and Google Technologies. Starting in the second half of 2019, the platform will be deployed for model-year 2019 and 2020 Chrysler, Dodge, Jeep® and Ram brand vehicles equipped with connected services and the latest generation of 8.4-inch touchscreens, via an over-the-air (OTA) update. Be on the lookout for it when you buy a new 2019 or new 2020 FCA car at Aventura Chrysler Jeep Dodge Ram.
Photo Source/Copyright: FCA Media