Dodge Opens Storefront on Amazon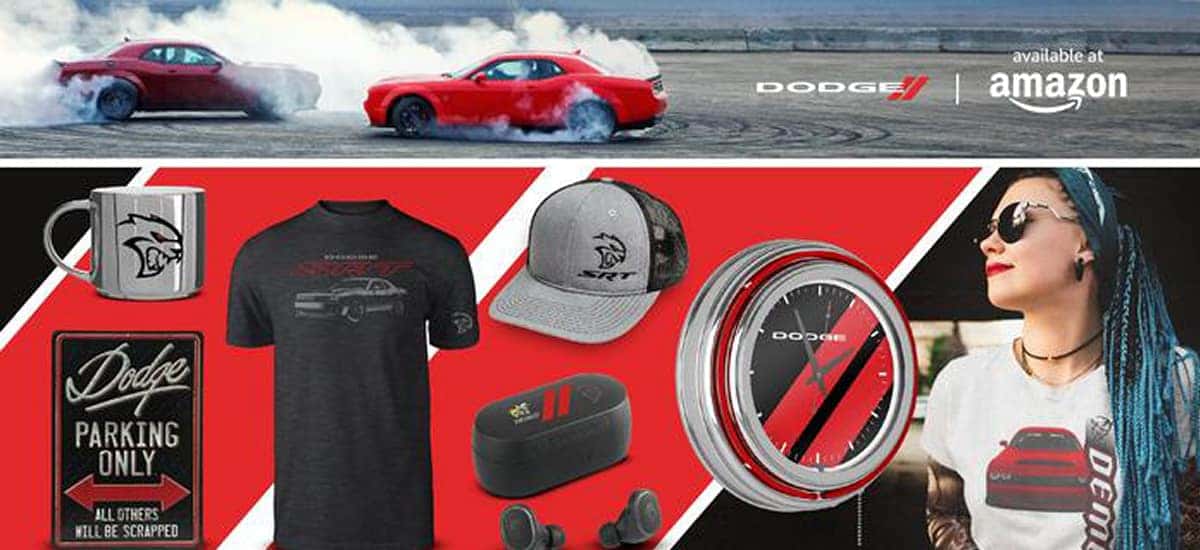 When Dodge Garage first opened up its doors, Dodge fans and muscle car lovers flocked to the digital space. A place on the web for consumers and others to find all Dodge brand content from across the web, Dodge brand's official social channels, events, and activities. Initially just a place for racers to share their times, read up on what's new, and get merch, the Garage eventually bloomed with free giveaways for the fans, exclusive media, and the 1320 Club for the 2020 Dodge Challenger Scat Pack 1320. Now, Dodge is taking it a step further with its own storefront on Amazon.
What? A storefront on Amazon? That sounds a little familiar, and it's because off-road automaker Jeep® did the same thing in late 2020. Like many other retailers, Jeep opened its own storefront on Amazon for an easier way to make merchandise and Jeep accessories available to consumers. We're not saying you'll find all kinds of MOPAR aftermarket upgrades – they still have a catalog to order off of – but Jeep had made it available so that consumers can find apparel, adventure/camping gear, iconic collections, children's merchandise, home products, and mobile accessories branded by Jeep on Amazon.
Dodge has simply followed suit. So many retailers and brands have eventually opened a storefront on Amazon. Now not just an online store to look through categories and subcategories of items – the online retailer allows other stores to get their own space on the website to sell its goods. With Dodge joining, the muscle car automaker follows the same pattern of Jeep with items in the following categories: New Arrivals, Best Sellers, Featured Collections, Apparel, and Gear. All of which will feature Dodge//SRT lifestyle brand essentials, including apparel and man cave must-haves. Some highlighted items include toys and video games from the movie franchise "Fast & the Furious" – Dodge is heavily tied in with that series, with Vin Diesel, and just about every other movie destroying an old Dodge Charger to make Michael Bay blush.
"Opening our Dodge storefront on Amazon offers our enthusiasts a dedicated, branded, consumer experience where they can shop for their favorite gear and merchandise across multiple categories through a familiar and user-friendly online experience…The Dodge brand featured collections also allow our most devoted fans to shop a range of products to align with a wide range of passions, including Brotherhood of Muscle, '70s Collection and Vintage Garage." – Tim Kuniskis, Dodge Brand and Interim Chrysler Brand Chief Executive Officer – Stellantis
Now, it's just another way to show your pride in the only muscle car automaker still going strong. In case you haven't heard, Dodge outsold Ford and Chevrolet during the third quarter of 2020 for sports and performance vehicles. With Ford pulling out of the race and Chevy unsure of what to do with the Camaro these days, it's no wonder why Dodge held a 38-percent share of all two-door muscle car purchases in 2020 Q3. Ranked as the "#1 Brand in Initial Quality," by J.D. Power during its Initial Quality Study (IQS), and again ranked number one during the J.D. Power APEAL Study (in terms of mass market vehicles), the Dodge has stunned the industry with so many high-class accolades in a year.
Get a new Dodge vehicle from Aventura Chrysler Jeep Dodge Ram, and then find some extra swag on the Dodge storefront on Amazon.
Photo Source/Copyright: Stellantis Media