Chrysler Portal Heading to Production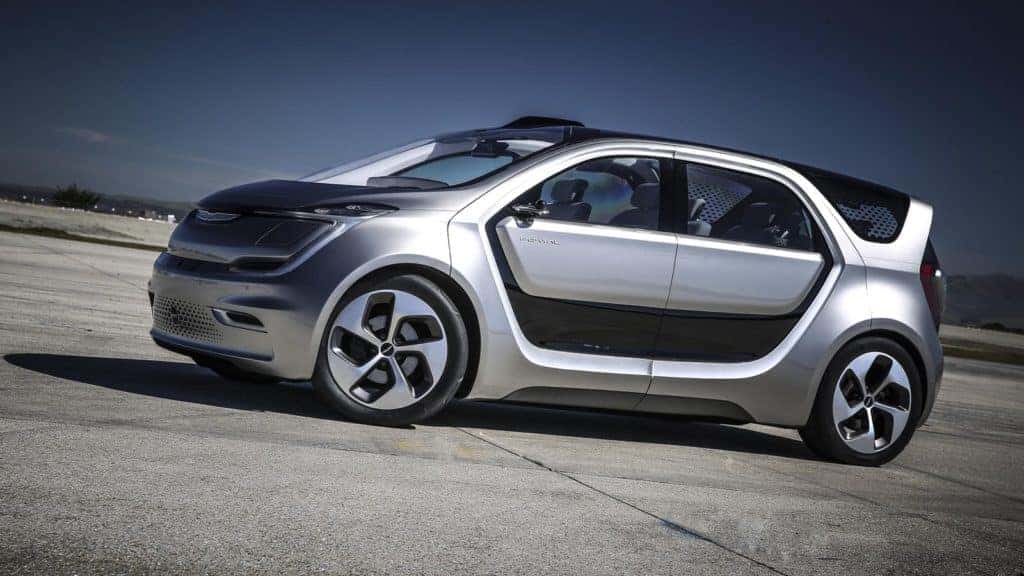 So, apparently, according to Automotive News, the Chrysler Portal electric minivan is heading into production. News sources are still claiming "Millennials" are interested and "wowed" by the minivan, but seriously – a minivan? Personally, we're still offended by all the harsh words aimed at the Millennial generation when Chrysler representatives discussed the Chrysler Portal at the 2017 Consumer Electronics Show. It didn't take long for teasing of the Chrysler Portal to become a reality, and now, it may just be coming to dealership showrooms – "For the Millennial Generation".
The report by Automotive News comes from their far-reaching Future Product Pipeline series that relies on insider reports and other sources to predict future products across the automotive industry. Feel free to read the report, but a subscription is required after two or three articles. Or just go into private viewing or incognito mode to reset it and have a laugh.
Chrysler didn't comment on the news about the Chrysler Portal going into production, but Fiat Chrysler Automobiles (FCA) is well known to keep everything hush-hush. The report by Automotive News states that the new vehicle will keep the same namesake of the concept, and will run on a similar powertrain to its sibling, the Chrysler Pacifica (plug-in) Hybrid. Aimed at being an electric vehicle though, the Portal concept was running on a 100-kilowatt-hour battery pack and an electric motor driving the front wheels, lending to itself a 250-mile driving range.
There are also talks of making this Chrysler Portal an autonomous minivan. The original concept did say this would be a self-driving vehicle after all. With FCA and Waymo working together to make self-driving retail vehicles, it's pretty clear that FCA is challenging General Motors and Chevrolet with their autonomous Chevy Bolt EV, said to be on Korean roads by next year. With the Waymo already opening up a ride-hailing service in Arizona, we're waiting for the fleet to go across the nation – eventually.
The self-driving features of the Chrysler Portal concept and the insider report talks of autonomous abilities up to level 3. What that means is, no – the Chrysler Portal will not be fully autonomous or even semi-autonomous. Level 3 is as good as automatic emergency brakes and adaptive cruise control.
So if self-driving may not make it into the production vehicle, what will? Well, although they pointed out the interior features with backhanded compliments, here's what we know from the concept. Remember, this is for the "self-absorbed, lazy, Millennial generation".
The Chrysler Portal has a selfie cam. Want to capture a kodak moment on the road? Go ahead, take that photo op. It may never happen again with level 3 autonomy.
Automakers are working on selective listening zones for music, phone calls, etc. The Portal minivan will also have this technology, supposedly. Everyone gets to listen to what they want and ignore everyone else – isn't that what we all want while on the road?
Infotainment systems keep changing, and the next system for the Chrysler Portal will have a number of smartphone apps, such as Yelp, Picasa (photo album viewer), navigation, and media sharing, along with social apps. Media sharing will come in handy for sharing photos and other media. Sync all smartphones with the Portal, and everything uploaded gets downloaded once the car is put in park.
As a personal statement, the Portal is also made to only belong to the driver/owner. Facial recognition and biometric locks will surely make owners feel like the car belongs to them, even if a lease. It's all about customizing the driving experience.
Well, there you have it. The Chrysler Portal electric minivan may well be on its way. Excited? Tell us your thoughts on Aventura CJDR social media.
Photo Source/Copyright: gmauthority.com