Truck Trend Features 2018 Ram 1500 and Ram 3500 in Recent Tests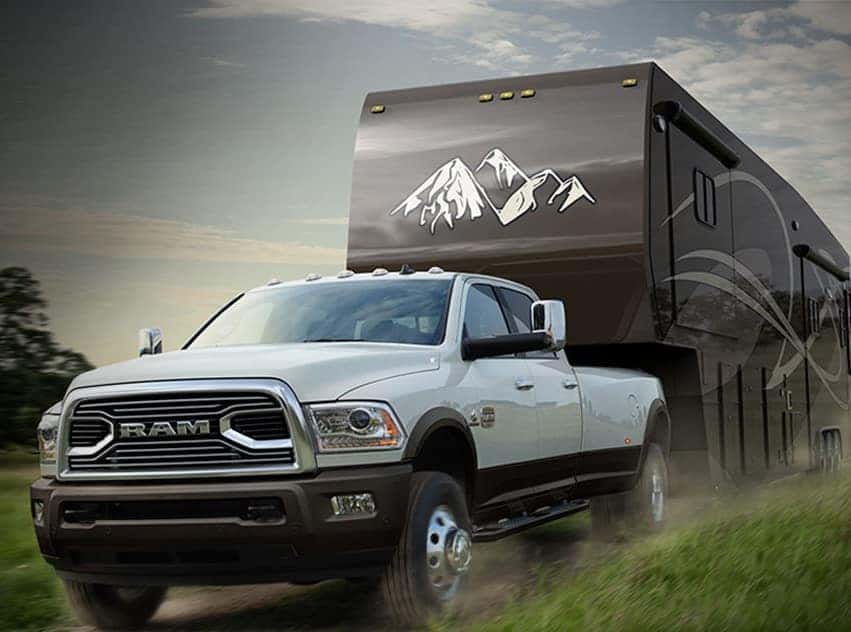 When it comes to testing the best trucks year after year, TruckTrend.com is one source to trust. They put several trucks through several tests to measure their power, ability, and handling to find out which pickup trucks are worth their metal. TruckTrend.com recently completed testing on the 2018 Ram 3500 and the new 2018 Ram 1500 Harvest Edition. Here's how they match up with others in the pickup truck class.
Truck Trend's Testing
First we need to check out how Truck Trend tests these trucks. A total of six trucks were picked out for this year, and all of them were tested for four days. To make sure every truck is on an even playing field, before even taking the trucks out for a test drive (pun intended), each vehicle is weighed to find not only their curb weight (standard vehicle weight with a full tank and no payload), but also their "Gross Vehicle Weight Rating" (GVWR), or how much the truck can weigh when adding its weight and a full payload on the road. Because most manufacturers don't account for the additional components and systems different trim variations of a model may add, Truck Trend calculates how much each truck can carry by comparing the curb weight and the GVWR. In addition, they then subtract that by 200 pounds to account for the weight of the driver. This new weight capacity calculated will be referred to as (TTP) herein throughout.
Testing Day 1 – Acceleration and Braking
For the first day of testing, each truck is brought to the Auto Club Speedway in Fontana, California. All six trucks are then subjected to three tests – acceleration times for 0-60 mph, racing times for a quarter-mile, and braking times from 60-0 mph. Following those three tests, each truck is loaded with its maximum payload capacity according to its TTP and is then put through the same three tests now that they're weighed down. The final test measures each truck's ability to accelerate from 0-60 mph and race a quarter-mile when hauling 75 percent of their total towing capacity.
To even things out, payload and towed weight is made up of rubber mats that weigh 100 pounds a piece. Truck Trend is still crunching numbers, but they did state no truck broke any records. However, the 2018 Ram 1500 Harvest Edition was found to be an improvement for working hard all day without stopping. This can be attested to its taller suspension, off-road tires, and skid plates. The 2018 Ram 3500 Limited Tungsten Edition was also shown off when Truck Trend put all Ram 3500 930 lb-ft of torque to work.
Testing Day 2 – 20 Mile Loop
For the second day of testing, Truck Trend loads all trucks up with 75 percent of their towing capacity again, but then takes them all to the 20-mile loop of the Cajon Pass on Interstate 15 in Southern California. Six percent of the Cajon Pass is made up of rising and declining slopes and it's not a part of the interstate one would necessarily want to drive through when hauling several thousand pounds. During this test, merging and passing power, vehicle stability, and downhill control were tested, along with the function of the transmission and braking power.
Again, Truck Trend is still testing trucks, but we're glad to say the 1-ton Ram 3500 Limited won its class this round. In terms of the 2018 Ram 1500 Harvest Edition, judges were impressed, and the HEMI V8 engine made hitting the Interstate's 55 mph limit, with 75-percent of its total towing capacity, easy. Now that's the kind of power Ram trucks are known for.
Guess we'll just have to wait and see how the rest of testing goes. It's too soon to name a winner, but you know who our money is on. Take your bets now. Will Ram trucks win the Truck Trend's 2018 "Pickup Truck of the Year" award? Let's talk about Ram and Truck Trend on social media.
Photo Source/Copyright: RamTrucks.com